ASUS ROG Gladius Gaming Mouse Review
By
ASUS Gladius Gaming Mouse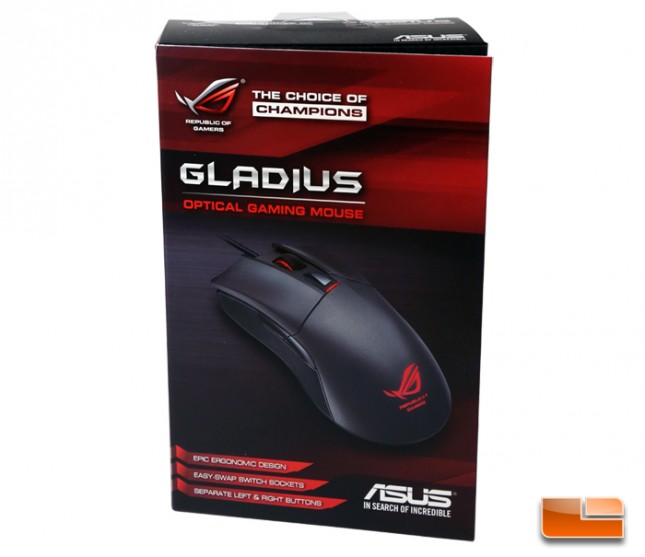 ASUS has brought forward a gaming mouse that complements the Republic of Gamers product family that's sure to grab your attention with its fierce appearance, high end features, and a strangely familiar ergonomic design. The ROG Gladius is named after the signature handheld weapon of Ancient Roman generals to complement the Maximus motherboard named after the title given to highly respected generals. This neat tidbit is printed on the inner side of the front flap on the box. It's rare to see ASUS produce gaming peripherals, but the ROG Gladius is hardly their first gaming mouse and ASUS has more than proven their design and production capabilities in several computer hardware categories.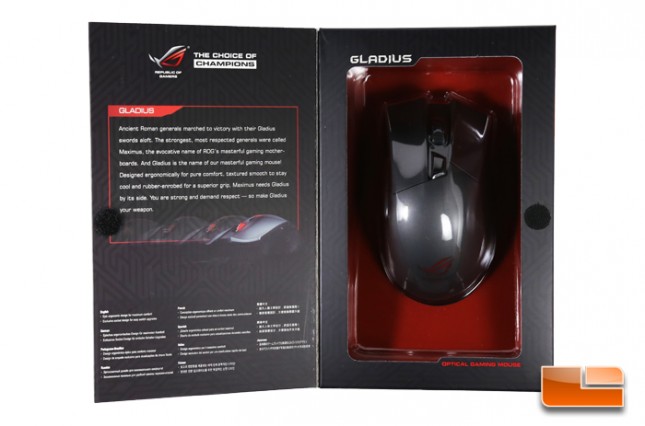 Upon our first look, the Gladius very closely resembles the Razer DeathAdder with a grey and red color scheme and even shares a number of features with some iterations such as rubber side grips, 6400 dpi optical sensor, and two thumb buttons. Despite this, the Gladius does have its own set of features that set it aside from other game mice. Detachable cables, onboard memory, and 2000Hz polling rate, a first in a gaming mouse.
ASUS Gladius Gaming Mouse Features:
Ergonomically-designed for all right-handed grip types ideal for FPS games
Exclusive socket design for easy switch upgrades; includes 2 additional Japanese-made Omron switches
Separate left and right buttons; with 2 specially-engineered, programmable slide-to-press' buttons
Detachable cable and ROG travel pouch for storage and transport
Built-in flash memory to save your favorite profile
Exclusive ROG Armoury interface where you can program buttons, performance settings, lighting effects, and surface calibration
ASUS Gladius Gaming Mouse Specifications:
Connectivity Technology: Wired
Tracking: Optical
OS Support: Windows 8.1 86×64, Windows 8 86×64, Windows 7 86×64
Dimensions: L 126 x W 67 x H 45 mm
Weight: 116 g
Color: Steel Grey
Resolution: 6400dpi
Interface available: USB
Contents

1 x 2-meter braided USB cable
1 x 1-meter regular rubber USB cable
2 x Japanese-made Omron switches
1 x ROG pouch
2 x ROG logo stickers
4 x mouse feet

Compatible switch list for ROG switch socket:

Omron D2F Series switches: D2F, D2F-F, D2F-01, D2F-01F
Omron D2FC Series switches: D2FC-3M, D2FC-F-7N, D2FC-F-7N(10M), D2FC-F-7N(20M)

1-year warranty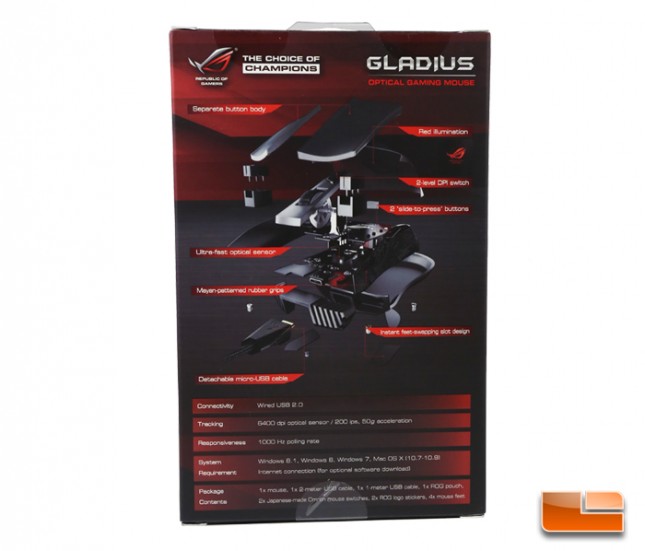 What's even more special is that ASUS has packaged more than just a mouse. Included is a quick start guide, two ROG stickers one in color and one in white, a mouse pouch, one extra set of feet, the two detachable cables, and a pair of Omron D2F-01F switches. For $65.45 at Amazon, even being sold out at the time of writing, the ROG Gladius looks already to be a hit!