ASUS N10Jc-A1 Netbook Review – Atom N270
By
Introduction and Specifications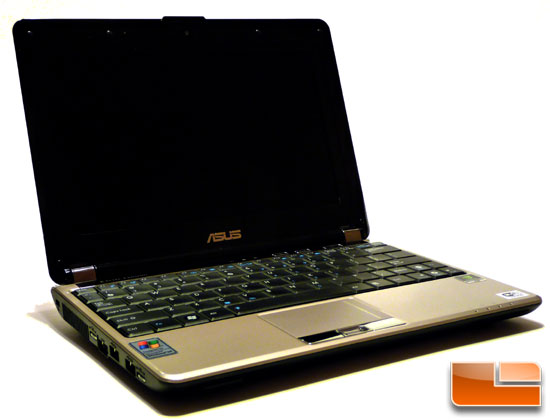 Today, we have the opportunity to look at the Asus N10Jc-A1 Netbook PC. At just 10.9″ x 7.7″ x 1.5″ and 3.7 lbs, this sleek little piece of portability was designed with the user on the go in mind! ASUS equipped this netbook with an Intel Atom N270 Processor for stability and low power consumption, and an NVIDIA GeForce 9300M GS video card to get the best video quality out of its 10.2″ LCD.
The Bundle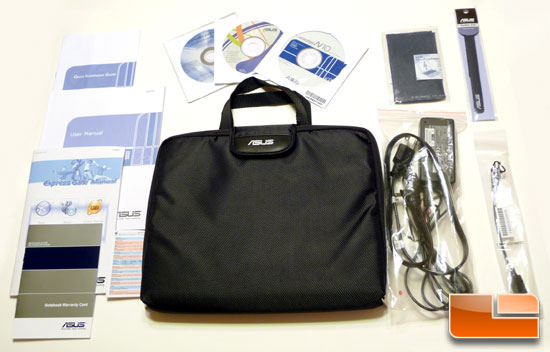 The Asus N10JC-A1 comes with a small carrying bag to keep the shiny finish from getting scratched. The bag is a perfect fit for the N10JC-A1, but it is not large enough to handle a power cable or mouse in addition to the computer. Also in the above image you will see user manuals, a power cable, a cable tie, a driver DVD, a recovery DVD, and an ASUS media DVD. However, without an external optical drive or another computer to share files, I'm not sure what good these discs would do.
Specifications
Processor
Intel Atom N270 Processor @ 1.60 GHz
Operating System
Windows XP Home
Memory
1 GB DDR2
Monitor
10.2″
Video Card
NVIDIA GeForce 9300M with 256MB VRAM
HDD
160 GB, 5400 rpm
Card Reader
8 in 1: SD, MMC, MS, MS-Pro, mini SD w/adapter, MS-Duo, MS-Pro Duo via adapter
Webcam
1.3 mega pixel
Interface

1 Express card
1 Microphone-in jack
1 Headphone jack
3 USB 2.0 ports
1 RJ45 LAN Jack
1 HDMI
1 WLAN On/Off Switch
1 Bluetooth On/Off Switch
UMA/Discrete Switch

Audio

Built-in Azalia compliant audio chip, with 3D effect & full duplex
Built-in speaker and microphone

Keyboard
26.3mm (1.04″)
Battery
6 cell: 4800 mAh
Weight
3.7lbs (1.7kg) with 6-cell battery, 3.5lbs (1.6kg) with 3-cell battery
Dimensions
27.6 x 19.5 x 3.71 cm (10.9″ x 7.7″ x 1.5″)
Warranty
2-year limited global hardware warranty, 1-year battery pack warranty
As you can see from the specs, this is not meant to be a high-performance computer, rather a reliable, portable, power-efficient workstation. Read on to see what we thought of the Asus N10JC-A1 Netbook PC!