ASUS K53E 15.6-inch Notebook Review – Intel Core i5-2520M CPU
By
The ASUS K53E-B1 15.6-inch Notebook
Our first encounter with an Intel Sandy Bridge laptop was a massive 17-inch Packard Bell model that was designed for raw power and wasn't not to be that portable. Inside that beast was the Intel Core i7-2820QM, which was is the second fastest mobile quad-core processor that Intel offers at 2.30GHz. This processor alone will has a suggested retail price of $568, so it definitely isn't for everyone. Today, we have a notebook from ASUS that is aimed more at the mainstream market called the K53E. The ASUS K53E is a general purpose 15.6-inch entertainment notebook with prices that start at $634.90 plus shipping. As you can see this whole laptop nearly costs the same as just the processor that was in the last one we reviewed.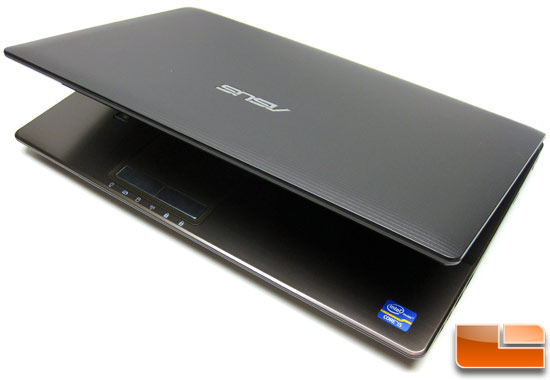 With the smaller and thinner notebook design you have to use more energy
efficient processors, so ASUS is using dual-core processors like the
Intel Core i3-2310M ($634.90) and Intel Core i5-2410M ($749.99) in the majority of these notebooks. The notebook that we were sent for testing is the specifically the ASUS K53E-B1 notebook that is powered by a 2nd Generation Intel Core i5-2520M 'Sandy Bridge' Processor. This notebook will cost around $899 and should offer a pretty good price to performance ratio.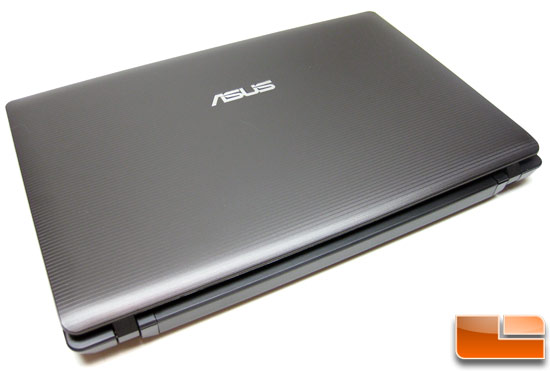 The ASUS K53E notebook has a very refined and clean finish to it. On the outside the notebook has a textured plastic surface with a tasteful chrome ASUS logo on the display case. This finish doesn't show finger prints like the glossy finish on many of the laptops on the market today. The ASUS K53Euses a 15.6″ 16:9 High Definition LED backlit display with a native screen resolution of 1366×768. Some of the more expensive notebooks that are 15.6″ have a 1920×1080 resolution, so it's fairly obvious that ASUS sacrificed the display quality on this notebook in order to keep the price point on this model lower. The screen does have a matte finish to it though, which is ideal as you don't want to see a ton of reflections on a notebook. The external dimensions are 37.8 x 25.3 x 3.49 cm (WxDxH) or 14.88″ x 9.96″ x 1.37″ for those that still use the English system. As you can see the ASUS K53E notebook really isn't that large even though it has a 15.6″ screen size.
Mfr Part Number: K53E-B1
Processor: Intel Core i5-2520M Processor (2.5 GHz, 3MB Smart Cache)
Chipset: Intel HM65 Express Chipset
Memory: 6GB (2x 3GB) DDR3-1333 SODIMM memory, Max Capacity Up to 8 GB
Display: 15.6″ HD(1366 x 768) Display, w/ LED Backlight
Graphics Module: Intel GMA HD Graphics Controller
Hard Drive: Seagate 640GB 5400-RPM SATA Hard Drive
Optical Storage: Integrated Super-Multi DVDRW Drive
Audio: Integrated Sound card, w/ SRS premium sound; Built-in Altec Lansing Speakers
Connectivity: Integrated Gigabit Ethernet; 802.11b/g/n Wireless LAN, Bluetooth
Interface: 3x USB 2.0 Ports; 1x VGA Port; 1x HDMI Port; 1x RJ45 LAN Port; 1x Microphone-in; 1x Headphone-out
Card Reader: 4-in-1 card reader, Supports SD/ MMC/ MS/ MS Pro
Camera: Built-in 0.3MP Web Camera
Battery Pack: 6-Cell 5200mAh 56Whrs Lithium-ion Battery
AC Adapter: Output – 19 V DC, 4.74 A, 65W; Input – 100~240V AC, 50/60 Hz universal
Color: Dark Brown
Dimensions (WxDxH): 37.8 x 25.3 x 2.83 ~3.49 cm
Weight: 2.6 kg (w/ 6-cell battery)
Operating System: Genuine Windows 7 Home Premium 64-bit
The ASUS K53E that was sent to us for testing came with 6GB of RAM, Bluetooth and a 640GB Seagate 5400-RPM hard drive. We noticed that a Blu-ray player, SuperSpeed USB 3.0 ports and discrete graphics were not included or even an option from what we can tell. The ASUS K53E is clearly not a high-performance enthusiast system, but it does look like a very solid notebook platform at an affordable price. Let's take a closer look at the layout and features of this notebook.