Arozzi Arena Gaming Desk Review
By
Exactly six months ago the folks over at Arozzi released the Arena gaming to the growing eSports community. The Arena is a fairly large gaming desk that measures in at 63-inches wide (160cm) by 32.28-inches deep (82cm) with a curved front, giving you a 13.5 square foot surface for gaming. The entire surface of the desk is covered by a cloth mouse pad that weighs 7 pounds and the desk itself can easily hold a triple-monitor setup. Arozzi gave the Arena a 176 pound desktop load rating when everything is evenly distributed, so you can load up the surface without having to worry about it breaking.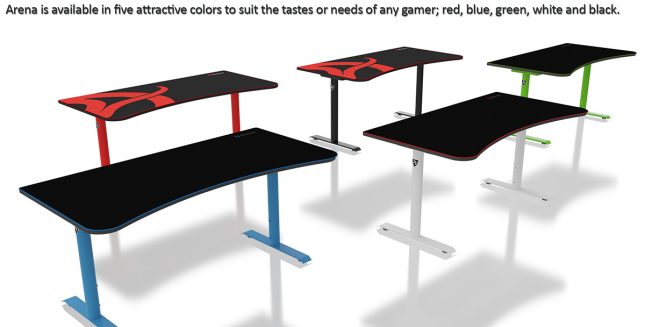 The design is pretty simple as you have two steel legs, a steel frame connecting the legs and then the Medium-density fiberboard (MDF) surface that is bolted to it. Reviewing something as simple as a desk might seem silly to some, but we did run across a few things during the build and using that need to be pointed out. It also led to some great conversations with the Arozzi team and that willingness to work with the gaming community is how products get updated and become better.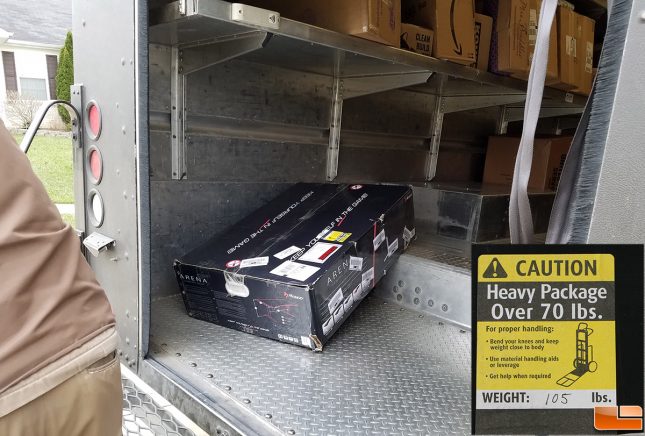 If you order the Arozzi Arena over in Europe it will come in two packages, but here in the United States it comes in one single box with the surface broken down into three pieces. We knew this gaming desk was going to be heavy when the UPS driver went straight for the dolly and sure enough the gross weight of the retail box was 105 pounds! The table itself weighs 85.5 pounds, so having a friend to help you put this beast together is beneficial.
Our box had busted corners before it even got off the shipping truck, but luckily everything inside the 105 pound box was in great shape. You have all the table components, bolts, washers, Allen (Hex) wrenches and the ever so important instructions. The instructions are pretty well written, but we ran across a couple errors and hopefully Arozzi will update it to make them even better. It was only after talking with Arozzi USA that we learned there was an installation video available.
We suggest watching the video as it's only a few minutes long and does a good job at showing all the steps.
Our assembly went pretty well and the entire process took about an hour. The steel frame has a couple gussets for reinforcement and we have no doubts that the base of this desk is solid and will last for many years. The finish is powered coating, so that was put on electrostatically and then cured in an oven, so it is uniform and should also last a long time. Anything powered coated should be cleaned off with fresh water and a non abrasive soft cloth one or twice a year to keep it looking great.
We did notice that all the threads were powder coated and this made put in the necessary 24 bolts a pain in the butt. The included Allen wrench also barely clears the frame, so unless you have tiny hands you are stuck doing half turns (You can't flip the wrench as you don't have enough torque to turn the bold with the threads being painted over). We cheated and ended up using an air compressor in the shop with an air ratchet as that made life so much better. We noticed there were two set screws on each leg with two different size bolts. It should be noted that the smaller top set screw (closest to the table surface) does nothing and if you raise the table up there is no place for it to tighten too and it will fall down into the leg. The table height is around 27.5″ with the legs all the way collapsed, so most will raise the table. For this you need to get your own tape measure or level and adjust each leg one at a time. Not the best easiest design, but it works and is pretty easy with two people.
The top MDF surface was found to be 3/4″ thick and had retainer nuts pressed into the bottom of the board that were used to hold it to the metal frame and also for the cable management hammock. A couple of them had the MDF splitting around them, but they were still able to hold everything tight.
Next we rolled out the giant mouse pad and we were done. The giant 5mm thick mouse pad is nice and works well if you like cloth mouse pads. If you are a hard surface gamer you can simple sit your hard pad down and game like normal. The mouse pad hangs over the edge of the table by over half an inch on all sides and we were told that is because the mouse pad will shrink over an inch after a few months of use! Early product testing showed shrinking was an issue, so the mouse pad is now built larger than it needs to be and then in time it will be the perfect size. The mouse pad has three holes on it, one in each panel, for cable management and the mesh hammock below the table is great for hiding all your cables. You want to take good care of this mouse pad as a replacement will cost you ~$90 and they aren't available just yet as all the ones coming off the production line are going to new models. Arozzi assured is that the microfiber cloth surface is water-resistant machine washable. We've never washed a five foot long mouse pad in the clothes washer, but it might be worth a try if yours gets something on it that you can't easily get off by hand.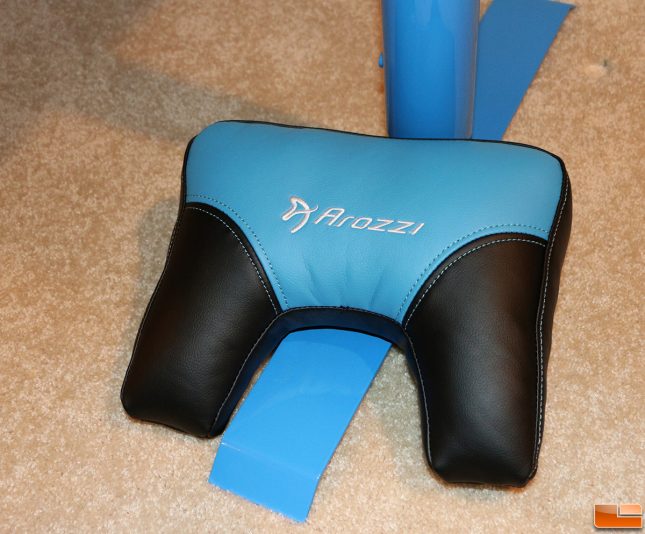 When it comes to overall appearance and satisfaction we noticed that Arozzi does have two issues going on that we hope they can address. The big one is that the Arozzi Arena Blue gaming desk and Arozzi Vernazza Blue gaming chair don't have the same color blue. We also noticed that the Arozzi logo is different on the chair back/front, chair headrest and the mouse pad. The chair back/front and lumbar pillow has the Arozzi logo in red, the chair headrest has it in white and then the mouse pad on the Arena table has it in blue. It would be great if it was consistent.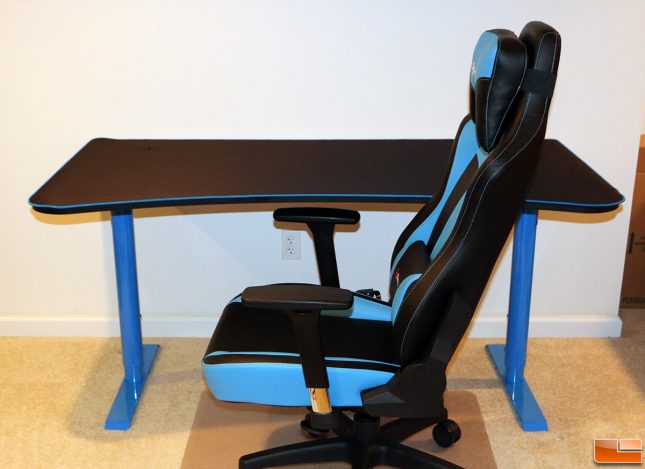 At the end of the day we really like the Arozzi Arena Gaming Desk and think that most gamers will enjoy it as it looks good and is a solid gaming surface. When it comes to pricing the Arozzi Arena Gaming Desk has a $349 MSRP before shipping. The good news is that online retailers like Amazon are selling it for $319.43 with free shipping. The Arozzi Vernazza Gaming Chair (our review) in the picture above is $399.99 shipped, so for around $720 you can have a really great gaming setup. Arozzi gaming chairs start at $159.99 though, so you can get down to under $480 if you wanted to.
Other online retailers or even 3rd party retailers on Amazon are asking around $400 for this gaming table and that feels a bit too much. Around $300 seems to be a good price for this table and at that it isn't a bad price for what you get. If Arozzi slapped on some RGB lighting around the table or did some more things we can easily see a higher-end version with more features coming in at that $400 price point.
Legit Bottom Line: If you are looking for a proper gaming desk and gaming chair be sure to give Arozzi a closer look. This is a company that we just started working with, but the seem to be on the right track.