Arozzi Vernazza Series Gaming Chair Review
By
Arozzi is a Swedish gaming company that was founded in 2013 and specializes in gaming chairs and desks. Gaming chairs have gotten popular in recent years thanks in part to eSports being broadcast around the World and now all gamers want a proper gaming chair. Arozzi has taken advantage of this market shift by coming up with not one, but a total of nine ergonomic gaming chair series that were all inspired from the automotive racing industry. Pricing on these racing inspired gaming chairs start at $159 and go all the way up to $399 at online retailers like Amazon.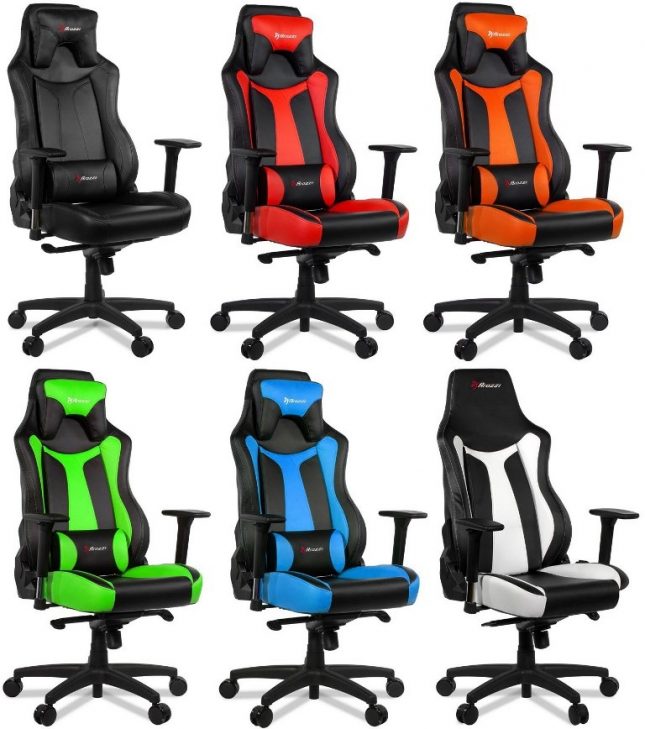 The model that we'll be taking a look at today is Arozzi's flagship model called the Arozzi Vernazza Series Super Premium Gaming Racing Style Swivel Chair. Flagship means expensive and the Vernazza runs $329.99 shipped in all black or $399.99 shipped with your choice of blue, green, orange, red and white inserts. Arozzi also carries a gaming desk, so if you wanted a new matching gaming desk and chair you can do that with Arozzi although the Arena Gaming Desk isn't available in as many colors as the chairs are. The Arozzi Arena Gaming Desk is a 14 square foot curved gaming desks that start at $351.12 shipped. A matched gaming table and chair will set you back nearly $700, so this won't be an inexpensive purchase. This is a high-quality chair though that weighs over 50 pounds and will support someone up to 360 pounds.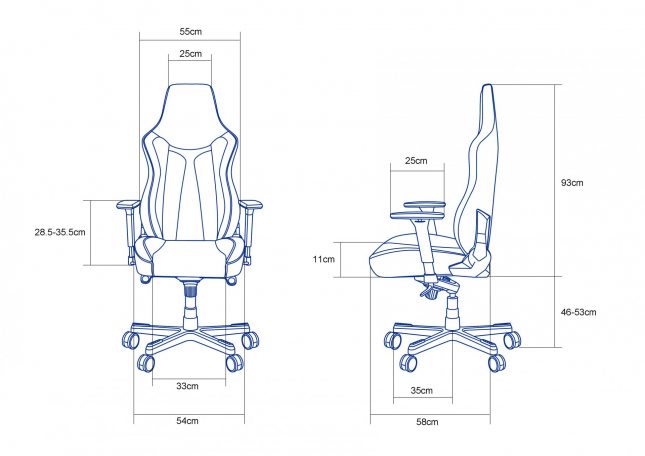 Arozzi Vernazza Gaming Chair Specifications:
Adjustable seat height
460 – 530mm
18.1-20.8 inches
Chair height
1390 1460mm
54.7-57.5 inches
Seat inner width
330mm
12.9″
Seat depth
580mm
22.8″
Backrest height
930mm
36.6″
Weight Capacity
160 kg
360 lbs.
Gross Weight
27 kg
59.5 lbs.
Net Weight
23 kg
50.7 lbs.
Box Dimension
860x690x350mm
33.8 x 27.1 x 13.7 inches
Gas Lift
Andco Class-4
The Arozzi Vernazza gaming chair comes in a large cardboard box like any other gaming chair. The box was beatup a bit from the shipping company, but inside we found that the Arozzi gaming chair made it intact. The accessories box had all the 'small' parts along with the instructions and a pair of white gloves. The white gloves for assembly made us laugh as do people really want to wear white gloves to assemble a gaming chair? The instructions are pretty well written, but when we got to step 1 we couldn't find the bolts needed to assemble the seat back to the seat base bracket. The folks at Arozzi put all the screws into their final locations, so you'll need to take them out in order to install everything. The included 6mm hex wrench is nice, but we opted to use on our own a 3/8″ ratchet to speed things up.
Our Vernazza chair was from the first production run and we did encounter a few issues. For starters the left side seat bracket was really jacked up. In the bag we noticed the left side screws weren't all the way screwed in like all the others and we quickly found out why. The screws were threading in crooked, but we were able to brute force them in and everything did tighten up. We brought the issue up to Arozzi and they offered to send a replacement and said that there was a welding issue with the frame bracket on this first run and that changes were made to ensure it wouldn't happen again. No customers have reported any issues, so it sounds like the first production runs chairs are out in the wild. Seeing how this chair has been out for over six months and we got a faulty one last month we'd say they are still on the first run. Just something to keep an eye on if you buy one of these.
Once you put the two seat halves together you need to snap a couple covers on the side. This proved to be difficult on our chair and they would easily pop off when the chair was bumped into. Other chairs that we've reviewed in the past had these screwed on and now we know why. To be fair other big name brands like DXRacer have models with designs similar to this, so it hit or miss. The metal bracket already needed to be drilled for the retainer clip, so we would have preferred it to be tapped with a screw hole. Then again our left seat bracket was faulty and the left side plastic cover was the only one popping off. Other reviews praise this chair for not needing screws on these covers, but we believe in function over style.
The five-star base on the Arozzi Vernazza is made from composite materials and is not metal. In recent years a number of high-end chairs have been moving to composite bases as they are stronger than metal thanks to molded reinforcements hidden underneath and they don't show scratches since the color is consistent in the molding. The rubber wheels roll smoothly on solid services and did not mark the concrete and hardwood floors that we used it on.
The gas lift is the most common issue with chairs and Arozzi went with a Class-4 Andco piston gas lift to keep this to a minimum. You just drop the pneumatic gas lift cylinder into the chair base and then place the telescopic cover over it before sitting the chair onto it. Everything on this chair is covered by a 2-year warranty, so if the gas lift ever fails or the lumbar support pillow straps break you'll be covered for that time period.
The multi-function tilt mechanism was easy to install and allows the chair to be raised and lowered as well as tilting the backrest and seat with the tilt rocking function. Four bolts hold it to the bottom of the seat frame and you just need to slide on the levers. The material had nice seams and everything appeared to be stitched well. Hog rings hold the pleather upholstery, which is fine as they have been used for nearly 75 years in the automotive industry.
After using gaming chairs from Arozzi, Vertager and DXRacer we've noticed that the inner core steel frame and overall design is very similar. We aren't sure, but it's almost like they are using the same OEM and that is why some core aspects are so similar and then they are differentiated by the seat cushion shape, base type, control unit, gas lift, armrests an so on.
After about half an hour you should have everything put together and have a functioning gaming chair! The Arozzi Vernazza gaming chair with the blue accents most certainly looks nice and we found it to be pretty comfortable. This chair isn't as firm as some that we've used, which is nice and while the headrest pillow has a funky shape it was very comfortable. The adjustable armrests can be moved up and down, swivel left and right and then can be moved forward and back to ensure proper arm posture to prevent gaming fatigue. Our only complaint with the armrests is that they are flat and not curved at all to help 'fit' your arm. This chair has enough customization to ensure your sitting position is perfect for long gaming sessions.
Notice that no straps for the lumbar pillow go around the back of the chair yet it still slides up and down the chair back easily. It is held on with a single simple strap that has a clip on it, so you can remove it in seconds if you don't like it. At the end of the day the overall build material was pretty good assuming Arozzi really did fix the factory issue that caused one of our brackets to be welded on at an incorrect angle. The height and width of this chair will easily hold an adult comfortably and it is priced competitively with other brands. If you are looking to ditch that office chair and get an actual gaming chair be sure to take a closer look at the Arozzi Vernazza and their entire gaming chair lineup!