Antec's NeoPower 480 Modular PSU
By
Impression (cont.)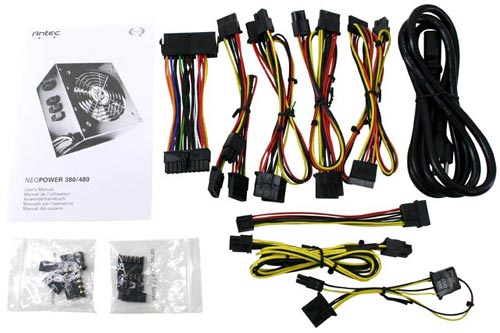 Also included in the package are all the connectors and cables you could possibly need to power your system. My package included three separate power lines with three four pin molex connectors on each to power the different peripherals in your system, a four pin adapter that split into two four pin floppy disk power connectors, an adapter to power both 20 pin and 24 pin setups, a separate SATA line with three SATA power connectors, and a six pin PCI-Express Video Card power connector. My test kit included a small bag with extra SATA and four pin molex connectors that can be wired into the system very easily by simply placing them on the lines you need extra power connectors on. It is hard for me to imagine needing anything that wasn't included in the package. A couple of very important points worth noting are the PCI-E power connector, the new standard for PCI-Express graphics cards, and that the SATA connectors include 3.3V output for powering next generation SATA drives. Couple those two facts with the modular aspect of this PSU and this power supply is almost future proof. In theory, as new connectors and standards arrive, Antec can simply release the appropriate connector, being able to by a simple wire or connector is certainly cheaper than buying a whole new PSU! Of course, we know that is impossible as systems become more and more power hungry. Could there be a 550-600W NeoPower in the near future?
As complete as the wiring system is, one thing I wish Antec had done was to wrap the wires or enclose them in mesh; instead they chose only to secure the wires with a few zip ties. I'm sure the main reason they didn't wrap the wires is the extra connectors they included. Still, it would have been nice to have wrapped wires and let people trim the mesh as necessary if they needed to add connectors.
The NeoPower also comes with an extensive instruction booklet, definitely one of the more complete manuals I have seen for a power supply!