Antec's NeoPower 480 Modular PSU
By
Introduction, Specs, and Features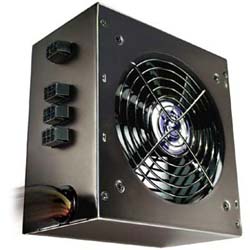 Today we take a look at Antec's newest entry into the PSU market, the NEOPOWER 480, a 480 W "modular" power supply. Antec has a great reputation of making high quality PSUs (Power Supply Units) — their "True Power" series is arguably the industry standard for gaming and overclocking. Recently, a few companies have released a new standard in PSUs, the modular power supply. Antec calls their entry the "Advanced Cable Management System." Basically they give you all the connectors shown below and you get to pick the cables you need to use in your system!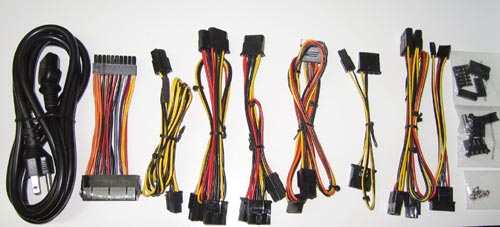 This means you won't have a ton of extra wiring and molex connectors shoved behind your board, zip tied together, or crammed into any open space. The NEOPOWER 480 has a set of sockets, allowing you to plug in only the power cables you need, reducing the amount of wires in your case. This allows you to have a cleaner, more organized case and wiring configuration, which in turn helps air flow, keeping other components cooler. Pretty ingenious, wouldn't you say?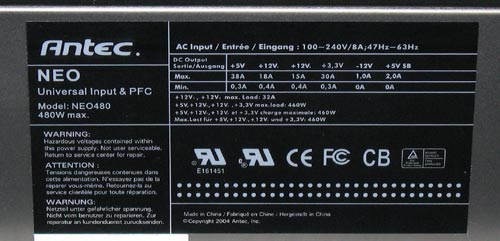 Features
Advanced Cable Management System allows you to use only the cables you need. This improves airflow and reduces clutter inside your case
ATX12V v2.0 compliance reduces power consumption by up to 25%, saving you money on your electricity bill
Universal input automatically accepts line voltages from 100V to 240V AC
Active PFC delivers environmentally-friendlier power
Dual +12V rails provide plenty of juice for even the most power-hungry systems
Includes special power connector for PCI Express graphic cards
Dedicated circuits for each voltage output allow NeoPower to overcome combined-output limitations
Voltage-feedback circuitry improves system stability by delivering extremely accurate power
Temperature-response system ensures blissfully quiet operation, by varying fan speed in response to load and conditions
Dedicated Fan-Only connectors allow NeoPower to control case fan speeds, thereby further reducing system noise
Over-temp and over-current protection, provide maximum reliability
120mm fan delivers whisper-quiet cooling
Gold-plated connectors for superior conductivity
Let's go on and take a closer look at the power supply.