Antec Twelve Hundred Gaming Case Review
By
Introduction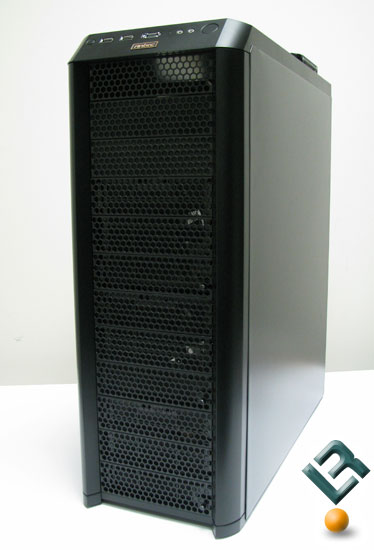 At first glance at a distance the Twelve Hundred looks a lot like the Nine Hundred we looked at last year. They are quite similar, but also quite different. This time around Antec fixed things that most didnt like on the Nine Hundred, as evolution dictates. Antec managed to keep the styling that everyone seemed to like and made the Nine Hundred one of the best selling cases. Now its the Twelve Hundred's turn to take the spot light. Lets take a moment to get to know the Twelve Hundred a little better, first the specifications as listed on Antecs website.
Specifications
12 Drive Bays
Perforated front bezel for maximum air intake
Washable air filters reduce dust build up in your system
Advanced Cooling System:
1 top special 200 x 30 mm blue LED exhaust fan with 3-speed switch control (LEDs can be switched off as well)
2 rear 120 x 25 mm special blue LED exhaust fans with 3-speed switch control
3 front 120 x 25 mm special blue LED intake fans with front speed control
1 side 120 x 25 mm fan to cool graphic cards (optional)
1 middle 120mm fan to cool CPU or graphic cards (optional)
Water cooling platform for reservoir or pump
7 expansion slots
Top mounted I/O ports for easy access
Power and reset button with blue LED
2 x USB 2.0
1 x eSATA
HD Audio In and Out
Convenient top accessory tray for a personal media player
Motherboard: Mini ITX, Micro ATX, or Standard ATX
No Power Supply included: To optimize performance of your Twelve Hundred, your choice of power supply is crucial. Antec strongly recommends choosing from our NeoPower or TruePower series.
Dimensions:
22.9″ (H) x 8.4″ (W) x 20.2″ (D)
58.2 (H) x 21.3 (W) x 51.3 (D) cm
Weight:
Net: 31.9lbs / 14.5kg
Gross: 38.6lbs / 17.5kg
The Packing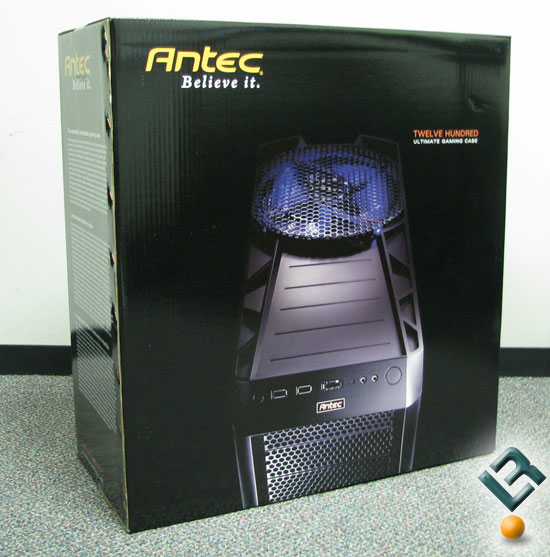 The Twelve Hundred comes packed in card board box, with a nice angle shot of the top of the case on the front. Those with a Nine Hundred can spot a couple of the style changes already.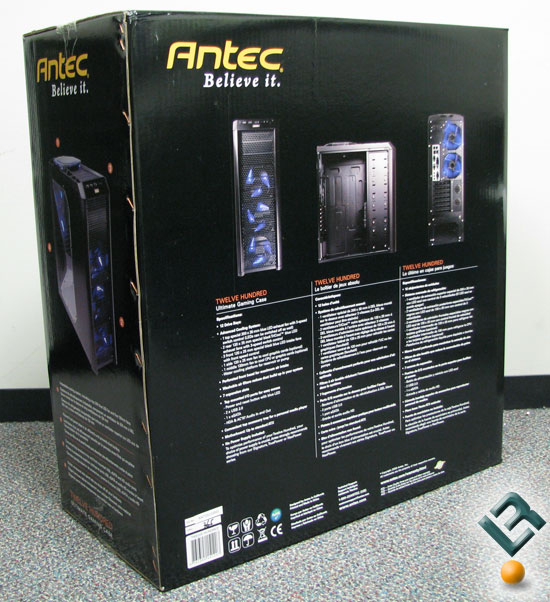 On the back are front/inside/rear shots of the case and the specifications in a couple of languages. So, if you were looking at this box on a shelf in a store, you would have a very good idea if what youre about to drop $170 dollars on is worth it.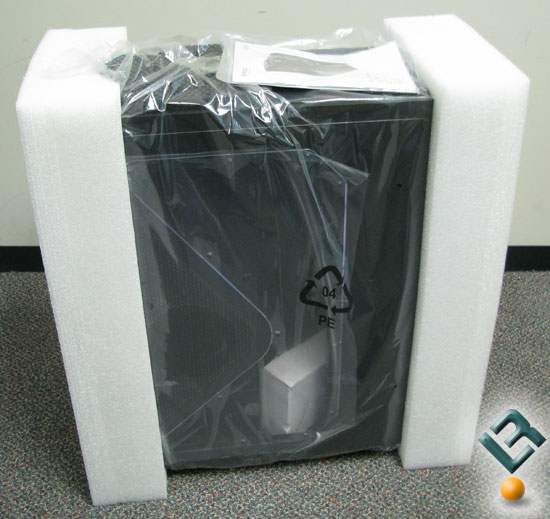 Out of the box we can see the Twelve Hundred is packed in the usual way with foam end caps and wrapped in plastic.