Antec Notebook S Cooler Review
By
Small But Functional
Although modern processors are following a trend of faster and cooler operation, many notebook computers can still get very warm under normal operating conditions. Throw in a frag session and it may be more than your online opponent that goes up in flames, mainly due to the heat generated by todays higher-end video cards. Excess heat can damage your components and lead to premature failure. Thankfully, companies like Antec have produced various models of cooling pads to help mitigate overheating and keep your notebook in its happy temperature zone all for around $25.00.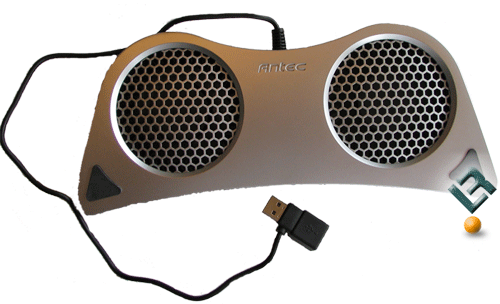 Antecs newest entry into the fray is its Notebook Cooler to go aka Notebook Cooler S. It is smaller than most coolers and it designed to be small, lightweight and easy to transport. In addition, it features the following:
USB-powered cooler with pass-through connector included. Draw power from any USB port without losing use of the USB port
2 quiet double ball-bearing 80MM fans for reliable extremely quiet operation
Low power consumption
No batteries or power adapter needed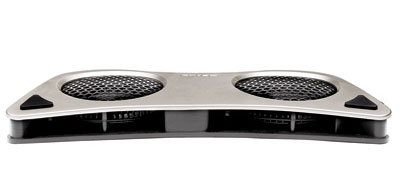 One of the biggest reasons for notebook PCs overheating is the blocking of the vents on the bottom or sides of the machine when set on a soft surface such as a lap, chair, etc. Coolers elevate the PC and actively move air across the bottom of while pulling in air from outside of the machines footprint. In essence, they dont actually cool since they use the ambient air. They simply prevent hot air from building and in turn reduce the internal heat accumulation, similar to the job of case fans in a desktop PC. The S does it a little differently than most. Most of the cooler itself sits outside the bottom of the PC and draws the air in and along the bottom of the machine. Most coolers sit directly under the PC and act more like an exhaust fan. The downside of the S design is that it really is not feasible to sit with the PC in your lap due to the way it rests on the cooler.