Angelbird SSD wrk 256GB SSD Review – Silicon Motion SM2246EN
By
Angelbird SSD wrk – Hands On With Austria's Leading SSD Maker
Angelbird might night be a household name, but the Austrian company has been around in the SSD market for a number of years and has gotten a reputation for having high quality products. Angelbird is one of the very few SSD makers that we know of that uses the vapor phase soldering method, which is gentler than the more common reflow soldering oven. Removing the use of high-heat ovens and moving over to a vaporized soldering environment that is inert and completely oxygen-free without nitrogen content does add time and cost to the assembly process, but it delivers the best results. When we found out that Angelbird was coming out with a new SSD product like called the SSD wrk we couldn't wait to get our hands on one of these drives and see what Angelbird has to offer consumers.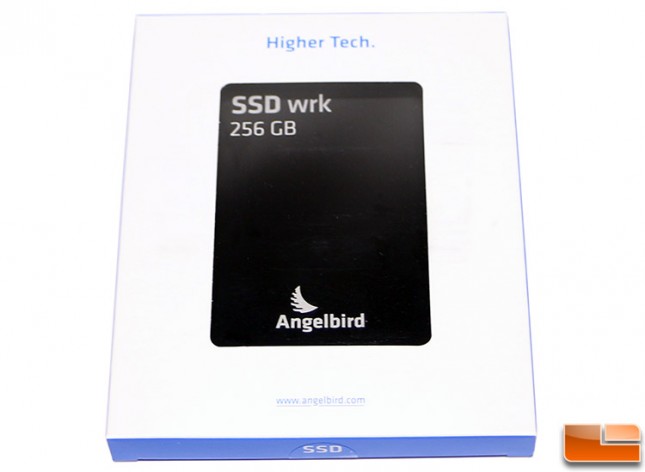 The Angelbird SSD wrk series was designed to be reliable and affordable, so think of this as a value offering. The Angelbird SSD wrk is available in 128GB, 256GB and 512GB capacities for desktop and notebook user since the drive uses a 7mm casing in the standard 2.5″ drive form form factor. Angelbird went with the SM2246EN SATA 3.1 controller from Silicon Motion (features overload protection, TRIM, ECC, EMS protection, SMART) and paired that with Micron L85A 20nm Synchronous MLC NAND Flash with ~7% over provisioning. That combination is good for up to 563MB/s sequential read speeds and 450MB/s sequential write speeds on the 512GB model. When it comes to 4K random write performance you are looking at up to 72,000 IOPS on the Angelbird SSD wrk 512GB model. The performance does taper off as the capacity decreases, so be sure to keep an eye on that when picking out a drive to purchase for one of your systems.
Angelbird SSD wrk Series 2.5″ SSD Peformance:
128GB – SSDWRK128 – 149MB/s write 563MB/s read 67,500 IOPS
256GB – SSDWRK256 – 297MB/s write 563MB/s read 72,000 IOPS
512GB – SSDWRK512 – 450MB/s write 563MB/s read 72,000 IOPS
When it comes to pricing you are looking at $.078, $0.62 to $0.59 per GB, respectively. These prices aren't bad, but it puts the SSD wrk series in direct competition with many of the other budget minded drives out there as many drives are hitting $0.50 per GB now in the budget SSD space. The drives have a Mean Time Between Failures (MTBF) of at least 2 million hours and are backed by a 3-year warranty.
Angelbird SSD wrk Series 2.5″ SSD Pricing:
128GB – SSDWRK128 – $99.99
256GB – SSDWRK256 – $159.99
512GB – SSDWRK512 – $299.99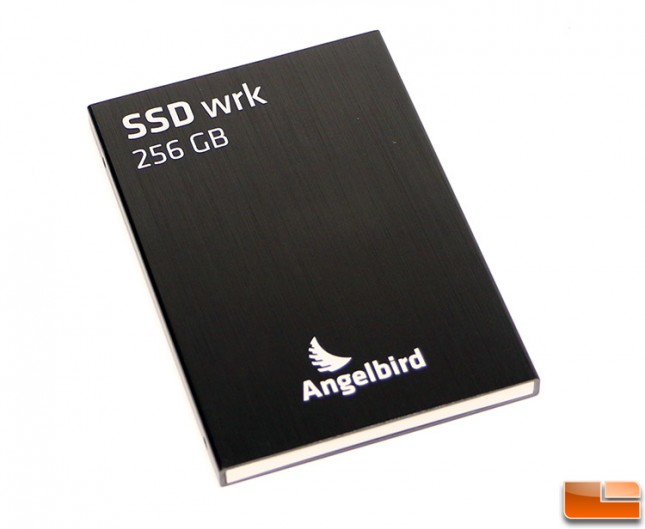 The Angelbird SSD wrk features a 7mm matte black brushed aluminum housing that has had the product information silk screened onto it. The overall finish is nice and we like the white and black combination as it goes with most anything. The housing on the drive is also unique in the since that it is uses a sliding center tray design, so the black metal housing is a solid piece of aluminum and the white plastic center can be unscrewed and slid out to remove the 'guts' of the drive.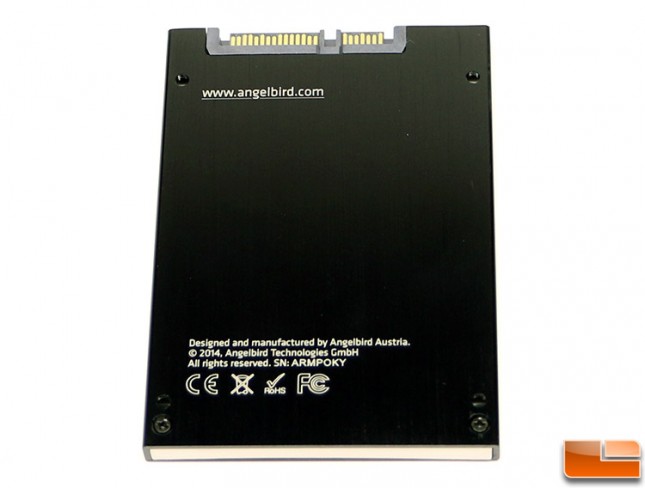 On the back of the black metal 2.5-inch enclosure you can see that the SSD wrk series has the standard drive mounting along with the standard Serial ATA power and data connectors. This means that you should be able to use this SATA III (6Gbps) drive in pretty much any system. Angelbird didn't include any mounting trays or brackets, but most all new computer cases now have 2.5″ drive mounting points. There is no power information on the back of the drive, but it operates on the 5V power rail and we were told by Angelbird that the SSD wrk 128GB drive uses 0.25W at idle and tops out at 1.97W during use. The larger 256GB and 512GB drives will use slightly more power than that, so we'll have to see how much this drive uses when we measure the power consumption ourselves in-house.
Let's move along and open up this SSD to see what is going on inside.