AMD Zen-based CPUs and APUs Will Have Unified Socket AM4
By
AMD today officially announced the AM4 socket for the upcoming Summit Ridge and Bristol Ridge family of Zen-Based APUs and CPUs. This confirms the rumors over the past year that Bristol Ridge and Summit Ridge products will indeed be using a unified platform with the AM4 socket!
AMD's current platform lineup has three different sockets. The slide below shows the current platform stack and is basically a snapshot of evolution over time of processors. You have the high-end Vishera where you have a CPU and a northbridge, southbridge and a discrete graphics card. Then you have the APU's on FM2+ that need a platform controller hub (PCH). Lastly there is a entry level AM1 platform with Kabini SoC's (Athlons and Semprons) that don't need any additional logic on the board to run.
The bad thing about is that if you want to upgrade your processor you might have to upgrade your motherboard as there are several sockets being use by AMD for their current desktop platforms. AMD is going to be simplifying this by moving to a single unified socket, socket FM4, for their upcoming 'Zen' series of desktop processors. AMD is hopeful that this will appeal to system builders and consumers as it makes the updating or building a system much easier.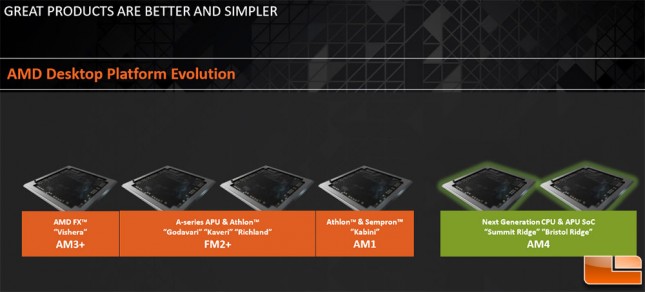 AMDs new high-performance desktop processor is code-named Summit Ridge is a full SoC and will feature up to eight 'Zen' cores, 4MB L2 cache, 8MB of L3 cache, a dual-channel DDR4/DDR3 memory controller, a PCI Express 3.0 controller and more. Bristol Ridge will be the companys new high-end APU SoCs for 2016 that will feature up to four 'Zen' cores, DDR4 memory support and more.
The new processors and SoCs will be fully interchange since both boards use the AMD AM4 processor socket. AMD believes that this will solve many problems for system builders and will really help simplify things for everyone. More positive news after yesterdays announcement of a new reference cooler design called Wraith!