AMD Ryzen 9 3900X 12-Core CPU Undervolted to 1.00V
By
I noticed a number of sites and channels are reporting that the AMD Ryzen 9 3900X 12-core, 24-thread processor can be run at full clock speeds with just 1.00V on the CPU VCore. That sounds pretty damn impressive and I just had to give it a try here to see if that is possible and what that means for performance.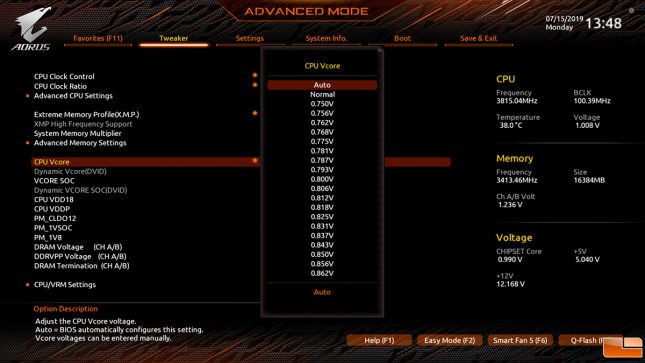 The Ryzen 9 3900X CPU just happens to still be in the Gigabyte AORUS X570 Master motherboard, so I restarted our system and went straight to the CPU Vcore setting in UEFI F5g and took it off 'AUTO' and dropped it down manually to 1.20V, 1.10V and 1.00V to see what would happen. Most those reporting on running 1V flat on the Ryzen 9 3900X are just showing thermal performance and not benchmark numbers. I'll be running Cinebench R20 with four CPU Vcore settings (AUTO, 1.2V, 1.1V, 1.0V) to show you what happens to performance when you drop the voltage on this Zen 2 processor.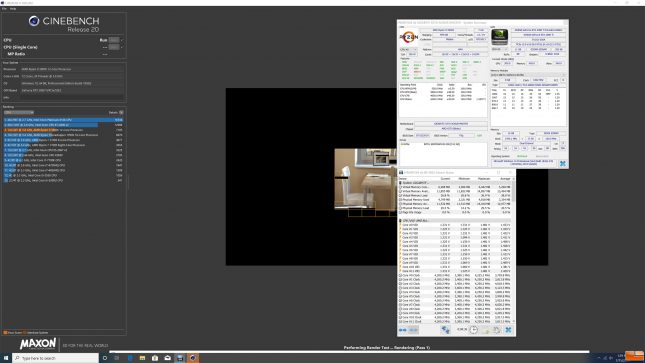 The system booted right up with the Vcore manually set to 1.10V and Cinebench R20 was running like a champ. I left HWiNFO64 open to monitor speeds and it was showing that the 3900X was running at 4.2GHz on all 12 cores during the benchmark run. Amazing!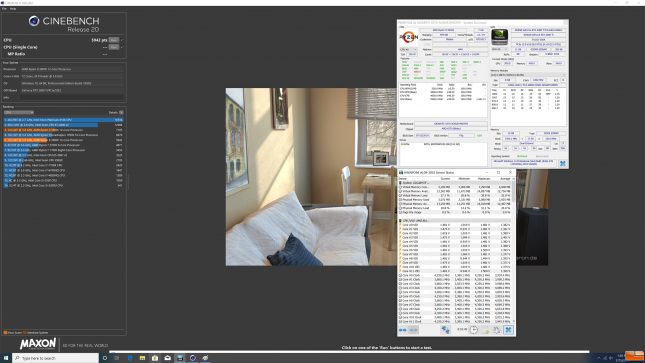 And the final score is 5,942 points! Oh wait, that is way lower than the stock score if 7,105 that I got with stock 'Auto' voltage settings. Our performance dropped by just over 16% thanks to undervolting the processor. The power draw at the wall outlet dropped from 216 Watts down to 155 Watts. That means the system is using 28% less power and taking just a 16% hit to performance. When we dropped down to 1.00V the overall score went down to 5,490 points. That means performance was down 22.7% and the power was down 35.6%. That actually is impressive when you think about it! Undervolting the 3900X will allow you to put in small form factor system or use near silent thermal solutions a mini case as long as you are willing to give up some system performance.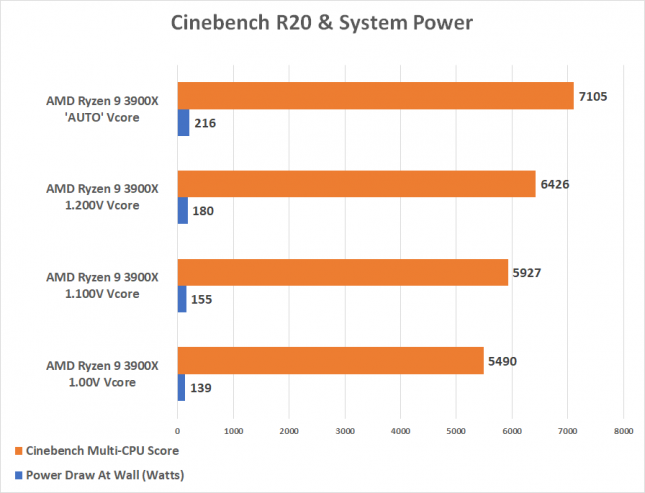 When I raised up the Vcore the Cinebench R20 performance went up accordingly as did the power draw from the system. It looks like what is happening here is that manually setting the CPU Vcore also adjusts the power budget allotted by the system. So, the rumor that you can drop the Vcore all the way down to 1.0V without hurting performance is false. HWiNFO64 shows that the cores are running at 4.2GHz, but there is clearly a performance hit. Maybe this is what many sites that are showing off the 3900X running at just 1.00V are showing mainly temperature results and not talking about performance too much. It looks like the platform is nerfing something to stay within power budget. I've pestered AMD to find out exactly what is happening here and will update this article with their response.
It was still fun to try out and neat to be able to set the Vcore to just 1.00 Volts on a 12-core, 24-thread processor and have everything work like it should! Undervolting desktop CPUs to see how much efficiency you can squeeze out of them can be just as fun as overclocking.
The AMD Ryzen 9 3900X processor is available for $499.00 at Amazon and you can read our review on it here.