AMD Ryzen 3000 Series Boost Clocks Investigated
By
The desktop CPU war between Intel and AMD is the most exciting its been in years. AMD has been rapidly catching up thanks to their new Zen core microarchitecture that was first introduced in 2017 in Ryzen 1000 series processors. AMD has since rolled out the Ryzen 2000 and Ryzen 3000 series and everything was going pretty smoothly for AMD. Then in recent weeks it has come to light that many of the AMD Ryzen 3000 series CPUs are not reaching their advertised boost speeds.
AMD defines the 'Max Boost Clock' on the Ryzen 3000 series as being the "the maximum single-core frequency at which the processor is capable of operating under nominal conditions." So, to us that means it should be the highest boost-clock that we are able to run on one of the cores of the processor. For example the AMD Ryzen 7 3700X has a boost clock of 4.4 GHz, so when running single-threaded applications we'd expect to see one core running at 4.4 GHz at some point.
It seems like that isn't the case as many community members are unable to reach the Max Boost Clock on their Ryzen CPU. Overclocker and hardware reviewer Der8auer conducted a survey last month concerning Ryzen 3000's ability to reach its advertised boost clocks. Thousands of people responded and most reported that they could not hit the advertised Max Boost Clock on their Ryzen 3000 series processor. Der8auer questioned why the boost clock is advertised if it can't be reached on all CPUs and that it was giving people false expectations.
This certainly got our attention and we wanted to see if we could hit the advertised boost clocks on any or all of our CPUs.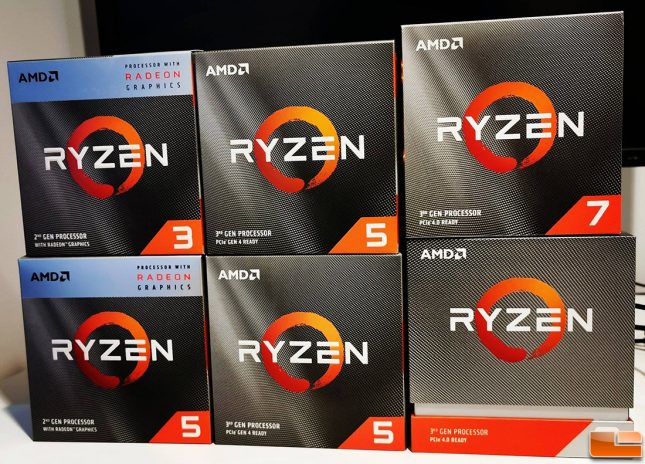 For testing we will be using our AMD X570 desktop platform with four AMD Ryzen 3000 series processors; Ryzen 9 3900X, Ryzen 7 3700X, Ryzen 5 3600X, and Ryzen 5 3600. A clean install of Windows 10 Pro 64-bit v1903 was done and all updates as of 9/08/2019 were applied to to the operating system. AMD chipset driver version 19.10.16 was used. The CPU was kept cool by a Corsair Hydro Series H115i PRO liquid CPU cooler and a 1TB NVMe SSD was used as the systems primary drive and resided on the motherboards 1st built-in M.2 slot.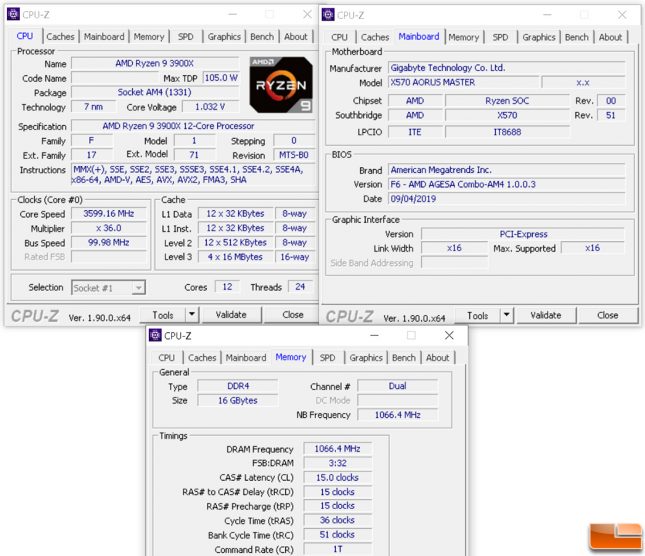 The Gigabyte X570 AORUS Master motherboard (pricing) for AMD Ryzen processors was running BIOS/UEFI version F6 (AGESA 1.0.0.3 ABB). After each AMD Ryzen 3000 series processor was installed we loaded optimized defaults and made zero changes. This left the memory running at 2133 MHz and that is fine as we wanted to keep the setup as simple as possible. PBO was disabled and Ryzen Master was not installed on the test system.
CPUs Tested in our Max Boost Clock Experiment
Pricing as of 09/9/2019 – Product links in this table are affiliated, and support the website.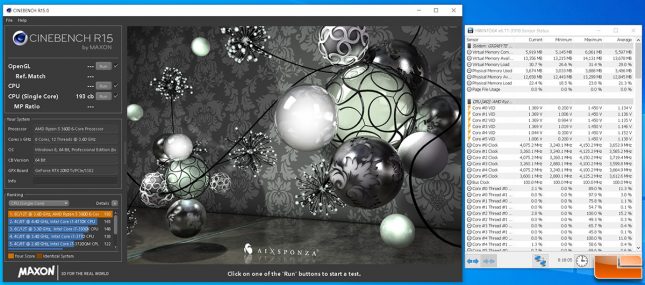 For testing we followed the same setup that AMD recommended to der8auer when he did his AMD Ryzen 3000 Boost Clock Survey earlier this month. We downloaded Cinebench R15 and HWiNFO64. We then set HWiNFO64 to run with a 500ms polling rate (default is 2000ms) and ran the sigle-CPU benchmark in Cinebench R15. We did this three times and recorded the maximum boost clock shown on each of our Ryzen 3000 series processors.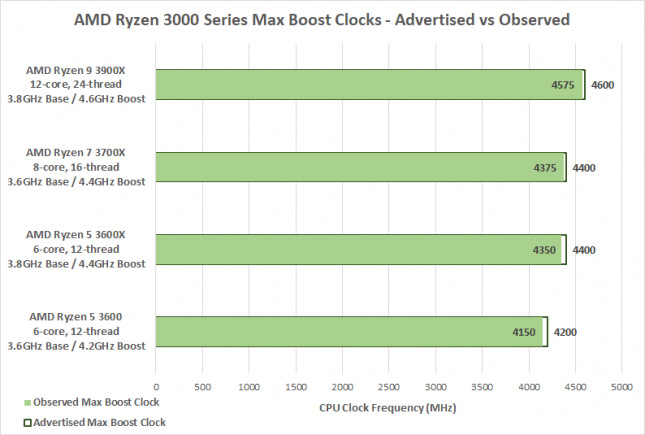 Our benchmark results seem to mirror what the rest of the community is seeing. Not one of the AMD Ryzen 3000 series processors that we have are able to hit their maximum advertised boost clocks on our one test platform. Our 'missing' 25-50 MHz, represents just over 1% of the advertised overall clock speed. We'd expect to see one single core on any given CPU to be able to hit its advertised boost clock speed. Are CPU is water cooled and we have active cooling blowing across the 14 Phase Infineon Digital VRM Solution on our Gigabyte X570 AORUS Master motherboard. Our processors were all sent to us directly from AMD when the Ryzen 3000 series launched, so it doesn't look like the media was given cherry picked samples.
The fact that none of the chips are hitting AMDs rated boost speed, on any core, is indeed frustrating and disappointing. Sadly, after doing our own testing and looking at the results from der8auers' survey with results from nearly 3,000 people it is clear that chances are most 3rd Gen AMD Ryzen processors simply aren't hitting their promised boost speed at all. This chart also only shows the maximum clock ever reached during the benchmark runs. The clock speed fluctuates during the benchmark run and 'core hunting' also takes place, as we saw two cores taking turns running this single-threaded benchmark.
The good news is that AMD has issued a statement about the boost clock falling short and will be providing an update on the situation tomorrow.
AMD is pleased with the strong momentum of 3rd Gen AMD Ryzen processors in the PC enthusiast and gaming communities. We closely monitor community feedback on our products and understand that some 3rd Gen AMD Ryzen users are reporting boost clock speeds below the expected processor boost frequency. While processor boost frequency is dependent on many variables including workload, system design, and cooling solution, we have closely reviewed the feedback from our customers and have identified an issue in our firmware that reduces boost frequency in some situations. We are in the process of preparing a BIOS update for our motherboard partners that addresses that issue and includes additional boost performance optimizations. We will provide an update on September 10 to the community regarding the availability of the BIOS. – AMD PR on 9/3/2019
We'll be reporting on that tomorrow and we already have our 'before' testing done and can't wait to do the 'after' testing.
Some of you might be wondering what all this fuss is about. The AMD Ryzen 7 3700X and Ryzen 9 3900X both got within 25 MHz or 0.025 GHz of their rated speeds. That is pretty dang close, but the community is wanting to be able to hit the advertised maximum boost clock speeds on the chip they bought. They aren't looking for close enough as this we are talking about peak speeds and not the sustained speeds that are maintained for longer workloads. Wed also argue that the advertised boost speed should be hit, otherwise what is the point of having them.
Lastly, for those that are curious what the Cinebench R15 scores were for the Single Core CPU – we got you. You can see those results below.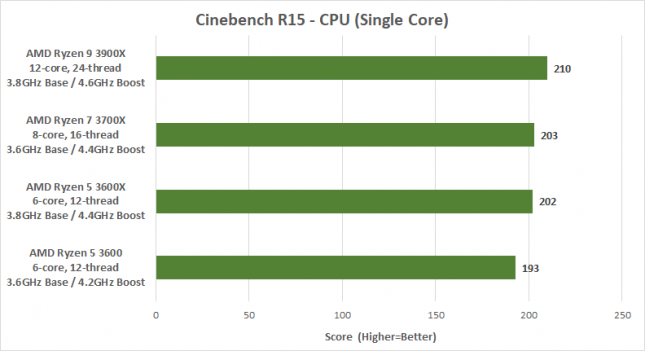 Update 9/13/2019 – AMD belives they have fixed the max boost clock issue in AGESA 1.0.0.3 ABBA, which is available in a new BIOS build from each motherboard maker. We tested 1003ABBA in an article that is posted here.