AMD Radeon R9 290X Battlefield 4 Edition – Only 8,000 and No Specs For Pre-Order
By
Earlier this week we told you that AMD would be releasing a limited edition Radeon R9 290X Battlefield 4 video card. AMD Corporate Vice President of the Graphics Business Unit, Matt Skynner, said that limited quantities of the Radeon R9 290X Battlefield 4 Edition card will be available for pre-order only, starting October 3 with select partners.
What we have learned since bringing you that news is that AMD will be releasing a grand total of 8,000 AMD Radeon R9 290X Battlefield 4 Edition cards. This means globally and not just regionally! We also learned that the cards specifications and the final price of the card will not be disclosed when the pre-order begins. This means that you'll have to put down a deposit without knowing the price or clock speeds of the card that you will be purchasing. This is a very interesting and something we've never seen done before in recent times. To top that off only certain Add-In board partners will be offering it.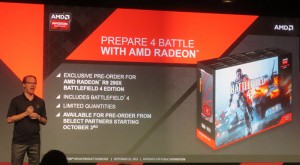 This limited edition card already has people talking and that was AMD wanted. That said, many people thought that AMD would strike a deal with EA and include Battlefield 4 with their Never Settle Forever game bundle promotion. That doesn't appear to be the case, but you never know what the future might hold.
EA's Battlefield 4 is an important game title for AMD as the game title will be the first to use AMD Mantle technology. We have a feeling that AMD will be heavily promoting BF4 and using it to highlight the performance advantages they have over other brands (NVIDIA) once the Mantle patch comes out in December.