AMD Introduces Radeon R9 and R7 Series Graphics Cards w/ AMD TrueAudio
By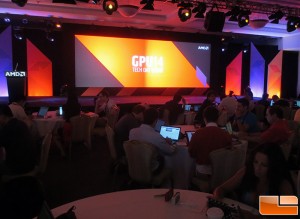 Legit Reviews is at the AMD GPU 14 Tech Day and they just announced the new AMD Radeon desktop graphics card series. We know you want to hear about the new graphics cards, so we'll skip the fluff and get straight to the cards.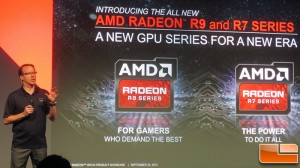 AMD announced the Radeon R9 and R7 series cards. The AMD Radeon R9 series is aimed at enthusiast gamers and the AMD Radeon R7 series is aimed at performance gamers.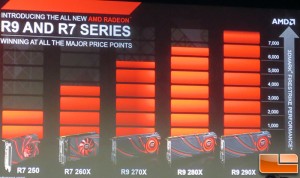 In total AMD will be debuting five new video cards that start in price from just $89 and range in performance from 2,000 to over 7,000 3DMarks on the latest version of 3DMark with the standard performance preset.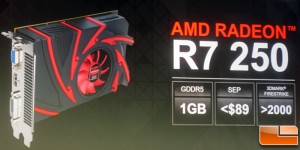 The new AMD entry level card to the next-generation cards will be the AMD Radeon R7 250. This small desktop graphics card will be around $89 and features 1GB of GDDR5 memory and will have a 3DMark Performance preset score of just over 2000 3DMarks.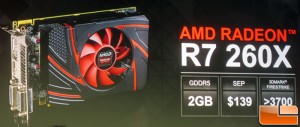 The next card in the series will be the AMD Radeon R7 260X at $139. The Radeon R7 260X will have 2GB of GDDR5 memory and the 3DMark Performance score will be around 3700 3DMarks. So, you are paying $50 more or 56% extra and getting 85% more performance than the AMD Radeon R7 250. AMD says this will be the fastest video card that money can buy for $150. This is a sweet spot gaming graphics cards and should be a popular model for those with single 1080p displays.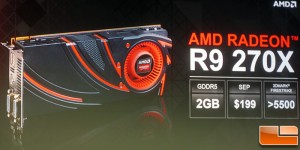 Those that like to crank up the image quality or want better performance can step it up to the AMD Radeon R9 270X. This is the first card of the high-end AMD R9 2xx video card series and therefor the first card aimed at hardcore gamers. The AMD Radeon R9 270X has 2GB of memory and scores around 5500 3DMarks in the 3DMark performance preset benchmark.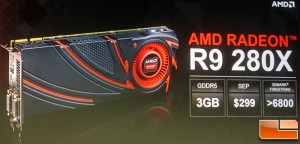 Next up we have the AMD Radeon R9 280X, which AMD says was designed for 1440P gaming. This card has a larger 3GB frame buffer that is needed for gaming beyond 1080P and is able to hit nearly 7,000 3DMarks in 3DMark.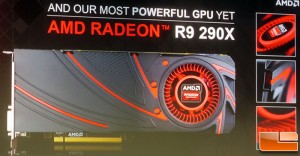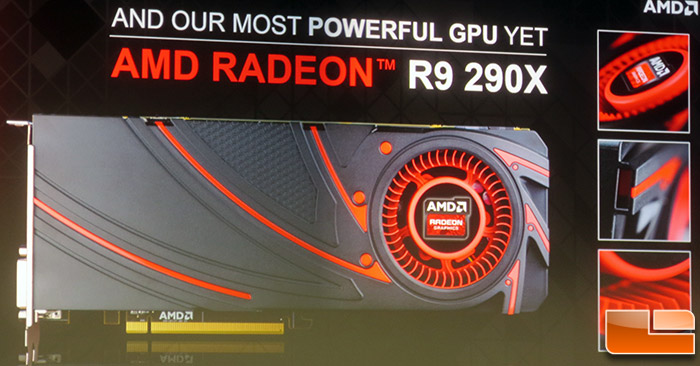 Finally, we have the AMD Radeon R9 290X. The AMD Radeon R9 290X is the flagship gaming graphics card and is the card AMD says you must have if you plan on gaming at 4K as you need 4GB of memory (Sounds like this card really does have 4GB of GDDR5 memory on the 512-bit bus). AMD says this card is a monster that has been enhanced to support DirectX 11.2 and has been improved energy efficiency. The AMD Radeon R9 290X has OVER 5 TFLOPS of compute performance and OVER 300 GB/sec Memory Bandwidth! AMD has also doubled geometry performance, so the AMD Radeon R9 290 has the ability to create OVER 4 billion triangles/sec. The AMD Radeon R9 290X has OVER 6 Billion Transistors. The NVIDIA GeForce GTX TITAN uses 7.1 Billion transistor on the GK110 GPU.
No pricing information on the AMD Radeon R9 290X was given and no further information was given on the hardware specifications. AMD also will be releasing the Radeon R9 290, but no slides were shown on that model. It is likely a Radeon HD R9 290X with fewer stream processors and lower clock speeds.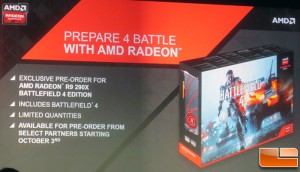 AMD also announced an exclusive pre-order for the AMD Radeon R9 290X Battlefield 4 Edition card that will begin on October 3rd, 2013. This will be a limited edition/quantity card and includes the PC version of Battlefield 4 with the purchase of the card.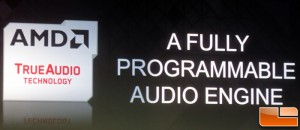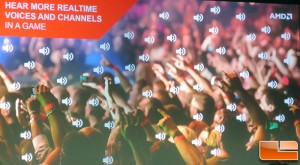 AMD is also announcing TrueAudio Technology, which means they have the first video card with fully programmable audio. AMD TrueAudio technology is expected to revolutionize game audio much like programmable shaders revolutionized 3D gaming graphics. Positional data can be extracted from the game data now, which will give gamers an audio experience like never before.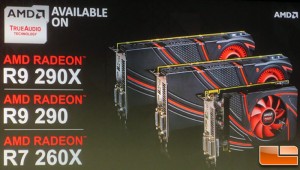 Three of the new AMD Radeon R9 cards will feature AMD TrueAudio Technology; AMD Radeon R9 290X, Radeon R9 290, Radeon R7 260X. AMD TrueAudio is handled by a separate DSP on the card and that is why only these there cards support the new technology. AMD put a ton of focus on the audio performance that these new cards have, so we can't wait to learn more about it in our deep dive sessions with the engineers.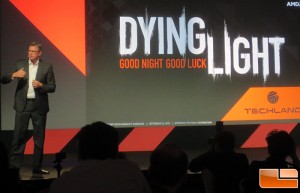 We'll be back with more information when we get it. The presentation is still going on, but we wanted to give you the details as fast as possible! You can watch the Livestream here.