AMD Kaveri Mobile APU Preview – FX-7600P with Radeon R7 Graphics
By
AMD Takes Kaveri Mobile and FX Returns – FX-7600P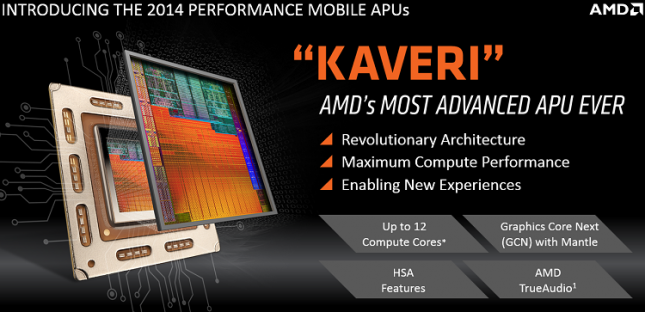 Earlier this year AMD launched their Kaveri APUs for desktops and now they are ready to release Kaveri APUs for mobile platforms. AMD's Kaveri series of APUs feature enhanced Streamroller x86 cores and the latest in graphics cores thanks to the inclusion of Graphics Core Next (GCN) with Mantle and TrueAudio technology support. The transition from desktop to mobile didn't change much as the mobile variants of Kaveri share the same basic features and really just differ in clock speeds and voltages due to their lower mobile power envelopes.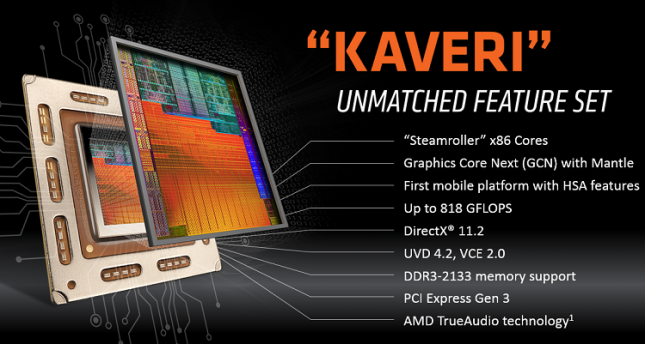 It should be noted that Kaveri is the first notebook processor to offer full HSA (Heterogeneous System Architecture) support. AMD has been driving HSA for years and this is the first mobile part that has HSA features. This is important as programmers now have the ability to fully exploit the capabilities of parallel execution units. With HSA, applications can create data structures in a single unified address space and can initiate work items on the hardware most appropriate for a given task with minimal dispatch overhead.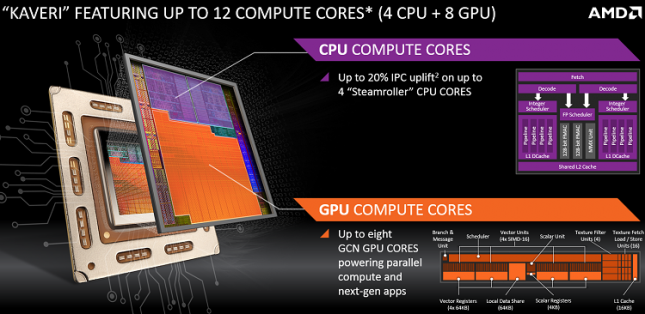 The flagship AMD Kaveri APU is called the FX-7600P and it will ship with 12 Compute Cores (4 Steamroller x86 CPU cores and 8 GCN GPU cores). Since it is using GCN GPU cores, it means that AMD's Mantle API and TrueAudio technology are both supported by these mobile APUs.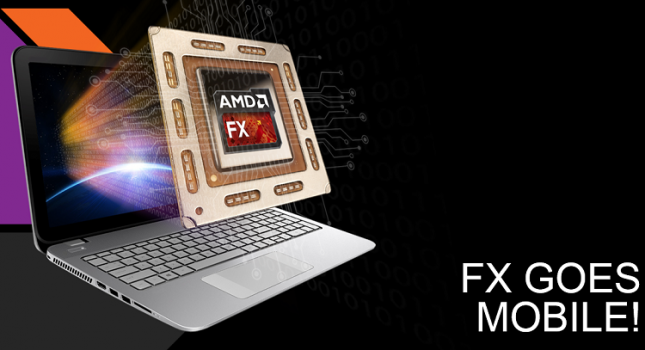 Oh, and the FX series has been brought back from the dead! Will there be future AMD FX desktop processors?
The new 2014 AMD Performance Mobile APUs are broken down into classes of A-series APUs: Standard Voltage or SV designed to run at 35W, Ultra Low Voltage or ULV designed to run at 19W, and Commercial ULV designed to run at 17W or 19W. The SV and ULV chips are what you'll see on many of the AMD-based consumer laptops later this year while the Commercial ULV or AMD PRO series chips will be used in a variety of business class or workstation notebooks later this year. So, the two most important series for our audience is clearly the AMD A-Series SV and ULV APUs. When looking at just those two groups you'll see that each groups flagship processor is labeled as FX. Yes, AMD is bringing the FX nomenclature back. This means that there are now A6, A8, A10, FX and Pro A-series processors out there. The the top two models are the AMD FX-7600P and AMD FX-7500.
All the Kaveri APUs are quad-core processors with 4MB of L2 cache except for the A6 PRO-7050B which is a dual-core part that has just 1MB of L2 cache available and 3 GPU compute cores. The base clock speeds for the A-series notebook APUs range from 1.8 GHz to 2.7 GHz, but some will be able to reach 3.6 Ghz thanks to AMDs Turbo Core technology that allows the cores to speed up for a short period of time on certain workloads. One of the big difference between many of the mobile processors are the graphics. As we already noted, both mobile and desktop Kaveri APUs are powered by graphics that utilize AMD's GCN architecture. Each Kaveri APU has up to 8 GPU Compute Cores with speeds ranging from 514MHz to 686MHz.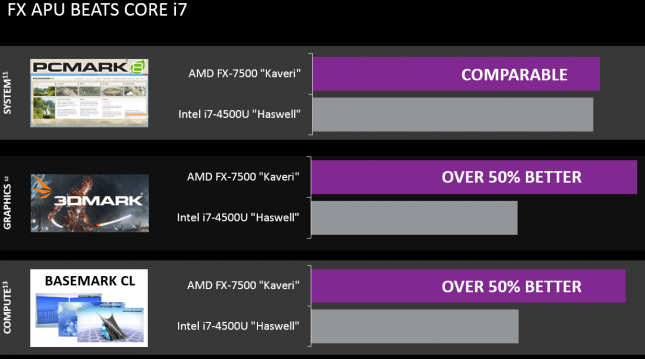 So, what does all this get you when it comes to performance? AMD says that the FX-7500 'Kaveri' APU should be comparable to the Intel Core i7-4500U 'Haswell' mobile processor when it comes to PCMark8 and is 50% faster in 3DMark and Basemark CL. The Intel Core i7-4500U is a 15W TDP part and the AMD FX-7500 is a 19W part, but that is a pretty good showing for AMD.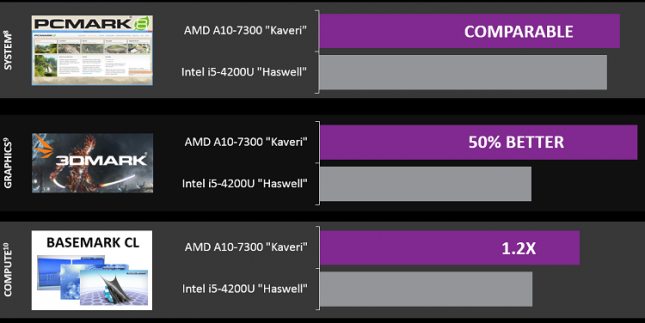 The same holds true when you move down the product stack to the AMD A10-7300 and compare that to the Intel Core i7-4200U 'Haswell' processor. The only difference here is that there is just a 20% performance difference in Basemark CL. It looks like mobile Kaveri is going to offer some solid performance, so lets take a look at the prototype Kaveri notebook and run some of our own numbers.