AMD GPU Roadmap Shows Till 2019 – Shows Vega and Navi GPU Architectures
By
We were told that the Radeon Technologies Group would be naming future GPU architectures after stars and galaxies, but they never told us any of the code names beyond Polaris that is slated for release in June 2016. At AMD's Capsaicin Event during GDC 2016 no other than Mr. Raja Koduri, head of Radeon Technologies Group, spilled the beans and showed off a roadmap that talks about Vega and Navi GPU architectures. AMD doesn't show off roadmaps like this too often, so it's great to see what AMD is doing behind the scenes.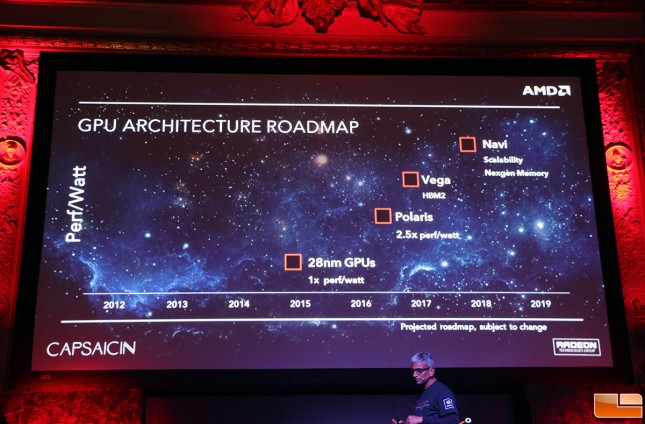 The AMD GPU architecture roadmap shows that HBM2 memory will be adopted by AMD in some capacity in 2017 when the Vega GPU architecture debuts. We are really excited by this as the current Fiji GPU cards are limited to just 4GB of memory due to HBM1 limitations. Many high-end enthusiasts are looking for more than 4GB of memory and we have seen where 4GB of memory could be having a negative impact on performance on cards like the AMD Radeon R9 Fury. Then in 2018 it appears that a GPU architecture called Navi will be using next generation memory and will have new scalability features.
AMD did not show what process the upcoming GPUs will be using, but we do know that Polaris will be made on the 14nm FinFET process. The roadmap slide shows Perf/Watt on the Y-axis, so it looks like Vega and Navi are expected to bring significant performance per Watt improvements to the table.
The AMD Radeon Pro Duo graphics card was also announced tonight, so be sure to check out AMD's new flagship desktop graphics card!