AMD Radeon Pro Duo Video Card Coming For $1499
By
The wait for the AMD Radeon Fury X2 graphics card is finally over! The card is officially called the AMD Radeon Pro Duo and will debut in Q2 2016 for a not so small sum of $1499. AMD believes that we are on the cusp of an immersive computing era and that the Radeon Pro Duo has all the right features and plenty of power for game engines that will be powering the VR game titles. The AMD Radeon Pro Duo has 16 teraflops of compute performance and is aimed at those in the 'VR developer lifestyle' according to the press release. You know, those designing VR content during the day and then play DX12 game titles on their work breaks. AMD further explained to us that this card creates a new VR Creator tier, guaranteeing the highest level VR experience for developers who love to game. AMD is clearly not positioning this card towards gamers and that makes sense with the price point. This is also similar to what NVIDIA did with their Titan series of desktop graphics cards.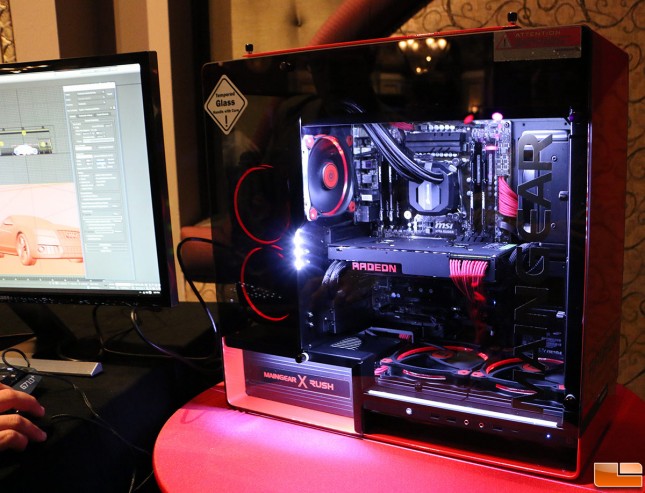 The Radeon Pro Duo was shown off in a working system at the AMD Capsaicin event today in San Francisco during the Game Developer Conference (GDC). A demo system was available for us to check the dual Fiji GPU powered card out, but unfortunately it wasn't a game title for us to check out. We can't be too disappointed though as this is a developer conference, so why not show off developer applications!
Radeon Pro Duo Overview:
AMD is announcing the worlds first VR content creator platform, the Radeon Pro Duo, the platform of choice for high-end VR content development targeting the widest possible range of fields, including education, medicine, gaming and entertainment.
Radeon Pro Duo has 16 teraflops of compute performance, establishing the VR Creator tier, and guaranteeing the highest level VR experience for developers who love to game.
Radeon Pro Duo is the platform choice for Cryteks VR First initiative enabling todays and

tomorrows

generation of VR content developers with the most powerful hardware.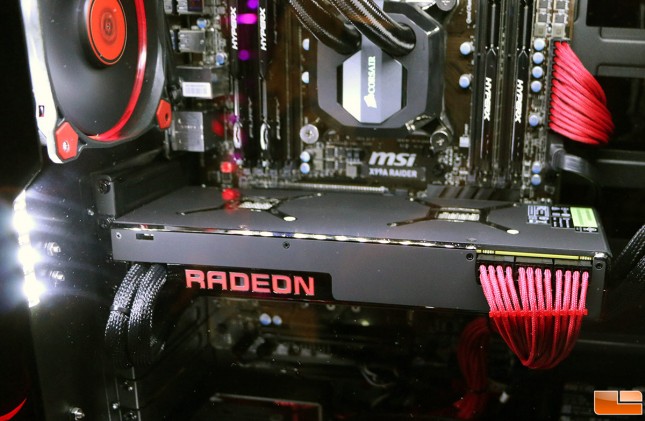 Looking down at the card you can see the two Fiji GPU heatsink retention brackets and six 8-pin PCIe power connectors. The card has the usual red/black color scheme that we'd expect from any flagship Radeon card.
LR spoke with Anshel Sag, Product Analyst at Moor Insights & Strategy, who gave us the following comment on AMD's new flagship graphics card.
"The AMD Radeon Pro Duo shows the evolution of the company's high-end graphics card strategy with the positioning of the Radeon Pro Duo towards a content creator audience rather than their traditional gamer consumer. This new positioning of their new high-end graphics card helps AMD justify the higher price and lower volumes of the Radeon Pro Duo. Creating a new high-end card for developers first also gives developers the right state of mind to create VR games and other VR experiences for multi-GPU VR rather than single GPU from the beginning rather than as an afterthought." – Anshel Sag – Moor Insights & Strategy
The AMD Radeon Pro Duo won't be within reach for most gamers, but developers and those with deep wallets will have a new flagship card to buy. For the rest of us, AMD has publicly stated that its Polaris-based GPUs will be available in June and they will be much more affordable!