Altec Lansing UHP336 In-Ear Earphones
By
Altec Lansing UHP336 In-Ear Upgrader Series Earphones
When the good folks at Altec Lansing told us they were sending us their flagship headset we were very excited. We stopped by an visited Altec Lansing (and their parent company Plantronics) and this years Consumer Electronic Show in Las Vegas, we were introduced to the 2008 Upgrader Series that included headphones with the unique SnugFit design.
The SnugFit headphone that we have in our hands is the Altec Lansing UHP336 designed to proved noise-isolation and high-fidelity even at lower listening levels. The UHP336 features an in-ear design with your choice of silicon ear-tips or pads that conform to your ear for comfort and noise reduction. Altec Lansing fitted the headphones with a precision vented Armature Driver for professional musician-grade sound quality.
Priced at $129, the UHP336s in-ear fit and design is similar to other earbud-type headsets in that they use the rubber eartips to block out noise. The Altec Lansing headphones are priced around the same as one of our favorite headphones the V-Moda Vibe. Based on the specifications, the Altec Lansing UHP336 headphones would seem to stack up well with our top perforners.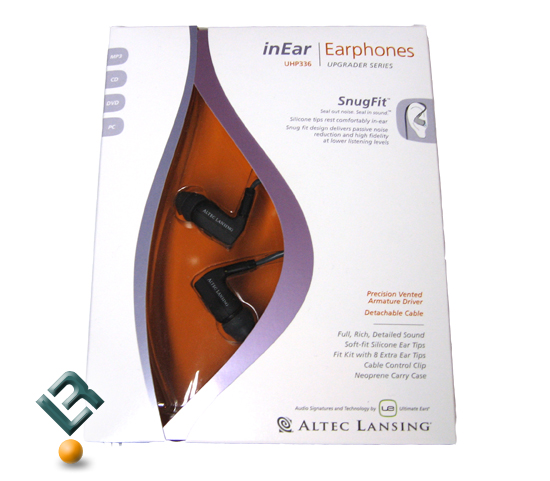 Key Specifications:
In-Ear Stereo Earphones
FrequencyRange: 20Hz – 15kHz
Impedance: 13 Ohms
Sensitivity: 115dB
Connectors: Gold-Plated Stereo Mini Plug
Cable Length: 46″ (1.2m)
Weight: 0.5 oz (14g)