Addonics AD25MSD mSATA to 2.5-inch SATA Drive Enclosure Review
By
Addonics Technologies is a company that has been around since 1998 and they have become one of the go to companies for those looking for unique storage products. If you are ever looking for an adapter to make something work, the Addonics product catalog is one of the first places that you should be looking. Addonics Technologies came out with Addonics 2.5-inch Flash Drive conversion kit (model AD25MSD) for mSATA SSDs way back in 2011. The adapter runs around $24.99 plus shipping and allows you transform your mSATA SSD drive into a traditional 2.5″ notebook drive. Why would you want to do this? Well, for starters mSATA SSD drives are on the way out and there plenty of people out there that have a mSATA drive that might no longer be needed in their system. What can you do with that mSATA drive now that M.2 (formerly NGFF) has become the go-to connector for PCIe Gen 3 x2 SSDs? You can pick up one of these affordable adapters and give that 'old' mSATA SSD a new life by putting it into a notebook that accepts 2.5″ drives or pretty much any desktop PC that has an open SATA II/III data port and space for a 2.5-inch drive to be mounted. Don't have a spot for a 2.5″ drive? Addonics also sells an optional 2.5″ to 3.5″ drive adapter called Snap-In 25 (model: AE25SN35SA) for $18.99 plus shipping that will allow you to then convert the 2.5″ drive into a 3.5″ inch drive. This is a very simple and straight forward product, so let's get to it.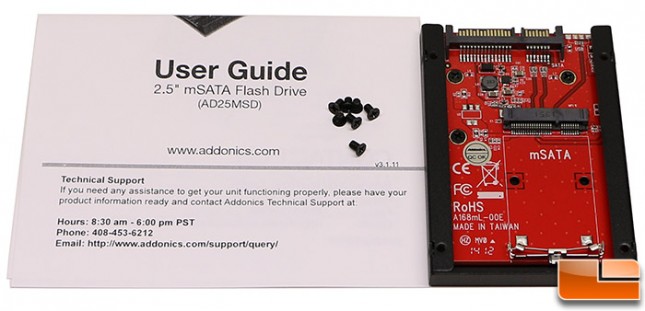 The Addonics AD25MSD 2.5″ mSATA Flash drive enclosure comes in a plain white box and inside you'll find the adapter, six screws and a user guide. As we mentioned a second ago, the Addonics 2.5″ mSATA Flash drive enclosure turns a regular mSATA SSD into a standard 2.5″ drive. The sturdy black metal drive frame and the SATA connectors mimic the exact size and connector location of those on a 2.5″ SATA notebook hard drive. Once the mSATA SSD is mounted inside this adapter, it can be used just like a standard 2.5″ SATA hard drive.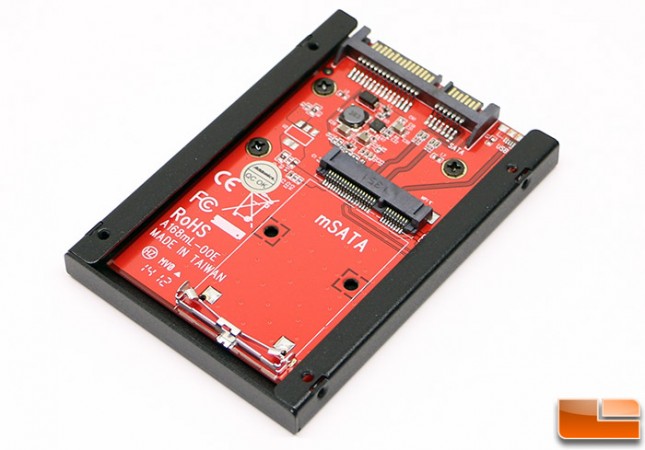 There are eight screw holes for mounting, four on the bottom and two on each side. This is normal and these can be used to secure the enclosure in your systems typical 2.5″ drive trays or bays. If you wanted to use this inside a notebook you can give it a shot, but keep in mind that this enclosure by Addonics has a z-height of 9.5mm. You can use any 50mm mSATA SSD (Full or Half Size) with this adapter. The red PCB is held down by three screws and we noticed that there are no third party controllers on this board as it basically just adapts the mSATA pins to those of a traditional SATA connector. The best way to explain it would be to call it a pass through design as the Serial ATA bus interface is always being used. This means that there is no software to install and that it is OS independent. You can also set this drive to be the primary bootable device just like a traditional SATA drive.
The installation process for a mSATA SSD is simple. Align the notches on the mSATA SSD with the notches in the mSATA socket and press it down to clip it into place. There are no screws needed to hold the mSATA SSD in-place.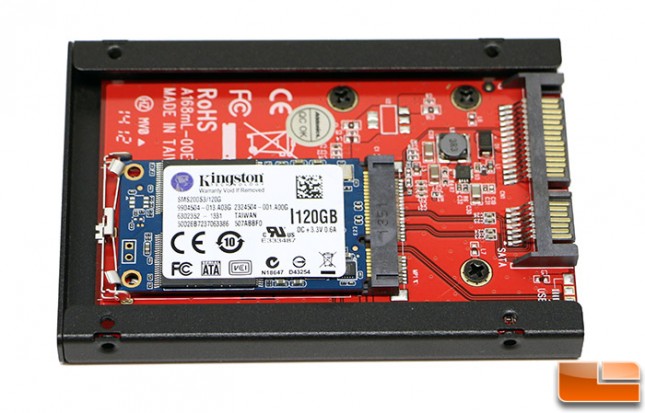 We will be testing out the Addonics 2.5-inch mSATA Drive conversion kit with a Kingston 120GB SATA III 6.0Gb/s mSATA drive. The part number on this drive is SMS200S3-120G and they run about $95 each shipped. Kingston recently announced that they have come out with larger capacity mSATA drives, so you can go beyond 120GB now and get 240GB and 480GB models from Kingston. Kingston uses the LSI SandForce 2241 (30GB, 60GB, 120GB) and 2281 (240GB, 480GB) controller with the SATA Rev. 3.0 (6Gb/s) interface on these drives. You can use any mSATA drive in the enclosure though as it should work with all of the various models and capacities made to date. Legit Reviews has already reviewed this exact model mSATA SSD before and we were getting 271MB/s Read and 160 MB/s write speeds on benchmarks like CrystalDiskMark. Those are pretty quick speeds and should make this little mSATA storage drive really fly.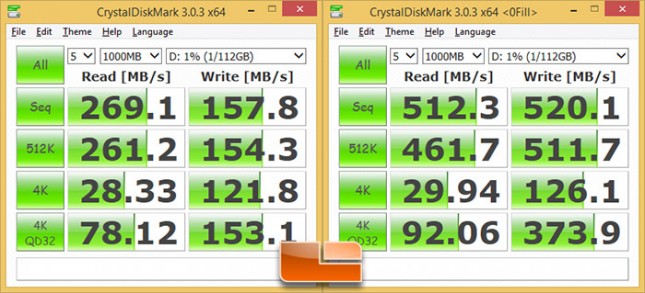 We checked performance out on an ASUS Z97-A motherboard with an Intel Core i7-4770K processor with Windows 8.1 w/ Update 1. We were able to get 269MB/s read and 158MB/s write on CrystalDiskMark 3.0.3 in the default test (Random) and 512MB/s read and 520MB/s write with the 0Fill test. It looks like we are getting the same performance as if we were using the drive in a traditional mSATA slot!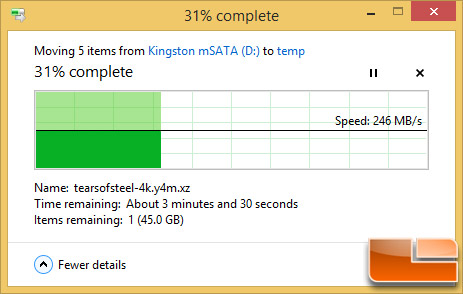 When moving a large 60GB movie file from the mSATA enclosure to another SATA III SSD in our test system we were averaging around 244 to 248MB/s transfer speeds. Again, these are similar speeds to what we get with this drive in a system that has a mSATA slot, so it doesn't appear that the adapter is significantly hindering performance by any means.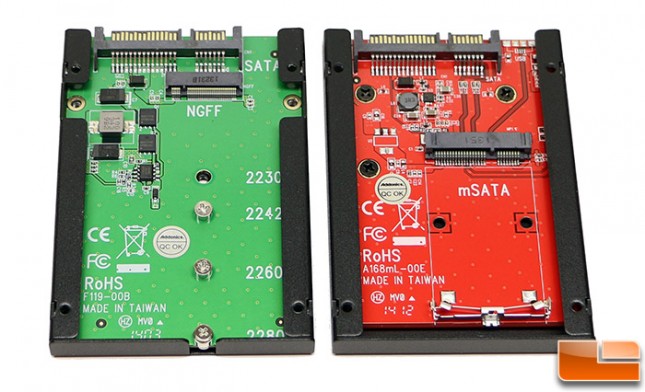 The Addonics mSATA to 2.5″ SATA drive adapter is a very simple product and we found that it worked as advertised. Thanks to this adapter, you can quickly transform your old mSATA drive to a form factor that is more widely used for continued use. The Addonics 2.5-inch mSATA Drive conversion kit (model AD25MSD) runs around $24.99 plus shipping and is backed by a 1-year warranty. This price is a touch on the high side when you think about what you get, but there isn't too much competition in the storage drive adapter market. There are other solutions out there and the Syba 2.5-Inch SATA to mSATA SSD External USB Storage Device (SD-ADA40077) comes to mind and it retails for $13.59 shipped. By the time you factor in shipping the Addonics adapter costs $30.37, so there is a similar product for half the price. We haven't ever used the Syba adapter, so we can't talk about the quality of it.
If you are looking to convert a mSATA SSD drive into a traditional 2.5″ notebook drive the Addonics mSATA to 2.5″ SATA SSD Adapter did the trick. We were also able to try out the Addonics2.5″ M2 (NGFF) SSD Drive adapter, that allows you to convert new M2 (NGFF) SSD cards that are either 30, 42, 60 or 80 mm length into a traditional 2.5″ SATA drive. Addonics offers the M2 adapter for $24 in black (AD25M2SSD) and silver (AD25M2SSD-S). We got solid performance numbers on that as well, so if you are needing something for newer M2 drives that will do the trick!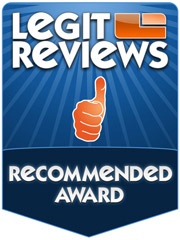 Legit Bottom Line: The Addonics mSATA to 2.5″ SATA drive adapter is a tad on the expensive side, but it was well built and found to perform as expected for a pass through device!