AcoustiFan DustPROOF Ultra-Quiet PC Fans
By
Dustproof fan features
Dustproof fan features
Ultra-quiet operation
Premium build quality (you need to feel the quality of these fans!)
Triple speed (using the '3-speed' fan cable accessory)
Sealed fan motor for dust-free operation & reduced noise
Multiple application (can be used for CPU/GPU or case cooling)
RPM-monitoring enabled
Reliable with a long life expectancy (over 6yrs @ 25C!)
Start at lower voltages for near silent operation (min. 5VDC)
Unique rear 'acoustic' badge for added noise reduction
3-pin & 4-pin compatible (with 3-speed fan accessory cable)
Along with the fans I recieved a set of these silicon fan gaskets to help keep acoustic levels down. I was really impressed by the fit and thickness of these gaskets. Regardless of the fan you choose to use them with, they should really help dampen vibration and the noise it causes.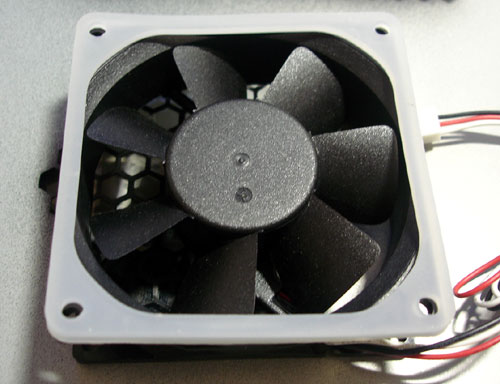 Anti-vibration Soft Silicone Fan Gaskets
These ultra-soft fan gaskets are designed to reduce the vibration from PC and server case cooling fans, and maintain a seal between the case side and the fan housing. Each retail pack contains an anti-vibration fan gasket with 4 silicone washers and mounting screws. We believe they are the thickest and most effective available anywhere!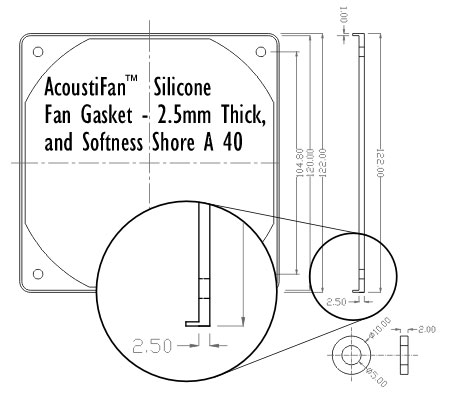 Features
Ultra-soft (unlike similar products) – Shore A 40
Not just 1mm thick like other fan gaskets – these are 2.5mm thick!
Compatible with virtually all case cooling fans
Supplied with unique screws and soft silicone washers
Quick and very easy to fit (these gaskets 'hold onto' the fan whilst fitting them due to a small lip in the gasket design)
Can be used with an external fan grille, for maximum airflow and minimum wind noise
Installation was simple enough (really, how hard can a fan be to install?). Using the silicon gaskets, the whole system was in place in less than two minutes. One thing I didn't use, and ended up just tossing aside, was the wiring assembly that allows for the fans to be monitored and ad adjusted. I'm not big on extra wires in my case, and though these added some functionality to the fans, it to me at least, wasn't worth the hassle. The wires themselves would quickly end up in a rats nest inside the case anyway.
While a more detailed look at their specs can be found here, I chose to look strictly at two things when comparing these fans against a few other prominent brands, air flow (CFM), and noise (dBA). For testing purposes I chose two of the most widely used and most popular brands, Sunon and Panaflo. For the 80mm fans I chose the SUNON KD1208PTB2 80mm and Panaflo FBA08A12L -1J 80mm Hydro Wave fans. when it came to the big boys, the 120mm fans I chose the Panaflo FBA12G24M1A 120mm Hydro Wave and the SUNON KD1212PMB1-6A 120mm fans. I always recommend Panaflo fans when asked by our members or friends, and Sunon has proven to be a popular choice among system builders.
| | | | | | | |
| --- | --- | --- | --- | --- | --- | --- |
| FAN | Dustproof 8025B 80mm | Panaflo FBA08A12L -1J 80mm Hydro Wave | SUNON KD1208PTB2 80mm | Dustproof 12025B 120mm | Panaflo FBA12G24M1A 120mm | SUNON KD1212PMB1-6A 120mm |
| CFM | 19.9 | 24 | 39 | 56.3 | 86.5 | 108 |
| dBA | 15.6 | 21 | 32 | 24.7 | 35.6 | 42 |
| RPM | 1600 | 1900 | 2900 | 1500 | 2199 | 3100 |
As for DustPROOF, if you are looking for a fan that is "dust free", then you would be upset to know that these fans only offer a sealed fan motor that allows for dust-free operation. You'll still have to either use filters, which can be bought or easily made, to keep out dust/dirt that can get blown in your case causing heating problems!
As far as performance, the DustPROOF I used, both provided ample air flow, and without a doubt were much quieter than my cases stock fans. Even when compared to the quietest Panaflo low flow fans, the DustPROOF fans look really attractive. Couple this with a 3 speed adjuster, as well as a 6 year expected lifespan and I believe these fans are a good choice for anyone looking for the quietest fans possible for their system. Keep in mind though, these are low to moderate flow fans, and as such, they are not going to give you the performance of a Panaflo or Sunon fan.
All in all, a nice set of fans that definitely are among the quietest I have come across. thanks again to QuietPC and AcoustiFan for their help in providing information and samples for this review