Acer Predator XB1 (XB271HU) WQHD (2560×1440) 144 Hz G-Sync Monitor Review
By
Acer Predator XB1 (XB271HU) WQHD 144 Hz Monitor
There sure arent a whole lot of options on the market for WQHD (2560 x 1440) 144 Hz monitors, and even less options when youre looking for an IPS display panel. Heck, you dont have a lot of options for WQHD 144 Hz TN panels, either, especially when looking for 27-inches or larger. Today were going to take a look at the Acer Predator XB1 (XB271HU), which is a 27-inch WQHD panel capable of a 144 Hz refresh rate, or 165 Hz when overclocked, and 4ms gray-to-gray pixel response times, featuring NVIDIA G-SYNC technology. Some other features include 100% sRGB color gamut, a brightness of 350 nits, and built-in 2 watt stereo speakers. This monitor has been available since November 2015, but has been well received by gamers.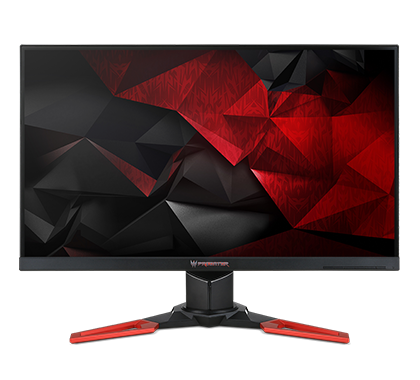 Carrying a pretty hefty price tag, you can currently grab this monitor for $724.99 shipped on Amazon. If youre not needing or wanting G-SYNC, you can get the AMD FreeSync counterpart, the XG270HU can be had for $427.95 shipped on Amazon currently, or $297.04 cheaper than the XB271HU that were reviewing today. The other biggest differences between the two would be TN vs. IPS, and 1ms vs. 4ms gray-to-gray response times respectively. Acer provides you a 3-year warranty on this monitor, should you have any troubles with it.
Like the Acer Predator X34 that we reviewed previously, the Predator XB1 also looks very sexy with its extremely thin bezels. Youll find that this 27-inch panel measures (W x H) 24.0625 (1/16) x 14.6075 (7/16) inches (61.11875 cm x 36.67125 cm) , which actually isnt all that big thanks to those thin bezels. This is not a light monitor, with a weight of just over 17 pounds, but it feels nice and sturdy with its well-built aluminum stand.
Acer Predator XB271HU Technical Specifications:
Technical Information
Screen Size:
27″
Screen Mode:
WQHD
Response Time:
4 ms
Aspect Ratio:
16:9
Panel Technology:
In-Plane Switching (IPS) Technology
Tilt Angle:
-5to35
Swivel Angle:
60
Adjustable Display Height:
Yes
Maximum Adjustable Height:
5 inches (127 mm)
Warranty:
3 Years
Video
Maximum Resolution:
2560 x 1440
Standard Refresh Rate:
144 Hz
Overclock Refresh Rate:
165 Hz
Color Supported:
16.7 Million Colors
Contrast Ratio:
1,000:1
Brightness:
350 cd/m
Tearing Prevention Technology:
G-SYNC
Audio
Speakers:
Yes – 2x 2 watt
The packaging for the XB271HU is extremely colorful but lacks any details. Opening up the box we find the monitor is protected very well with formed Styrofoam. The stand is broken down into two pieces, but is easily assembled with a thumb screw.
Taking a look at the monitor itself from the front, you cant help but notice the incredibly thin bezels. A mere 2mm protects the outer edge. On the bottom bezel, you will see the Predator name. Hidden away is a pair of 2-watt speakers, and while theyre not very powerful nor do they sound that great, they will at least get you a little bit of sound. Obviously the better choice for sound here will be a headset or dedicated speakers.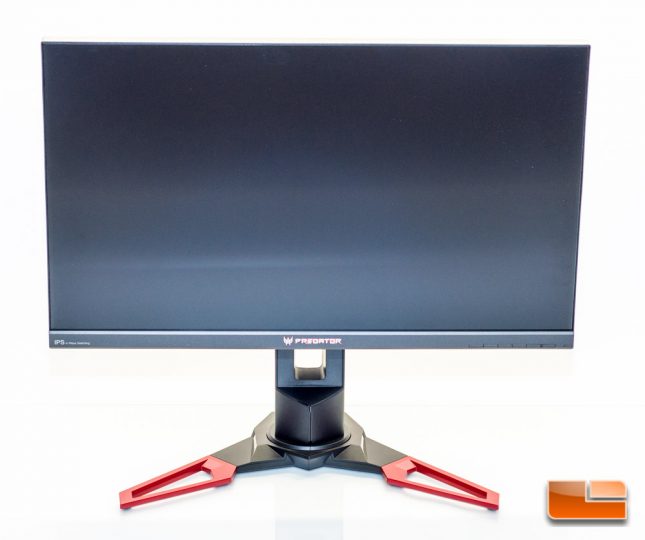 On the bottom right corner we find the on-screen display (OSD) buttons. The power button will have a somewhat harsh blue LED next to it when the display is in use, amber when in standby, but fortunately you can turn this off or dim it within the OSD. In my experience with using the monitor in a dimly lit room, it was not too bothersome, but I know many folks that would shun this LED.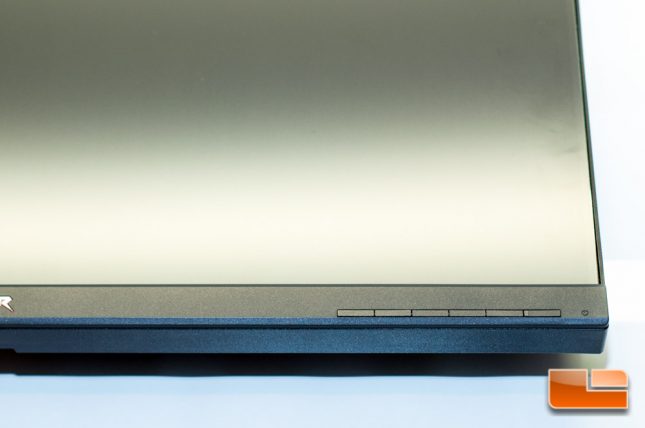 Flipping to the backside, we find a matte finish on the back cover along with the only Acer logo that you will find.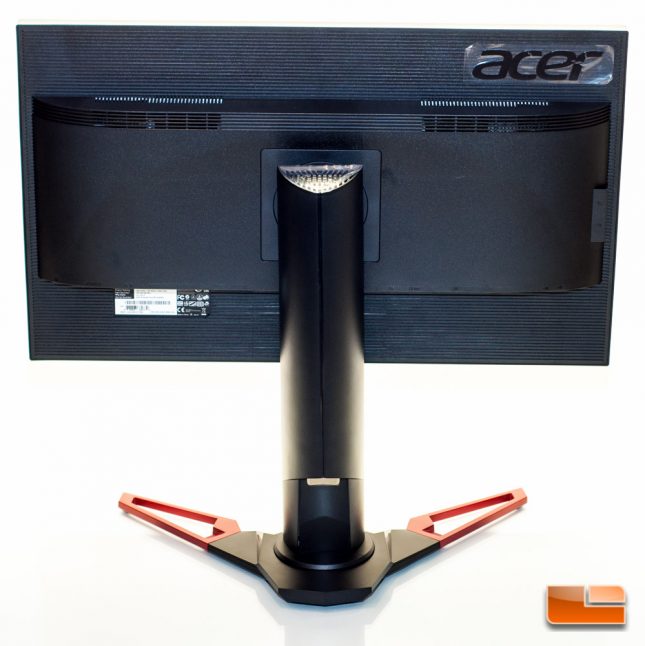 On the rear, going left to right, we will find Kensington lock spot, a power switch, and power input.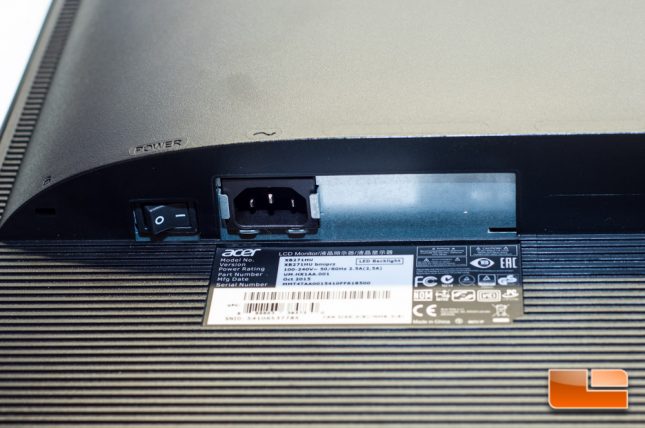 Sliding over a bit we find a two whole inputs – DisplayPort 1.2, HDMI 1.4, a headphone output, as well as 2x USB 3.0, and the USB 3.0 (upstream) hub connector. Here we will need to use the DisplayPort input if we want to take advantage of anything over 60Hz; The HDMI port will be limited to 60Hz.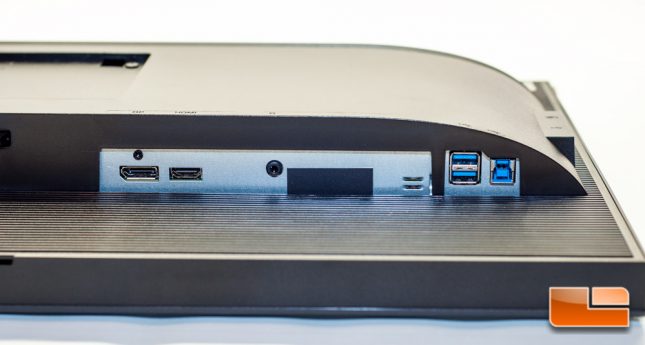 On the left side of the panel (when viewed from the front), we find two more USB 3.0 ports, with the top one being a powered port, dedicated to charging mobile devices.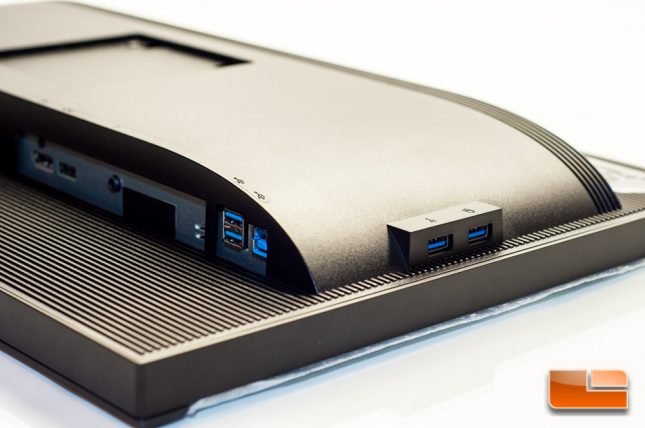 Reading around online, I noticed many folks that were claiming the accents on the stand were orange and that they highly disliked it. Rest assured, the accent color is actually red and it looks very nice on this monitor. To me it is a subtle accent and is not distracting at all, as your eye will be totally drawn by the bright and colorful output from the panel.

With the panel attached to the base, and in a landscape configuration, the Predator XB271HU stands 21.5 inches tall at the highest, and will go down to 15.5 inches. With the panel slid all the way down, the base will actually be higher than the panel itself, which measures 17 inches high. In portrait configuration, youll find this monitor 26.5 inches at its tallest and 24.5 inches at its shortest. You can tilt the panel from -5 degrees to +35 degrees for your ergonomic needs. The stand itself is very deep and measures approximately 11 inches deep. Fortunately its flat and you can overhang a bit of the rear off your desk if needed (I had to), or if you need you can VESA mount this monitor.