AAC On Their PureXS Conroe Powered Gaming PC
By
Peaking Into The Future Of PC Gaming
While entering in the doors of The World Series of Video Games we walked right into the booths of ATI and Intel, two of the events biggest sponsors. With all the buzz about Conroe we thought we would swing by the Intel booth and take a look at one of these processors in person. We last saw Conroe at the Intel E3 booth, but we were on the search for more Conroe news. After asking the Intel representatives if they had any Conroe processors on display we were told no. Disappointed, but still determined to find something worthy to write about we went over to the ATI booth to get our first look at ATI Physics. ATI has recently introduced 'Boundless Gaming' to the World with their physics and since The World Series of Video Games is a gaming show ATI was sure to have their Physics on display. Again I was left disappointed as ATI didn't have any systems running physics in their booth At this point I was getting ready to leave the sponsor booths when I saw a sign that caught my eye.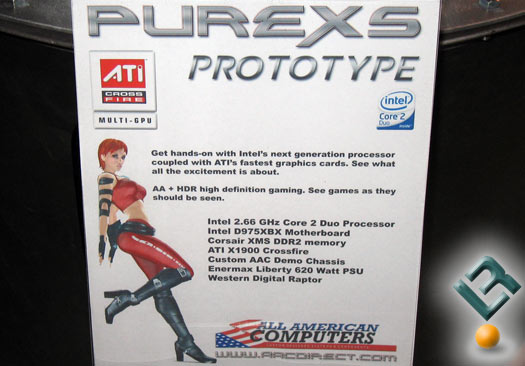 Two of the computer systems in the ATI booth were built by All American Computers and featured Intel E6700 (2.66 GHz / FSB 1066/ 4 MB shared L2 cache) processors. Shocked that the ATI booth had Intel Conroe processors on display we then found that the Gateway system also had an upcoming Core 2 Duo processor inside. We were able to fire up Oblivion and Far Cry on the system and check out what the next generation Intel processors feel like in real life. Here is the system that we were able to game on.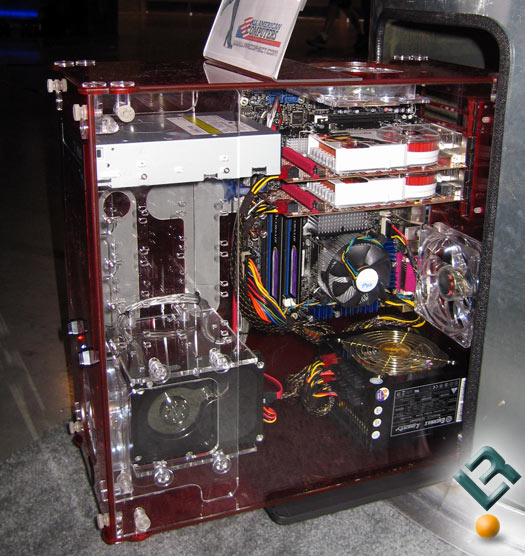 After hanging around the ATI booth trying to keep a low profile it didn't last long as Kyle Felstien from All American Computers (AAC) walked up and talked our ear off for the next several hours. Not only can AAC build a computer they can chat your ear off! In-between gaming and looking at his systems I managed to get a quick interview with the man over at AAC and got his thoughts this upcoming Intel Conroe system.