A Few Minutes With Vivian Lien of DFI
By
Putting it together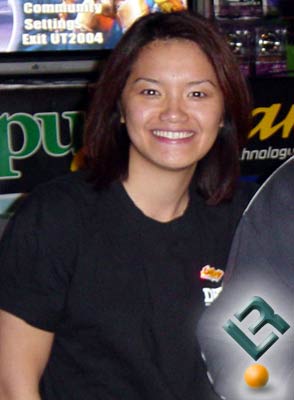 LR: I?m sure you?ve heard the rumors about availability problems with the nForce 4 chipset. If true, will this affect the availability of your new boards?
Vivian: The LANPartyUT NF4 Ultra-D has been shipping in large quantities without any hiccups. We have been able to fulfill all of our customers? request worldwide since launch. The LANParty NF4 SLI-D motherboard had a slightly different picture. The honest truth is that we knew this motherboard would be popular, but we didn?t realize it would be overwhelmingly popular. It sure was a good problem to have but that also meant the chipsets ordered was insufficient to meet the initial demand. As soon as we realized how popular the model was going to be, we immediately ordered more chipsets from NVIDIA. There were some temporary disruptions but it is all good now.
LR: There is a lot of talk on message boards and forums regarding a mod to your nForce4 Ultra motherboard into a full SLI model. Are people risking serious damage to their boards by using this mod?
Vivian: As far as I know, the rumored chipset mod does not work as changes have been made to the chipset itself.
LR: Do you envision DFI branching out into other hardware areas, such as video cards?
Vivian: We are always looking for opportunities to expand our market presence. As we continue to see convergence in various parts of the market, we are paying close attention to what might be the next big trend. Even though the LANParty line is still within the motherboard category, it is a great example of how DFI can be a serious player in a new playing field. We realize that users have ever-evolving taste for products. DFI wants to be cautious but ready to strike when the timing is right. Be on the look out, we will bring pleasant surprises to you!
LR: Before we finish up, what would Vivian Lien and DFI like our members to know?
Vivian: We have been very fortunate to have a great community of users and partners supporting us. On behalf of DFI, I?d like to thank all of them! I?d also like to give special thanks to the members of TeamDFI and DFI-Street.com. TeamDFI consists of a group of real gamers whom I met at LAN parties over the years. They are the inspiration to a better job we can do to give back to the community that made us who we are today. DFI-Street is our official technical support site that has helped thousands of users and provided a hang out place for like-minded enthusiasts. Without them, DFI wouldn?t be the top of the heap for these performance users!
LR: Thanks Vivian, I know you are a very busy lady and I greatly appreciate you taking the time to talk with Legit Reviews