A Few Minutes With Vivian Lien of DFI
By
LAN Party Queen: Vivian Lien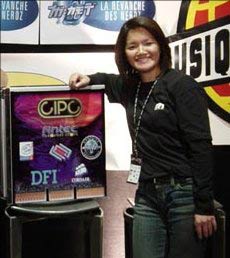 Later this month I'll be bringing you my thoughts on DFI's newest motherboard, the NForce 4 SLI-DR for socket 939, so, as a primer, I spoke with Vivian Lien to give you guys…and gals, an idea of where DFI is coming from, and where they are going.
The SLI-DR has quickly become the board of choice for enthusiasts, and coupled with DFI's NF4 Ultra board, has given DFI a serious one-two punch in the motherboard market. so what's next…where does DFI go from here in 2005?
LR: Welcome Vivian, and thanks for taking the time to talk with us. Tell us a little about yourself, your role with DFI, and the company itself.
Vivian: It is a pleasure! I am the Director of Marketing and PR for DFI San Jose. This year DFI celebrates its 25th years in business. In the past DFI was known as the reputable OEM manufacturer but there is a lot more to our company. Over the years we have ventured into various product lines and market segments, and we have quite a dominance in the industry PC market. The industrial computing arena, also known as Applied Computing Platform (ACP), supplies custom designed motherboards to companies that make slot machines, arcade machines, airport self check-in kiosk, medical devices, point of sale devices, etc.
The other side of the business is what most LegitReviews readers are familiar with, which is our commercial motherboard division. Two years ago we launched the LANParty series of motherboards and brought aesthetics to hardcore computing. We were the first motherboard manufacturer to recognize the different needs of LAN gamers. Today we are proud to be the top manufacturer for enthusiast motherboards and have fast growing mind share among these opinion leaders!
DFI?s global presence includes USA, Holland, Japan, China and Taiwan. I am based in our Hayward, CA office, and we have two other offices in the US (Sacramento, CA and Newark, NJ) that cater to the ACP side of the business. We own both of our manufacturing facilities in Taiwan and China and are ISO 9000 compliant. Because of DFI?s OEM background, we take manufacturing seriously. Only top grade components are used, with strict quality assurance throughout the product cycle, and careful inspection before shipping the goods worldwide. All of DFI?s motherboards are backed with a 3-year warranty. Those customers who are based in North America also have access to our 24/7 forum based technical support.
LR: Was DFI?s name change from Diamond Flower International to Designed For Innovation part of a complete company makeover?
It seems that with the release of the 875 Pro board last year that DFI really became a big time player in the enthusiast market. Now with the release of your two nForce 4 boards you have jumped to the top of the heap for gamers and overclockers
Vivian: It?s funny that you should mention what DFI really stands for. It sure is my favourite question to ask at LAN parties that we sponsor (those who could get it right the first time usually walks away with a big prize)! DFI standards for Diamond Flower International and is named after the company founder?s mother. Years ago our marketing team needed a slogan to position DFI and came up with a playoff of the acronym. Even after all these years, ?Designed For Innovation? is still very relevant to our company philosophy. Whoever was in charge of marketing at that time sure did a great job positioning DFI!
The LANParty PRO875 motherboard was the first LANParty motherboard we launched a couple of years ago. Following the Canterwood was the AMD variation, LANParty NFII Ultra. Prior to launching this line, Jacky Huang, DFI San Jose General Manager and the father of the LANParty motherboards, did a tremendous amount of researching and brainstorming. He recognized the need to address that growing market segment and realized the concept into the big box that you see today. Every piece that goes into the LANParty package has a story and a reason to be there. The goal is to deliver total user experience, rather than just another motherboard with pretty packaging.
In collaboration with our product management and R&D teams in Taiwan, the LANParty line of motherboard is now our best selling product line with over 15 models. Our philosophy has always been to offer the best motherboards for the enthusiasts, rather than rushing to market and turn the user community into lab mice. I am sure DFI followers can now appreciate the art of patience ?
LR: I mentioned the nForce 4 boards, do you see SLI really catching on in the market? Do you think it is the solution for the long haul or a temporary trend?
Vivian: When NVIDIA announced the SLI feature to its board partners last year, we were immediately excited! Unlike the subtle performance difference between AGP 4x and 8x that is only noticeable to users when certain applications are used, NVIDIA?s SLI technology makes a significant difference. Numerous reviews and benchmarks have shown that the combined graphics performance boost when two video cards are used is unrivaled in both real world and synthetic applications. Fads go away after a period of time, but real technological break through stays to become the next standard.
Upgrades typically take place when the new technology is proven to delivery both functional and emotional benefits. In the case of the SLI technology, it fulfills both criteria. Obviously cost and availability need to be established as the bottom line. Now that more and more SLI ready solutions are been introduced in the market, I think the consumers win by having more product choices and mature technology. Based on roadmaps I have seen, SLI is a commitment from hardware manufacturers that will be around for quite a while.
Speaking for DFI, the sale of our LANParty NF4 SLI-DR motherboard is a great indication of how the market is ready to adopt the new graphics standard. People are buying them faster than we can make them. Newegg sold them out within an hour on the first day this model went on sale!