32GB OTG USB Flash Drive Roundup with Corsair, Kingston and Transcend
By
Corsair, Kingston and Transcend On-The-Go USB Flash Drives
There was a time just recently when there were no USB On-The-Go (OTG) flash drives on the market, but now there are hundreds of different models from dozens of brands. OTG USB flash drives are often referred to as dual-drives due to the fact they feature Micro-USB and Type A USB 2.0 connectors. Why have a a device like this? It gives you the means to have an external storage option for smartphones and tablets that lack a microSD card slot and it also allows for easy sharing and storing content in Android devices and even to a PC. The only caveat is that OTG USB flash drives are designed for smartphones and tablets that are running Android version 4.0 Ice Cream Sandwich and higher. As long as you have a relatively recent Android device you now have an affordable and easy way to backup your data or move it between devices without the need of USB cables and adapters.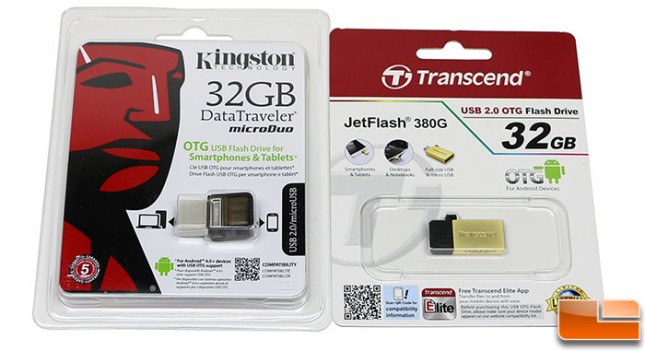 Legit Reviews took a look at the Corsair Flash Voyager Go back in January 2014, but we have since received OTG Flash drives from Kingston and Transcend. Rather than doing individual reviews on each product we figured that we would compare all three drives to one another since they are all 32GB OTG USB drives aimed at the same consumer.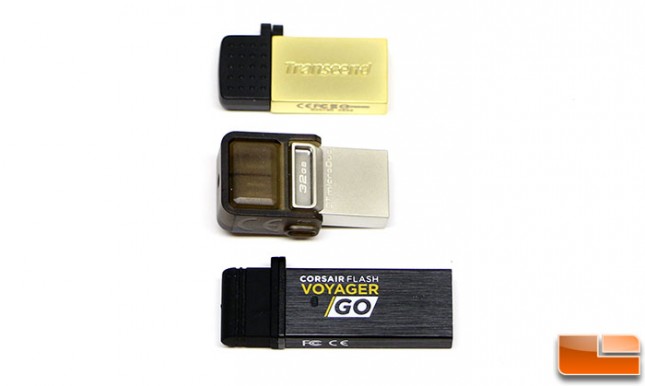 The Transcend JetFlash 380 is available in 8GB, 16GB, and 32GB in your choice of Gold or Silver. The JetFlash 380 measures 28.1mm x 12.25mm x 4.5mm, which makes it one of the smallest USB On-The-Go devices available. We have the Transcend JetFlash 380 32GB Gold that is sold under part number TS32GJF380G for $21.98 shipped. Transcend says that this drive is resistant to dust, water and shock when the cap is used and is backed by a limited lifetime warranty. The drive is rated with up to 19MB/s read speeds and 7MB/s write speeds. This drive is the smallest overall and the only to have a lifetime warranty.
The Kingston Digital Data Traveler MicroDuo USB 2.0 micro USB OTG Flash Drive is up next and it is available in 8GB, 16GB, 32GB, and 64GB capacities, but only comes with a silver finish. This device is rather interesting due to the fact that it has a flip cap on it. Having a non-removable cap is nice as there is nothing to lose, but it does make the form factor a little chunkier due to the hinged design. The measurements on this drive are 27.63mm x 16.46mm x 8.56mm, so it is not very long, but certainly thicker than the other two drives. We have the Kingston DT MicroDuo 32GB drive that is sold under part number DTDUO/32GB for $19.53 shipped, which means it is the lowest cost drive of the three. The Kingston Data Traveler MicroDuo series is backed by a limited five-year warranty.
Lastly, we have the Corsair Flash Voyager Go that we reviewed back in January 2014. The Corsair Flash Voyager GO is available in 16GB, 32GB and 64GB capacities with a black finish with two color-coordinated keycaps (yellow and black). The Corsair Flash Voyager GO measures in at 37.15mm x 12.33mm x 4.60mm, which makes it the longest drive of the group. The Voyager GO is interesting in the sense that it has the traditional Micro-USB 2.0 connector on one end for your Android phone or tablet and then the other is a USB 3.0 connector for your PC or Mac. This means that it is fast with rated read speeds of up to 135MB/s on computers that have a USB 3.0 port. We will be looking at the Corsair Flash Voyager GO 32GB model that is sold under part number CMFVG-32GB-NA for $29.99 shipped. All Corsair Flash Voyager GO drives are backed by a limited five-year warranty.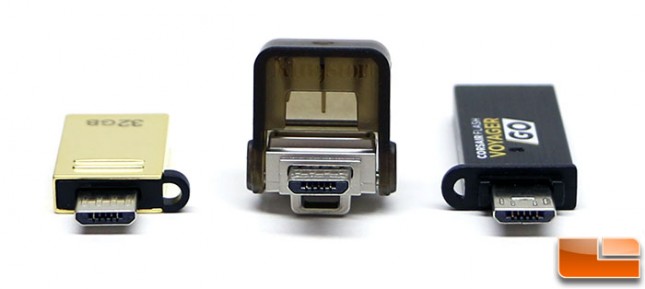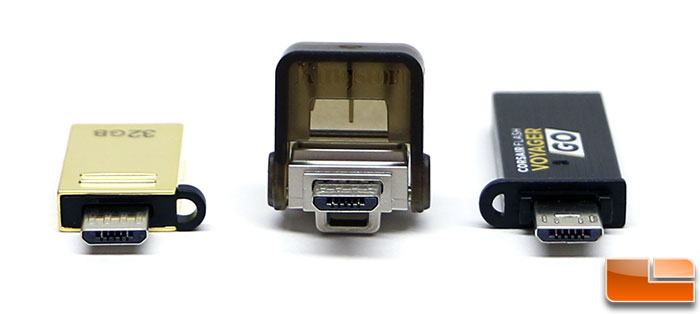 Here is a look at the microUSB port on each of the drives that is connected to the Android device. Not all Android Smartphones and Tablets use a microUSB port, so be sure to check your specifications and make sure that yours does. The new Samsung Galaxy S5 smartphone for example uses a newer style USB 3.0 connector and companies are rushing to bring out new Flash storage products for those new devices as USB 3.0 is clearly where the market has been headed for years. It should be noted that the all of these microUSB Flash drives will work on the newer USB 3.0 port, but are limited to USB 2.0 speeds.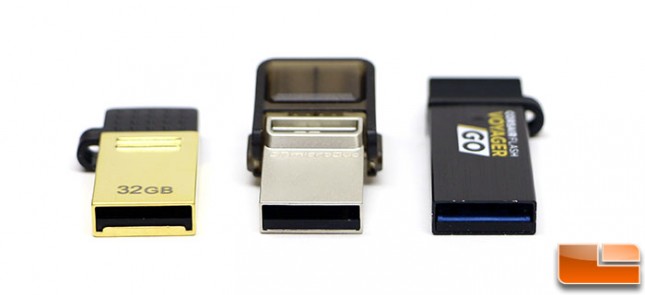 On the other end of the drives you'll find the traditional USB port. The Transcend and Kingston drives utilize the USB 2.0 standard, which means the Corsair Flash Voyager GO is the only drive of the group that uses the USB 3.0 standard. This means the Corsair drive has the ability to transfer files much quicker to the PC once the data is already on the drive from the microUSB 2.0 port.
Let's take a look at performance numbers on an AMD AM1 test platform.