1STPLAYER DK 5.0 Mechanical Keyboard Review
By
1STPLAYER DK 5.0: Software
After downloading the 1STPLAYER DK 5.0 software from their website, Windows Defender may freak out about an unknown publisher. You can bypass this error by clicking "More Info" and then clicking "Run Anyway". Installation takes only a few seconds. Once the software is up and running, we are brought to the home page. Here we can select from the three profiles, edit macros, and customize lighting settings.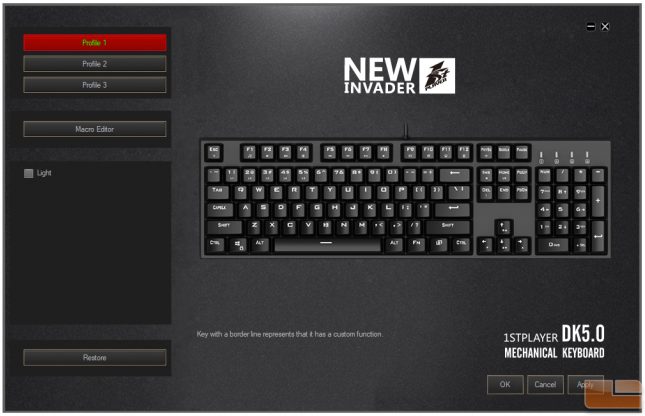 Creating and editing macros is very simple. Right clicking in the Macro List column will allow you to create a new macro by inputting its name. After doing so, press the record button to start recording the key presses. After you are done, click the Stop Record button, which will allow you to save the macro. This macro function will be available to assign to the keys on the keyboard. There are other options to fine tune the macro, like specifying the cycle times and inserting a new key event.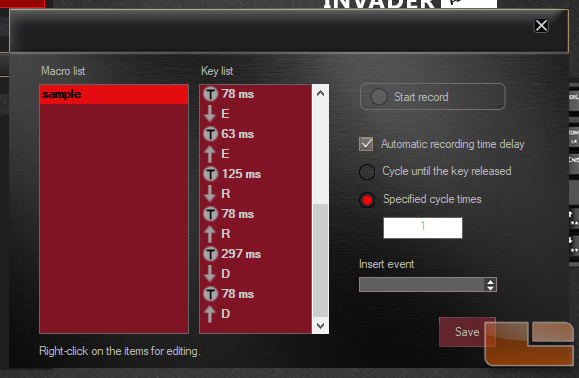 There are three options to choose from when assigning a new function to a key. You can assign another key, a macro function, or a media control function. Below is an example of assigning a macro function to the ESC key.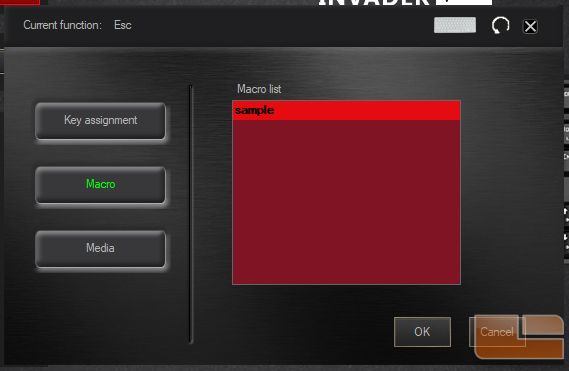 When it comes to lighting customization, we can see there are 15 options in the drop-down menu. There are two additional modes adding onto the 13 preset lighting effects. These are Fixed_on and Game Mode. I also noticed some of the names for the effects are snake cased, and the Light Transformation effect is missing a character at the end. Not consistent, but it is still functional at least.

With the Game Mode selected from the drop-down menu, there are six additional color groups to choose from. These color groups include labels for some of the most popular game titles. Clicking through them will display the keyboard lighting for each group. Of course, each color group is customizable and are accessible by pressing Fn+1-5 keys on the keyboard.

Now that we have seen the 1STPLAYER DK 5.0 software, let's go into the next section and test the functionality of the keyboard.