Logitech G502 Proteus Spectrum RGB Gaming Mouse Announced With Pre-Order
By
The extremely popular Logitech G502 Proteus Core gaming mouse has now been updated with RGB lighting. Now slightly renamed as the Logitech G502 Proteus Spectrum, the refresh recolors the mouse's teal accents to black and the two LED light zones at the logo and DPI indicator now have customizable RGB lighting.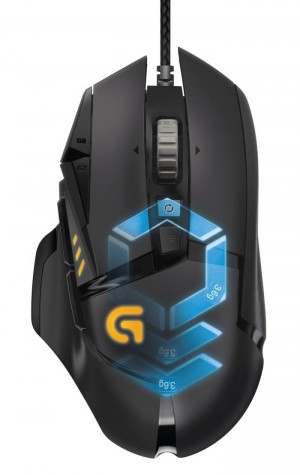 Logitech has made it very clear that this is the same G502 Proteus Core mouse with an aesthetic update. The ergonomic shape, button layour, PMW3366 optical sensor, Delta Zero tracking, and adjustable weighting system remain unchanged as reflected by the identical specifications of new and old.
Tracking
Resolution: 200 12,000 dpi
Max. acceleration: >40G*
Max. speed: >300 ips*
* Tested on Logitech G240 Gaming Mouse Pad
Responsiveness
USB data format: 16 bits/axis
USB report rate: 1000 Hz (1ms)
Microprocessor: 32-bit ARM
Glide
Dynamic coefficient of friction:* 0.10 (k)
Static coefficient of friction:* 0.15 (s)
*Tested on wood-veneer desktop.
Durability
Buttons (Left / Right): 20 million clicks
Feet: 250 kilometers
Physical specifications
Height: 5.2 in (132 mm)
Width: 2.95 in (75 mm)
Depth: 1.57 in (40 mm)
Weight: 5.9 oz, mouse plus cable (168 g)
Weight: 4.3 oz, mouse only (121 g)
Pre-ordering for the new Logitech G502 Proteus Spectrum is listed at the Logitech product page for $79.00 which is slightly less the $79.99 price of the old G502 Proteus Spectrum at launch. Interestingly enough, the old G502 can no longer be purchased from the Logitech webstore which suggests that it will be discontinued.