ATI Mobility Radeon X1600 GPU Preview
Mon, Dec 05, 2005 - 8:00 PM
ATI Mobility Radeon X1600 Final Thoughts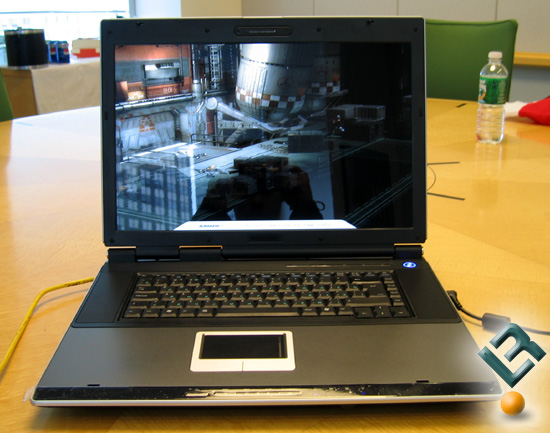 It's hard to call this a review as we used a pre-production graphics card, with engineering sample memory and video card drivers that are not public. For this reason alone we made this a preview and we suggest you take that to mind when you read all the other articles that have been publised today!
It seems like it was yesterday when I thought my ATI Mobility Radeon 9600 Pro notebook was the ultimate gaming notebook. Of course that was back in 2004 and was the start of the mobile revolution so to speak and ATI was the only company with a GPU solution for gamers that could hang. In 2005 Nvidia came full force into mobile market with the GeForce Go 6600 and 6800 and actually took some of the mobile market share from ATI. An example of this was ASUS, who the prior year had virtually no ATI powered notebooks and then when the GeForce Go6600 came out they jumped onto the Nvidia band wagon. In 2005 ATI was pushing the X600 and then the X700 on the Axiom cards, but many ODM's went to Nvidia for the 6600 and MXM cards. Rumor had it that ATI had too many card changes and didn't push Axiom as hard as Nvidia was selling MXMto their partners. Since Nvidia has already launched the GeForce Go 7300 and 7800GTX it only makes sense for ATI to launch their X1600 mobile solution first and it is exactly what ATI did today.
With partners like ASUS launching performance thin and light notebooks powered by ATI graphics again it looks like 2006 could be a great year for ATI's mobile team. ATI has come out with a part that outperforms the competitions solution and lonce again seems to have the support of key OEM's. We look forward to looking at retail notebooks featuring ATI Mobility X1K graphics and give you a real review in the near feature. Also keep in mind that notebooks featuring these CPU's should be coming out starting in early 2006, which is also when Yonah is supposed to come out! I have a feeling CES 2006 is going to be packed with X1K GPU's and Intel Yonah processors!