AMD Radeon R9 290X 4GB Video Card Review
Wed, Oct 23, 2013 - 11:00 PM
Bioshock Infinite
BioShock Infinite is a first-person shooter video game developed by Irrational Games, and published by 2K Games. BioShock Infinite is the third installment in the BioShock series, and though it is not part of the storyline of previous BioShock games, it does feature similar gameplay concepts and themes. BioShock Infinite uses a Modified Unreal Engine 3 game engine and was released worldwide on March 26, 2013.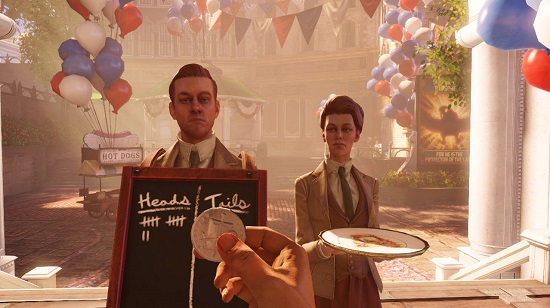 We tested BioShock Infinite with the Ultra game settings.
Benchmark Results: The Radeon R9 290X was the dominant force in Bioshock Infinite today. At our highest resolution of 5760 x 1080 the 290X was averaging ~52.4 frames per second, a solid 3 frames per second or 6% faster than the NVIDIA GeForce GTX  Titan. Dropping to 2560×1600 the AMD Radeon R9 290X was averaging just over 82 frames per second using both BIOS profiles, enough performance to outperform the GeForce GTX Titan by 3 frames per second, though only by 3.7% this time around.