Zotac Releases PCIe x1 Slot Graphics Card – GeForce GT 710 1GB PCIE x 1
By
Have you been looking high and low for an NVIDIA GeForce GT 710 graphics card that needs just an open PCI Express 2.0 x1 slot to operate? The wait is finally over those waiting for such a card. Zotac has released a GeForce GTX 710 1GB PCIE x1 model (Part number ZT-71304-20L) for those looking for better performance than integrated graphics with just a single PCIe x1 slot. In recent years both AMD and Intel have greatly improved their integrated graphics performance, so this is NVIDIA's latest attack and the low-end market of discrete graphics cards.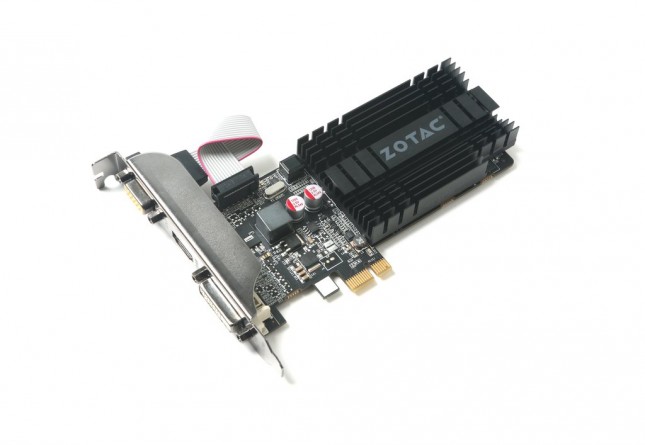 The NVIDIA GeForce GT 710 sports the NVIDIA GK208 'Kepler' GPU and has 192 CUDA cores enabled on this cut-down GPU. The GK208 also sports 16 texture units and 8 ROPs. Peak compute performance of the GPU clocked at 954 MHz is roughly 366 GFLOPS and the 1GB of DDR3 memory is running at 1600MHz for 12.8 GB/s of memory bandwidth.
The graphics card power draw on this passively cooled single-slot card is just 19 Watts, so no external power source is needed. DirectX 12 API support is there, but since this graphics card is Kepler based the Direct3D feature level 11_0 feels a bit lacking these days. It also doesn't support HDMI 2.0 video output, but many might not be bothered by that as this card is priced below $50. You can pick up the Zotac GeForce GT 710 1GB version that uses the PCI Express 2.0 x8 interface for $35.99 with free shipping on Amazon.