Zalman ZM-F4 135mm Multipurpose Fan Review
By
Introduction The Zalman ZM-F4 Multipurpose Fan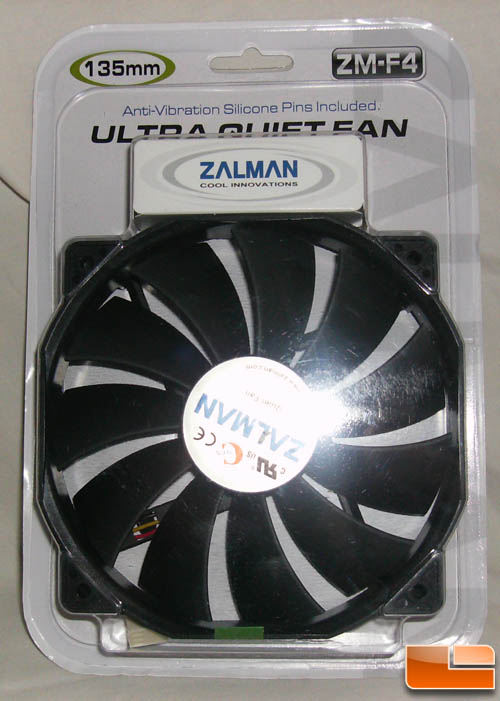 Today, we look at the Zalman ZM-F4 135mm Multipurpose Case Fan. I was a bit dumbstruck when I heard this fan is 135mm, a non-standard size, but I soon found out it uses 120mm mounting holes so even the odd size will work for most people.
Zalman's ZM-F4 fans come with a 1 year warranty like their other coolers and fans. While not for sale yet, the MSRP is listed at $12.99 for this particular model.
Zalman is not a company that readers of Legit Reviews are unfamiliar with. We recently had a look at both of their new F3 Series fans, the ZM-F3-FDB & ZM-SF3. We also looked at the Zalman CNPS9900 MAX 135mm CPU Cooler. The CNPS 9900 MAX and Zalman F3 Series fans use a completely different design to today's sample so we're definitely looking at something new from Zalman. Before we begin, here's a small snippet about who Zalman is if you're not familiar with them;
About Zalman:
Zalman
Tech Co., LTD. was founded in 199 and introduced to the computer
industry the concept of "Noiseless Computing." In a world filled with
noisy computers, "silent" cooling solutions were sought everywhere and
contributed to Zalman's rapid growth into the world's leader of high
performance, ultra quit PC cooling solutions.
Zalman continues to
lead in the industry through decisive R&D investments, peerless
craftsmanship, intensive global marketing, and generous customer
support.

Business diversification with innovation such as 2D/3D
Convertible LCD Monitors, Heatpipe Cooled Power Supplies, Notebook
Coolers, Surround Sound & Dual Stereo Headphones, and FPS GUN Gaming Interfaces holds true to Zalman's promise to provide "Cool Innovations"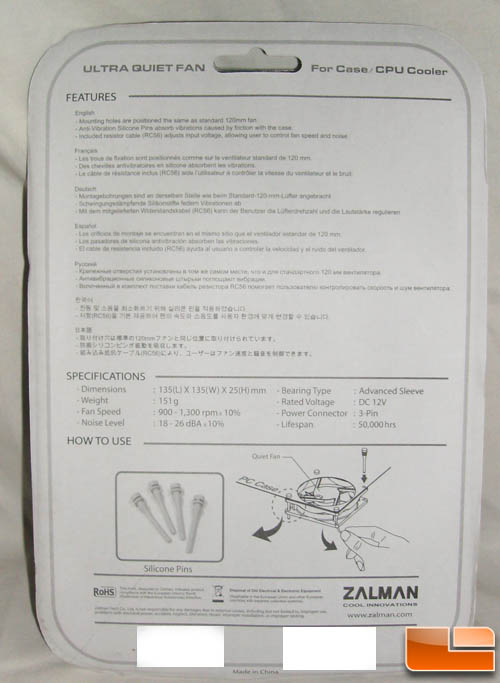 Moving on, here's the back of the box with some details and specifications on the fan. They also include a nice little diagram on how to install those rubber pins for mounting the fan. I'll list those specifications so you can read them easier.
Zalman ZM-F4 135mm Multipurpose Fan Features
Mounting Holes positioned the same as standard 120mm fans
Anti-Vibration Silicone Pins absorb vibrations caused by friction within the case
Included resistor cable (RC56) adjusts input voltage allowing user to control fan speed and noise
Zalman ZM-F4 135mm Multipurpose Fan Specifications
Dimensions – 135mm (length) x 135mm (width) x 25mm (height)
Weight – 151 Grams
Fan Speed – 900-1,300 RPM 10%
Noise Level – 18-26 dB(A) 10%
Bearing Type – Advanced Sleeve Bearing
Rated Input Voltage – 12v DC
Power Connector – 3 Pin
Lifespan – 50,000 Hours
Overall the fan looks like it has some nice features. As normal, Zalman doesn't list static pressure nor do they list the CFM output of their fans so I have no base level to go off of when I do testing. This isn't a problem for me, but one would think it could lose Zalman potential sales.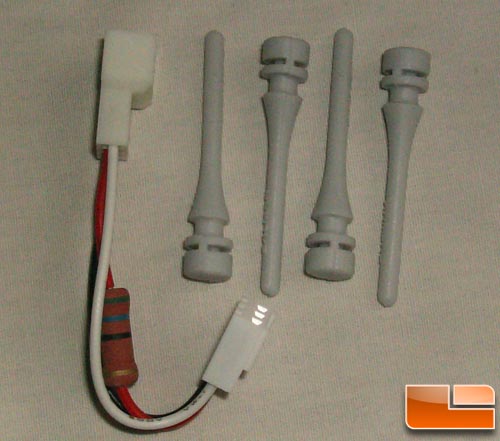 Here are our included accessories with the fan, including the RC56 5v Resistor cable which turns the input voltage to 7v from 12v. We also have the 4 silicone pins used for vibration reduction.
Let's move on and get this fan out of the box.