XFX To Introduce Power Supply Line Soon – 850W Black Edition
By
XFX, one of the world's largest video card manufacturers, is getting ready to announce their very first power supply line at Computex Taipei 2009 next month. Details have emerged on the XFX 850W Black Edition power supply, which features one single +12V rail with a massive 70Amp/840W rating. The power supply is modular as you can see in the image below and is 80 plus silver certified, since it is 88% efficient. No word on pricing yet, but it looks like the power supply market just got a little more crowded. Check out the forums for more images and the entire power point presentation for this new power supply!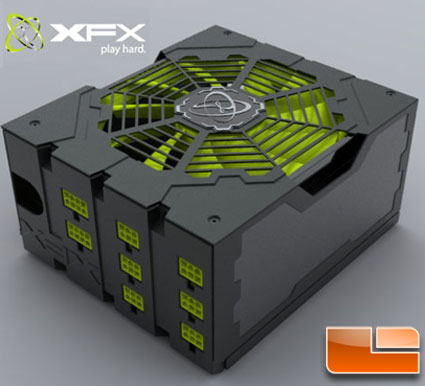 Industrial Design: Its whats on the inside that counts but we got both bases covered.
Power On Demand: With a Single Rail +12V, it gives ample 12V output with OCP for reliability.
Modular Cables: Giving the user the option of what cables they need, it clears up cable clutter and improves airflow within the PC.
Tight Voltage Regulation(+/-3): Improved load regulation to reduce voltage variations gives the user a more stable machine.