Western Digital 250GB 2.5 inch Notebook Hard Drive Preview
By
Finally a 250GB Notebook Hard Drive
Just minutes ago Western Digital Corp. (WD) announced that they are launching a massive new 250GB notebook hard drive! The WD Scorpio 2.5-inch Serial ATA (SATA) hard drives is now the largest capacity hard drive available on the market. To reach 250GB WD had to use perpendicular magnetic recording (PMR) technology and was able to use just two 125GB platters to achieve the highest capacity available in a small form factor drive.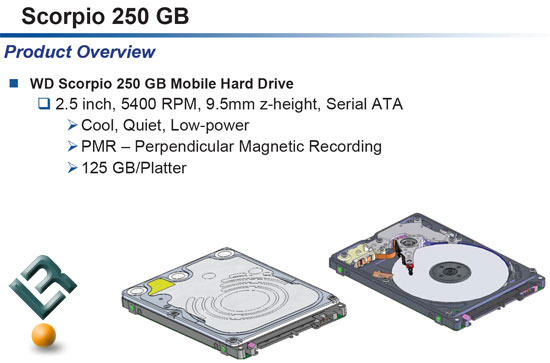 The 250 GB WD Scorpio hard drive contains WD's second-generation PMR platform technology and is backed by a standard 3-year warranty. This drive has an 8MB cache buffer and rotates at a speed of 5400 RPM. Its average seek time is only 12ms and average latency is 5.5ms.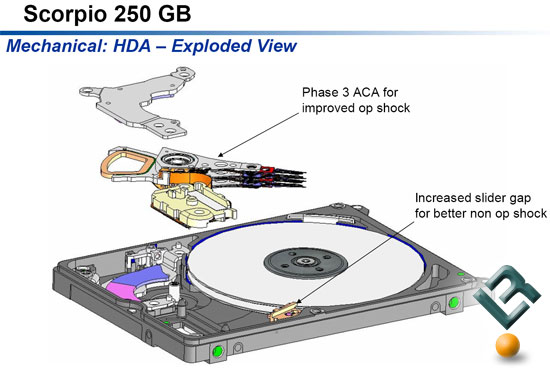 WD's exclusive WhisperDrive technology has been improved on the WD Scorpio as they have increased the slider gap for the actuator and have better control over the actuator arms. These changes help protect the drive mechanics and platter surface to increase the shock tolerance specifications. By improving the firmware algorithms and making these internal improvements Western Digital believes that have come up with one of the quietest 5400 RPM, 2.5-inch drives available in any capacity.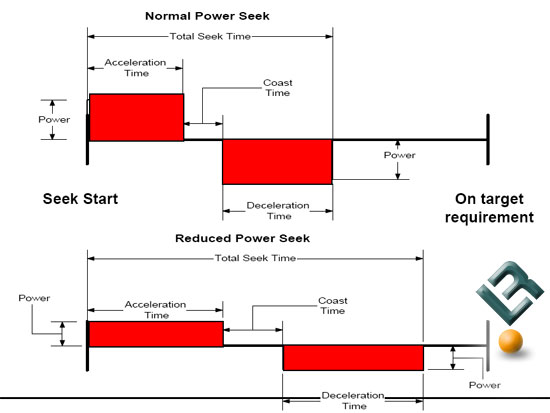 The WD Scorpio 250 GB hard drive will also be the first Western Digital hard drive that featuers what refered to as IntelliSeek technology. IntelliSeek technology will proactively calculate an optimum seek speed on the fly that helps eliminate hasty movement of the actuator. By doing this Western Digital has been able to reduce noise and improve battery live as movement requires power, which is an added bonus as every laptop user wants longer battery life. With IntelliSeek, the actuators movement is controlled so the head reaches the next target sector just in time to read the next piece of information, rather than rapidly accelerating and waiting for the drive rotation to catch up. This smooth motion reduces power usage by more than 60 percent compared with standard drives, as well as quiets seek operation and lowers vibration. To better understand how IntelliSeek works Western Digital made an animation that helps show the difference between a standard notebook drive and the Scorpio with IntellieSeek.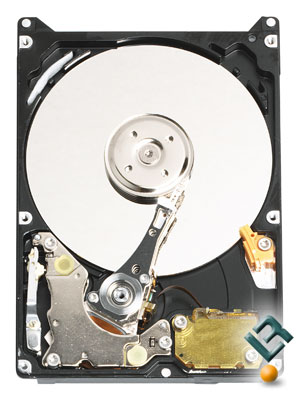 Final Thoughts:
The WD Scorpio 250 GB drives (model WD2500BEVS) are available starting today with online retailers and directly from Western Digital via their online store. That means this is a hard launch with products in route to customers and retailers around the world. The MSRP for one of these 250GB notebook hard drives is $199.99 USD, which is a pretty penny considering what notebooks from Dell start at. If you've been limited by storage space on your notebook one of these 250GB 5400RPM WD hard drives will be worth every penny. More information about WD Scorpio mobile drives may be found on the company's Web Site.