WD_Black P10 Game Drive Review – 5TB Tested
By
The WD_Black P10 Game Drive is a pretty straight forward storage device that is aimed at gamers looking for a cool-looking portable drive to hold their game library. It solves the decades old problem of not having enough internal storage space by using your PC or game consoles USB port to quickly and easily expand your storage capabilities. Installing a new internal drive isn't for everyone as some people don't want to get out a screwdriver, assign drive letters and pick what file format that you want to use. The WD_Black P10 Game Drive comes formatted and will be assigned a drive letter as soon as you plug it into a PC. That is the kind of simplicity that many want.
The WD_Black P10 Game Drive series comes in capacities of 2TB, 4TB and 5TB with pricing at $89.99, $129.99 and $149.99, respectively. A WD 2TB Elements Portable External Hard Drive runs $59.99 shipped, so you are looking at paying about a 50% price premium to get a 'gaming' product over one that is aimed at the masses.
WD sent over the WD_Black P10 5TB Game Drive for us to take a closer look at. Inside the retail packaging you get the slick drive, USB 3.0 A-Male to Micro-B cable and some paperwork. The enclosure looks great with a plastic bottom and aluminum top. The plastic base doesn't feel cheap though as it has thermal to touch qualities.
WD went with a Micro-B port on the P10 Game Drive enclosure and we really wish they with went with USB Type-C. This isn't a deal breaker though as it works and is cost effective. For a higher priced game drive it would have been nice to see USB Type-C included on both the drive enclosure and as a cable option as many gaming laptops now include USB Type-C ports. The drive activity light to the left of USB port is white.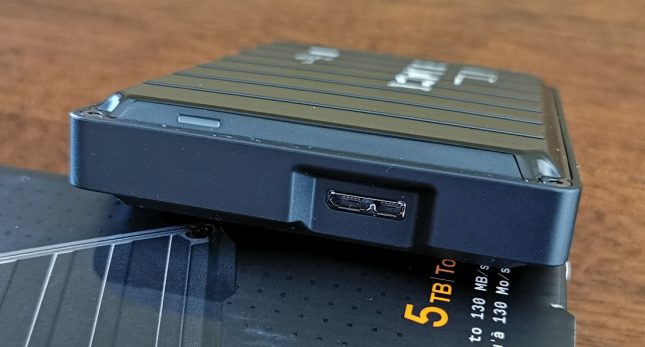 Inside the WD_Black P10 Game Drives you'll find 5400 RPM 2.5-inch hard drives from WD. Performance of the 2TB drive is rated at up to 140 MB/s and the 4TB and 5TB capacity models are rated up to 130 MB/s. The reason the performance varieties just slightly is because the 2TB drive features a 2-platter (7mm) design and the larger 4TB and 5TB drives have a 5-platter (15mm) design.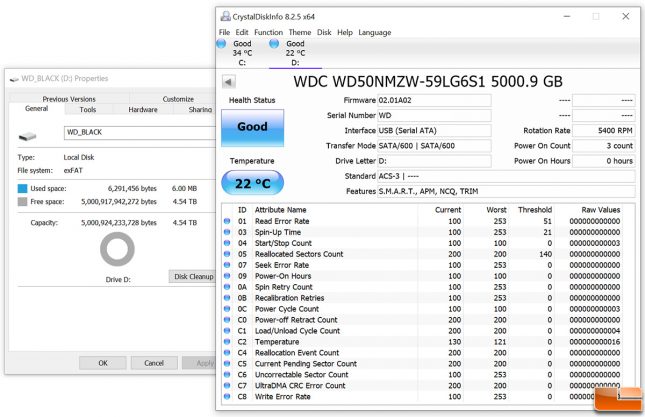 All the P10 Game Drives comes formatted with the exFAT file system, making it compatible with Windows, macOS, and game consoles. Theres no bundled software, which is nice. Sometimes software is included on portable drives to enable encryption or backup functionality. The P10 Game Drive doesn't support encryption as it is designed just to hold your massive game library. Nothing is keeping you from putting other data on this drive though.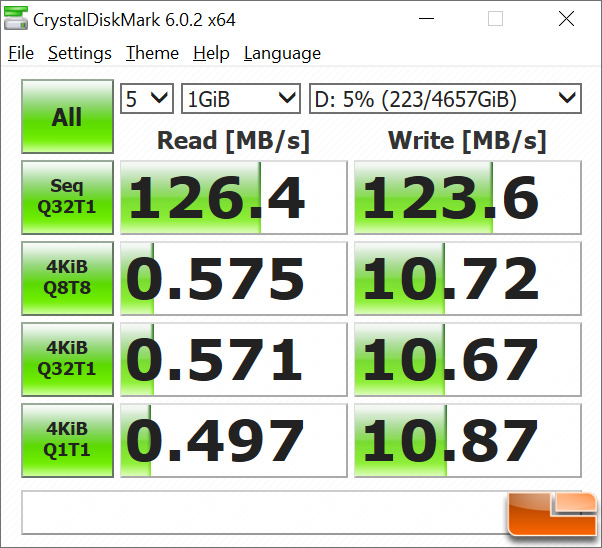 When it comes to performance, we did a quick run of CrystalDiskMark 6.0.2 x64 and found that the P10 Game Drive reached sequential speeds of up to 126.4 MB/s read and 123.6 MB/s write. If you looked really close at the capacity of the drive, you'll notice there was just over 200GB of data on the 5TB enclosure when we ran that test. We already moved over 5 games of our steam library when we stopped and remembered to run that performance test.
How long did it take to move roughly 200GB of data over? It took 41.5 minutes to move over 223GB of data (25,505 files) at an average speed of 83.2 MB/s. The internal temperature sensor of the enclosure was around 22C at idle and it got up to 44C during this file transfer. So, if you want to fill the WD_Black P10 Game Drive with a ton of games it will take a fair bit of time. Once the games were on the P10 Game Drive they launched with traditional hard drive like speeds.
Final Thoughts and Conclusions
At the end of the day the WD_Black P10 Game Drive is a solid storage drive that has been targeted to gamers that need more storage space for their games. It is a simple plug-n-play device that is entirely bus powered, which makes using it simple. The stylish looks will appeal to many and the performance is solid for holding and launching game titles. We have hundreds of games spread across the different gaming platforms, so we know there is a need for a highly portable game drive like the P10.
All WD_Black P10 Game Drives come backed by a 3-year warranty, so this drive and enclosure should last for many years.