WD Shows Off Fastest 4TB Hybrid SATAe Drive At Storage Visions 2015
By
The Storage Visions Conference has kicked off and Legit Reviews is at the show to check out the latest news when it comes to storage technology. One of our first stops was the SATA-IO booth where WD is going to be demonstrating the world's fastest 4 TB hybrid drive. WD's prototype drive is basically a traditional 3.5-inch 4TB desktop hard drive that uses the SATA Express (SATAe) PCI-e interface along with up to a 128GB of NAND Flash memory acting an SSD of sorts for caching purposes to help bolster the drives performance. WD claims that the performance numbers are compelling and that the cost per GB will be lucrative for desktop enthusiasts that want tons of storage space along with SSD like performance.
WD had two demo setups in the booth to show how heavy desktop usage scenarios will benefit from larger cache sizes by enabling retention of key hot data across multiple applications, which improves overall performance. It should be noted that the prototype drives being used at Storage Visions 2015 have 128 GB of NAND Flash for caching purposes. In WD's labs, WD's SATA Express 4 TB drive with 64 GB cache achieved a PCMark8 benchmark score of 4459, demonstrating near-SSD performance at an optimized GB-per-dollar value. The WD 4TB prototype drive above shows it was manufactured in September 2014 and features a 4.0TB HDD, 128GB SDD and utilized the PCIe Gen2 x2 interface. The label also notes that JM/Micron NAND Flash memory is being used.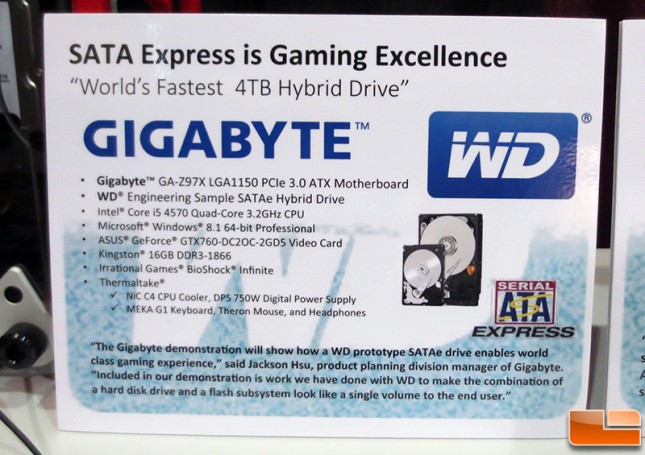 "Gigabyte demonstration will show how a WD prototype SATAe drive enables world class gaming experience," said Jackson Hsu, product planning division manager of Gigabyte. "Included in our demonstration is work we have done with WD to make the combination of a hard disk drive and a flash subsystem look like a single volume to the end user. This allows the power of having separate devices in a system along with the convenience of having only a single drive to manage."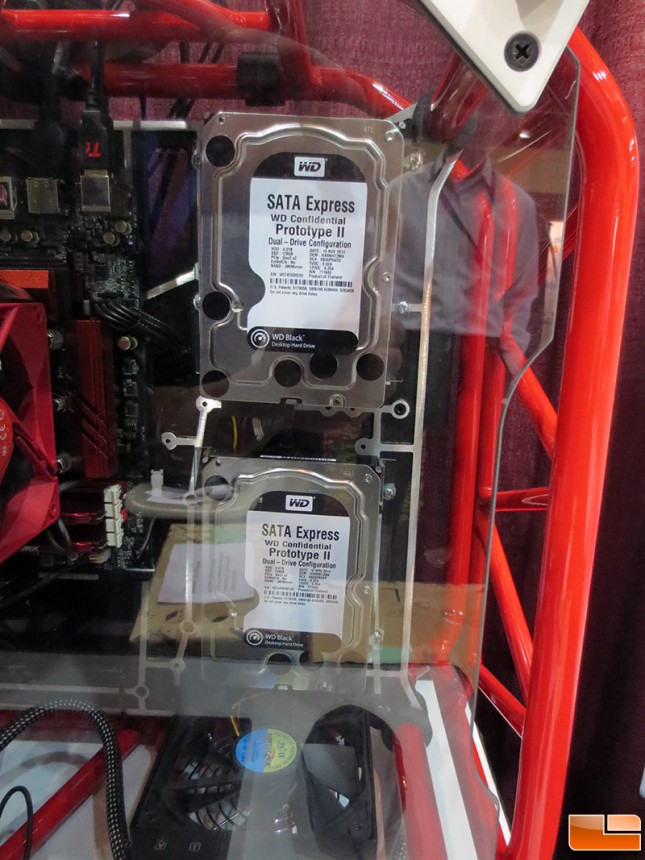 The next demo we saw at the SATA-IO booth was a pair of WD Engineering Sample 4TB SATAe Hybrid drives running in RAID 0 (Striped volume) on a system powered by an ASRock Z97 motherboard. This setup shows that WD was able to reach speeds of almost 10 Gbit-per-second with the setup used for this demo. The drives in this demonstration were labeled 'Prototype II' so it appears that WD made some modifications on the firmware for this dual-drive configuration.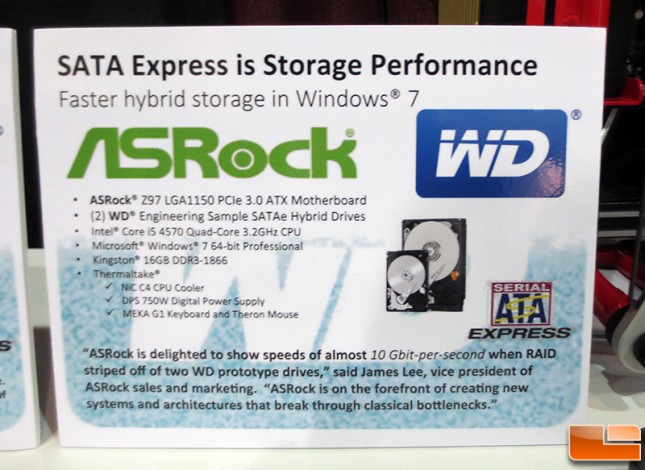 "ASRock is delighted to show speeds of almost 10 Gbit-per-second when RAID striped off of two WD prototype drives," said James Lee, vice president of ASRock sales and marketing of ASRock. "ASRock is on the forefront of creating new systems and architectures that break through classical bottlenecks."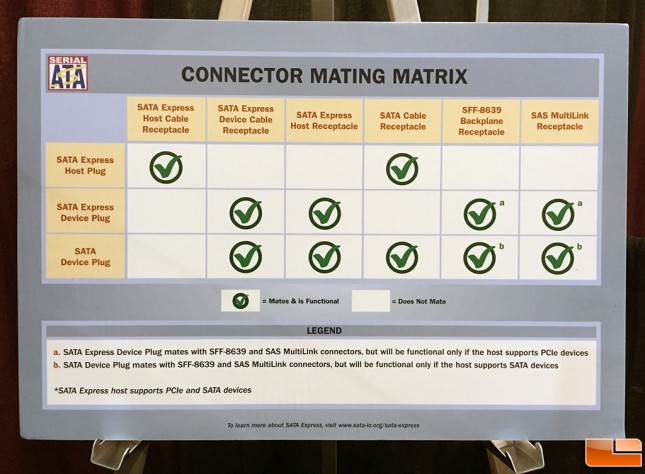 WD said that benchmarks of these drives will be performed after 12pm PT, so right now we can just bring you some images of the drives! In the mean time here is a sweet SATA Express connector mating matrix chart for you to check out. That almost sounds a bit kinky!
Update: 01/04/2015 2:20PM CT: The WD demo is now live and they are showing 1008.8MB/s on Iometer 2006.07.27 with the WD 4TB Hybrid Drive RAID 0 setup. The single drive system is running the PC Game title Bioshock and they are not showing off any single drive performance numbers.