WD Scorpio Black 320GB SATA Hard Drive Review
By
The WD Scorpio Black 320GB Hard Drive
The Western Digital Scorpio Black series of 2.5-inch hard drives was designed to bring desktop-class performance into notebook computers. With a spindle speed of 7200rpm, 16MB of cache and a SATA 3 GB/s interface, you can see that this hard drive series has performance in mind. All that performance does come at a cost though, as the black series sacrifices capacity and consumes more power at idle than the WD blue series. To help offset the negatives Western Digital slapped a 5-year warranty on the Scorpio Black series versus the 3-year warranty found on the Scorpio Blue series. The black series is only available in capacities up to 320GB rather than 500GB on the blue series, but that doesn't mean you can't fit a ton of data on a 320GB Scorpio Black series hard drive.
Up to 91,000 6MP digital photos
Up to 80,000 4min long 128 kbps songs (MP3)
Up to 8,000 4 min long songs (uncompressed CD quality)
Up to 24 hours of Digital Video (DV) at 13 GB/hr
Up to 140 hours of DVD quality video at 2.25 GB/hr
Up to 38 hours of HD video at 8.3 GB/hr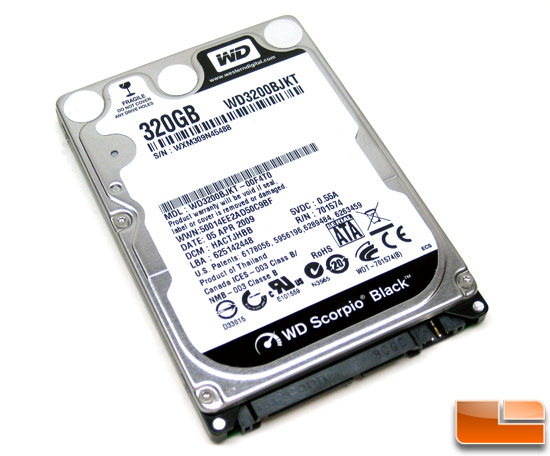 The WD Scorpio Black 320GB is sold under the part number WD3200BEKT and WD3200BJKT. The difference between these two Scorpio Black 320GB hard drives is the fact that only the WDxxxxBJKT models are equipped with a free-fall sensor that detects when the drive is falling and, in less than 200 milliseconds, parks the head to help prevent damage and data loss. The model that we will be looking at today is the WD3200BJKT, which features the free-fall sensor. WD has color coded their products, which makes is easy to see at whom they are aimed. Their mainstream products are called Blue, power-efficient drives are named Green, and high-performance drives are called Black. All of the WD Blue drives spin at 5,400 RPM, utilize a SATA/300 interface with Native Command Queuing (NCQ) support, and have 8 MB of cache memory. Those wanting a little more performance should look at the Scorpio Black as it has a 7,200 RPM drive speed and 16 MB of cache memory, but it only comes in capacities up to 320GB. If you want more storage space you'll need to sacrifice a little performance!
Hard Drive Features:
Form Factor: 2.5″ x 1/8H
Capacity: 320 GB
Interface Type: Serial ATA 3Gb/s
Buffer Size: 16MB
Features: Native Command Queuing (NCQ)
Seek Time: 12.0 ms (average)
Average Latency: 4.20 ms
Spindle Speed: 7200 RPM
Manufacturer Warranty: 5 year limited warranty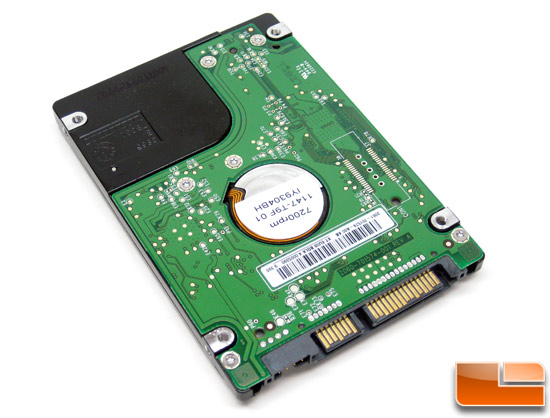 The WD Scorpio Black 320GB uses two 160GB platters to reach the full capacity rating of the drive, and four heads to read the data. The back of this 2.5″ notebook hard drive is pictured above and gives a better look at the SATA power connector and the SATA NCQ interface.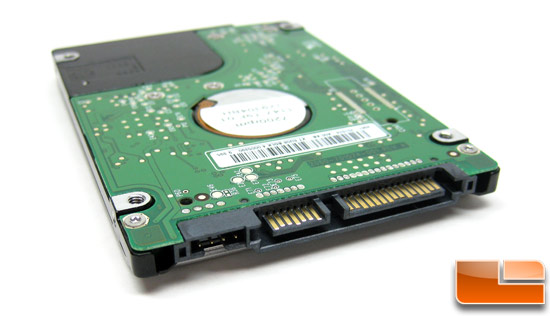 With technologies like IntelliSeek, which calculates optimum seek speeds to lower power consumption and SecurePark, which reduces power by parking the heads during low power idle mode, this drive delivers 5400 RPM-equivalent power consumption in a 7200 RPM drive. The 5400RPM WD Scorpio Blue 500GB (WD5000BEVT) hard drive that we recently reviewed consumes 0.85 Watts at idle, and when under full load doing read/write the drive consumes 2.50 Watts. The 7200RPM WD Scorpio Black 320GB (WD3200BJKT) idles at 0.95 Watts in low power idle mode and does read/write at just 2.10 Watts. The Western Digital Scorpio Black 320GB hard drive uses just slightly more than a Scorpio Blue 500GB hard drive at idle, but less at load. That's not too shabby and it goes to show that using a 7200RPM hard drive in a laptop doesn't mean you have to give up a ton of battery life.
Now that we know the basics on the WD Scorpio Black 320GB hard drive, let's move on to the benchmarks!