WD My Cloud EX2 Ultra Prosumer NAS Now Available From $159.99
By
NEW WESTERN DIGITAL PROSUMER NAS STORAGE GIVES CREATIVE PROS THE POWER TO MULTI-TASK AND EASILY SHARE FILES
New My Cloud EX2 Ultra Delivers High Performance with Up to 12 TB Capacity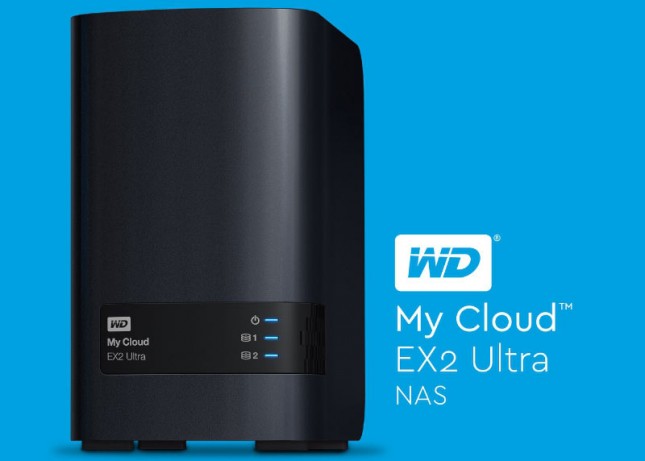 IRVINE, Calif. Feb. 17, 2016 Western Digital Corporation (NASDAQ: WDC), a world leader in connected storage solutions, today updated its prosumer solutions with My Cloud EX2 Ultra, a high-performance, two-bay network attached storage (NAS) system. The My Cloud EX2 Ultra NAS is designed from the ground up for creative professionals and prosumers that need to automatically sync content across computers, easily share files and folders and enjoy multiple backup options so they can create their own personalized digital library with ease.

We know our My Cloud users, especially creative professionals, need comprehensive solutions as digital storage needs continue to soar as well as the need for ongoing streaming capability, said Jim Welsh, executive vice president, WD Branded Products. With the My Cloud EX2 Ultra, creative professionals are able to combine high performance with multi-tasking optimization and data protection to create a NAS system that simplifies their workflow and provides peace-of-mind.

My Cloud EX2 Ultra has been upgraded with a powerful 1.3 GHz dual-core processor enabling users to get ultra-fast transfer rates for high performance and smooth video streaming. Users also have access to 1 GB of DDR3 memory, allowing them to multitask with ease and leverage applications for HD media streaming, surveillance and much more. Several data management and security features allow users to select a preferred method for managing and protecting their movies, photos, music and digital files. Drive management options include RAID 0, RAID 1; JBOD and spanning modes, while data protection options include NAS to NAS, USB, cloud or LAN/WAN backup. The My Cloud EX2 Ultra NAS comes preconfigured in RAID 1 mode to help protect data right from the start and is easily configurable into other data protection modes.

High Capacity and Ultimate Reliability

From unpopulated to 12 TB capacities , the My Cloud EX2 Ultra provides several capacity options for customers to choose from. Additionally, customers can attach compatible USB 3.0 hard drives to the USB expansion ports on the My Cloud EX2 Ultra to instantly expand their storage capacity. The populated My Cloud EX2 Ultra features the award-winning WD Red hard drives, specifically built for NAS systems to provide non-stop performance within 24×7 environments. WD Red drives are powered by NASware 3.0 technology, improving drive reliability and minimizing data corruption in the event of a power loss or disruption.

Easy Sharing with Anywhere Access

With simplified file and folder sharing, users can send customized, private links that allow recipients read/write access to particular files on the users My Cloud EX2 Ultra. Whether on a photo shoot, or editing at home, saving creations at full fidelity and sharing with your entire network is a breeze. The My Cloud EX2 Ultra features an intuitive dashboard, so user accounts can be created, features customized and storage can be monitored with ease. With MyCloud.com web access, or the My Cloud mobile app, users can access their media and manage users from any internet connected device. With WD Sync, users can automatically synchronize their media and files across their computers and their My Cloud device with the confidence that their computer content is up to date and accessible from all devices.

Advanced Features

My Cloud EX2 Ultra includes advanced data serving options including an integrated FTP and WebDAV server, backup server, P2P download server and Microsoft Active Directory support. Additionally, users can download and run a host of third party apps, including, Plex, Milestone Arcus surveillance, aMule, Icecast, Joomla!, Anti-Virus Essentials, WordPress, SqueezeCenter, and more. Users can also stream videos and photos to connected TVs, media players, gaming consoles and other DLNA/UPnP devices with the included Twonky 7.2 DLNA-certified 1.5 media server, and built-in iTunes support.

Price and Availability
My Cloud EX2 Ultra is currently available at select U.S. retailers and online at the wdstore.com. MSRP is $159.99 USD for the diskless My Cloud EX2 Ultra, $349.99 USD for 4 TB, $449.99 USD for 8 TB and $599.99 USD for 12 TB. The WD My Cloud mobile app currently is available for download for free from the Apple App StoreSM and Google PlayTM. My Cloud EX2 Ultra comes with a two-year limited warranty on the diskless device and a three-year limited warranty on the pre-configured devices.

Compatibility
My Cloud EX2 Ultra is compatible with Windows 10, Windows 8, Windows Vista, OS X El Capitan, Yosemite, Mavericks, Mountain Lion as well as DLNA/UPnP enabled devices.

Forward Looking Statements
This news release contains forward-looking statements, including statements relating to the approximate price and estimated availability of the My Cloud EX2 Ultra, the growth of digital storage needs, as well as the demand for ongoing streaming capability. These forward-looking statements are subject to risks and uncertainties that could cause actual results to differ materially from those expressed in the forward-looking statements, including but not limited to, the risks detailed from time-to-time in our Securities and Exchange Commission filings and reports, including, but not limited to, our most recent annual report on Form 10-K to which your attention is directed. Readers are cautioned not to place undue reliance on these forward-looking statements, which speak as of the date hereof, and WD undertakes no obligation to update these forward-looking statements to reflect subsequent events or circumstances.
About Western Digital
Founded in 1970, Western Digital Corp. (NASDAQ: WDC), Irvine, Calif., is an industry-leading developer and manufacturer of storage solutions that enable people to create, manage, experience and preserve digital content. It is a long-time innovator in the storage industry. Western Digital Corporation is responding to changing market needs by providing a full portfolio of compelling, high-quality storage products with effective technology deployment, high efficiency, flexibility and speed. Its products are marketed under the HGST and WD brands to OEMs, distributors, resellers, cloud infrastructure providers and consumers. Financial and investor information is available on the company's Investor Relations website at investor.wdc.com.