WD to Demonstrate First PCI Express Hard Drives at Computex 2014
By
WD to Demonstrate First PCI Express Hard Drives at Computex 2014
SATA Express interface allows cabled connection at PCI Express speeds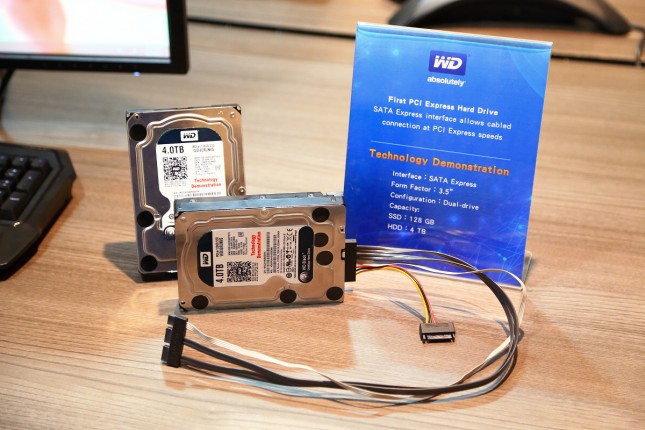 IRVINE, Calif., – Jun 2, 2014 – WD, a Western Digital (NASDAQ: WDC) company, and world leader in storage solutions, will be demonstrating the first PCI Express hard drives at Computex Taipei, June 3-4, 2014. Enabled with key technology partners, WD's prototype introduces the new SATA Express interface, a form of PCI Express technology, which is offered on recently launched Intel series-9 chipset motherboard platforms. The SATA Express interface provides a roadmap for faster speeds, lower power consumption and increased flexibility for future OEM designs.

The road to the world's first demonstration of SATA Express has been in development for almost 3 years. In 2011, SATA-IO, the group responsible for charting the future of SATA, announced that it was developing a new specification that would fundamentally change the core technology behind SATA by melding it with the more advanced PCI Express computer interface. In 2013, the SATA Express specification was announced; and just one year later, WD and selected partners have realized a prototype of what is expected to be the next generation of storage technology.

By moving to PCI Express, the industry marries the world's most popular storage bus with the world's most popular computer bus. This union provides a solid growth path to innovate new capability, while preserving the ability to plug legacy SATA drives into new SATA Express based computers. In another innovation, SATA Express allows cable connections with lower costs, by removing the PCI Express Sync line via SRIS (Separate RefClock with Independent SSC), which lowers the overall cable cost.

"WD has been at the forefront of SATA technology, and we see a vibrant growth path for adoption of the future SATA Express Roadmap," said Matt Rutledge, senior vice president, storage technology, WD. "SATA will remain a standard for many years in many applications, and for customers who want to discuss a future beyond vanilla SATA, WD is ready to plan the future with them."

The SATA Express interface will be demonstrated in systems from WD's key partners at Computex to show the operational interface with their new platforms. This new SATA Express infrastructure allows customers to work with SSDs, SSHDs, and HDDs on a single common bus.

WD's demonstration prototype leverages standard AHCI drivers and is compatible with all known, currently supported client operating system releases.\

"SATA Express is a breakthrough interface for internal storage. As a pioneer and leading provider of SATA Express host solutions, ASUS is glad to see exciting new devices demonstrated in the market. The SRIS-enabled SATA Express technology has been carefully engineered in selected ASUS 9 Series motherboards for great compatibility with SATA Express devices. The complete ASUS SATA Express solution together with the WD hard drive will be showcased at the ASUS booth M0410," said Joe Hsieh, Corporate Vice President and General Manager of ASUS Motherboard Business Unit and Desktop Business Unit.

"With the launch of the Intel 9 series chipset, GIGABYTE is excited to bring several new motherboards to the market that supports the very latest SATA Express technology," commented Colin Brix, Director of Marketing of GIGABYTE Motherboard Business Unit. "As an industry leader in the storage space, WD is one of the first vendors to demonstrate SATA Express devices, and GIGABYTE is thrilled to be able to demo one of their latest drives at Computex so we can show our customers just how much faster PCI Express based SATA Express is than previous generations."

About WD
WD, a Western Digital company, is a long-time innovator and storage industry leader. As a storage technology pacesetter, the company produces reliable, high-performance hard disk drives and solid state drives. These drives are deployed by OEMs and integrators in desktop and mobile computers, enterprise computing systems, embedded systems and consumer electronics applications, as well as by the company in providing its own storage products. WD's leading storage devices and systems, networking products, media players and software solutions empower people around the world to easily save, store, protect, share and experience their content on multiple devices. WD was established in 1970 and is headquartered in Irvine, California.

Western Digital Corp. (NASDAQ: WDC), Irvine, Calif., is a global provider of products and services that empower people to create, manage, experience and preserve digital content. Its companies design and manufacture storage devices, networking equipment and home entertainment products under the WD, HGST and G-Technology brands.