WD Black Dual-Drive 120GB SSD + 1TB HDD Hybrid Review
By
Western Digital Doubles The Pleasure
Ever since the emergence of Solid-State Drives, there's been a conundrum facing laptop users in regards to storage options. Storage could be fast, large capacity, or low price – pick two of the three. We've seen hybrid drives that mesh SSDs with HDDs using a caching method to boost performance but generally the SSD portion is less than ideal. Western Digital has a new spin on this concept with a hybrid drive of a different sort that they've aptly named Black. With it, they've actually combined a 120GB SSD and a 1TB HDD on a single drive, although separate save for the the SATA III interface they share. Before you go wetting yourself with anticipation, have a look at the performance numbers and our impressions to see if it truly delivers full SSD performance with HDD capacity (hint: not quite).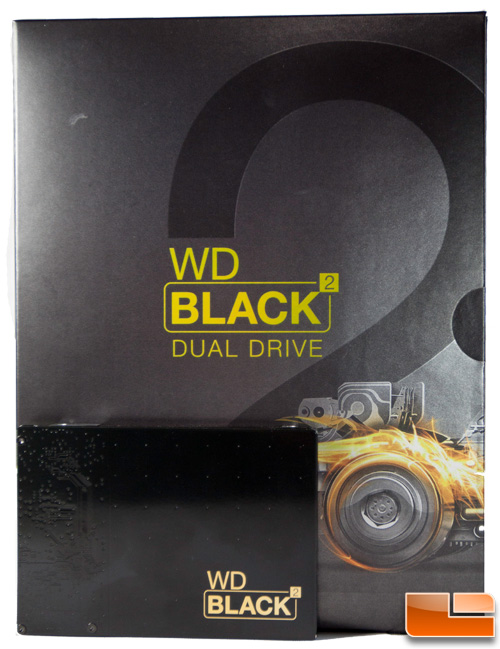 We've been a bit ambivalent towards hybrid drives in the past as they offer some improved performance but often at the expense of additional risk or required compatible hardware. Generally they lack enough SSD storage to be as effective as we'd like but doing so also negates most of the cost savings they provide. However, we're always willing to look at new methods of employing them so having an open mind, we venture forth with the Black drive. Retailing at $299.99, it's still not going to make the inexpensive drive list but compared to a 1TB SDD it's at least half if not one third of the cost. The WD specifications list the reads to max out at 350MB/s and writes at 140MB/s. Writes are hindered a bit by the hybrid controller though the impact of slower writes is much less perceived by the user than reads would be so that works out nicely. It does have a 2.5″ form-factor with a 9.5mm z-height to make it compatible with most notebook computers.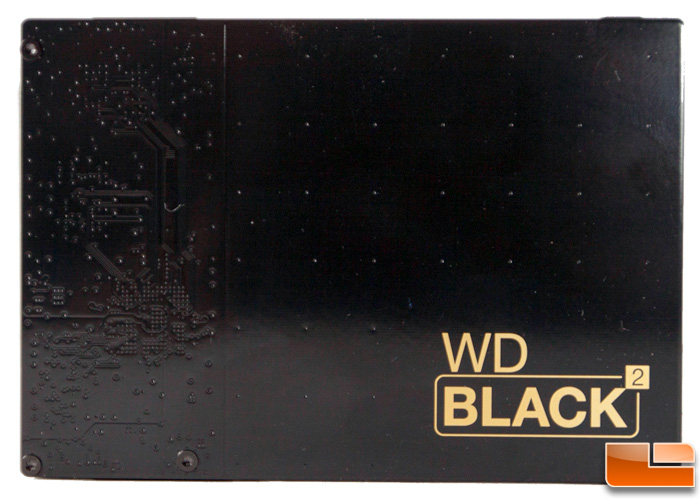 The exterior design is a bit different with a hint of circuit board pattern embossed onto a third of the top side of the drive giving hint as to the SSD lying beneath. The predominant color is a glossy black with splash of gold in the form of the drive logo in the corner. Of course, no review would be complete without the obligatory marketing video to whet your whistle followed by the specifications…
[youtube]http://www.youtube.com/watch?v=OoEoYdmEYV8[/youtube]
WD Black Features and Specifications:
Product Specifications:
Performance Specifications:

Load/unload Cycles: 600,000 minimum

Transfer Rates:

Buffer To Host (Serial ATA): 6 Gb/s (Max)

Physical Specifications

Capacity: 120 GB SSD + 1 TB HDD
Form Factor: 2.5 Inch

Performance Specifications (SSD):
Target Performance:

Internal transfer rate (read, max): 350 MB/s
Internal transfer rate (write, max): 140MB/s

Physical Dimensions:
English:

Height: 0.374 Inches
Depth: 3.95 Inches
Width: 2.75 Inches
Weight: 0.28 Pounds

Metric:

Height: 9.5 mm
Depth: 100.3 mm
Width: 69.85 mm
Weight: 0.125 kg

Environmental Specifications:
Shock:

Operating Shock (Read): 30G, 2 ms
Non-operating Shock: 350G, 2 ms

Acoustics:

Idle Mode: 20 dBA (average)
Seek Mode 0: 21 dBA (average)

Temperature (English):

Operating: 32 F to 140 F
Non-operating: -40 F to 158 F

Temperature (Metric):

Operating: -0 C to 60 C
Non-operating: -40 C to 70 C

Electrical Specifications:
Current Requirements:

Power Dissipation:
Read/Write: 1.80 Watts
Idle: 0.90 Watts
Standby: 0.90 Watts
Sleep: 0.90 Watts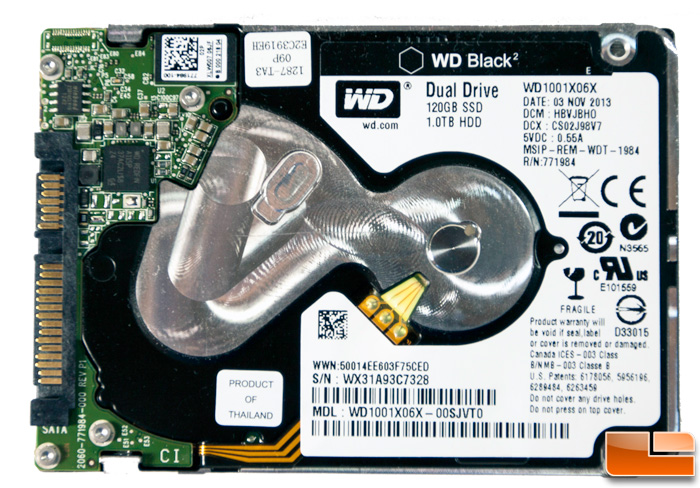 When you flip the drive over, it suddenly looks very HDD-like with nary a hint of the SSD buried within.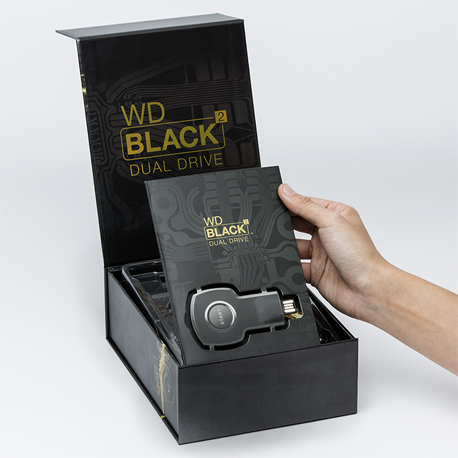 We have to say that the packaging and presentation are impressive. The drive comes packaged in sleeved box that then opens up via magnetic flap. There's a card stock crafted, key shaped USB drive that contains the necessary software for using both drives – a process we'll look at later.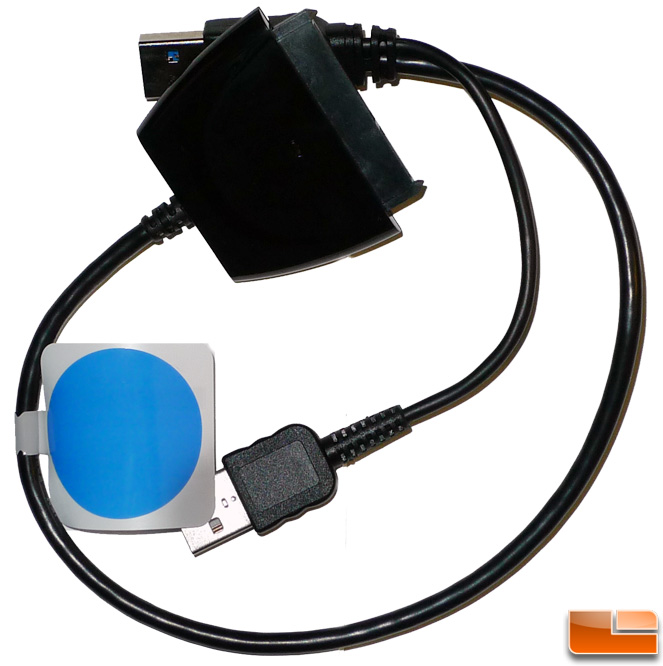 Also included in the package is a super useful SATA to USB cable so those wanting to migrate from an existing notebook can do so with relative ease. Using USB is a lot slower than a traditional SATA connection but it beats the pants off of trying to track down another PC to do the drive copy.