VIA ARTiGO A2000 Barebone Storage Server
By
VIA ARTiGO A2000 Barebone Storage Server
Let me take a moment, if I can, to paint you a picture. Imagine me at the breakfast table, eating a bowl of Cheerios, when all of a sudden a barebones server lands in my lap. I'm sure you can imagine my surprise! What was there for me to do but to build it, test it, and share my findings with the world?
When it comes to networked attached servers, commonly referred to as NAS, there are currently a multitude of devices on the market, from enterprise grade servers to small media storage devices, that aim to help users manage their massive amounts of personal data. The majority of these solutions support various levels of RAID functionality, some including hot-swappable drive support, on the fly rebuilds of damaged arrays, and support for 8 or more hard drives. Others, aimed at less tech savvy users, provide limited options packaged in single or dual drive storage bays.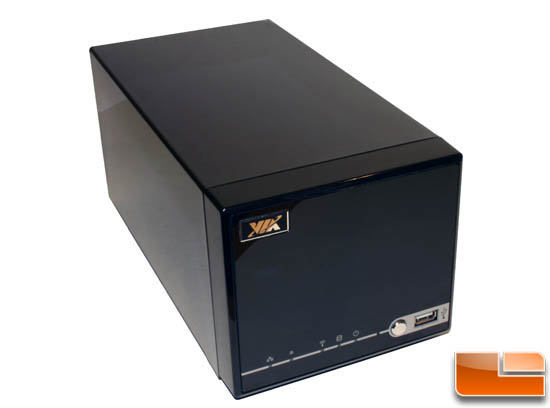 Enter the ARTiGO A2000 Barebones Storage system. At $239.99, the ARTiGO A2000's compact 2-bay chassis was designed to serve users having less stringent storage requirements but a high appreciation for space-efficient green technology. In this position, it was meant to be simple, stable, quiet, and overall trustworthy. The ARTiGO A2000 is powered by VIA's low-power C7-D processor clocked at 1.5 GHz running on a custom-designed Nano-ITX motherboard. The front of the chassis is easily removed to show two SATA HDD slots with an NSD7200-A SATA backplane to simplify the installation of whatever 3.5″ SATA HDDs you feel like throwing in there.
From the hardware specs below, the astute observer will realize that the ARTiGO A2000 has no support for RAID despite the support for dual hard drives. This seems to me to be a glaring failure, especially for any system designed and marketed as a storage solution. However, there may be reasons for this omission, reasons at which I will attempt to guess at later in this article.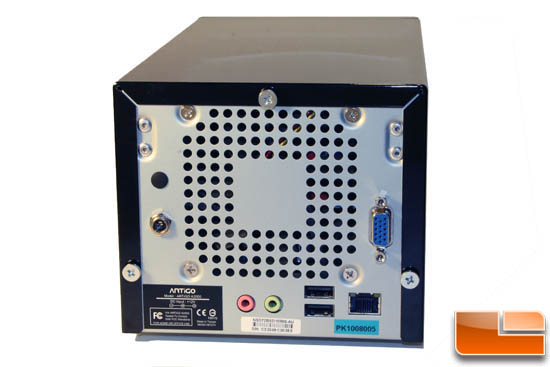 Hardware Specification:
CPU
1.5GHz VIA C7-D processor
Chipset
VIA VX800 Unified Digital Media IGP chipset
Memory Support
1 x DDR2 SO-DIMM Socket (up to 2 GB)
Hard Disk Support
2 x 3.5 SATA-II
Bootable SSD
1 x CompactFlash socket (supports DMA mode)
Operating System Support
Windows XP/Vista, Linux
USB Ports
3 x USB 2.0 ports (1 on the front panel)
LAN Port
1 x Gigabit RJ-45 LAN port with LED
Audio
Built-in high definition audio controller
Audio Ports

1 x MIC/Line-in
1 x Line-out

Display Port
1 x VGA port
Front LED
LAN active, LAN speed, power, HDD active, WLAN active
System Cooler
8 cm low-noise ball-bearing fan
Dimensions
5.3 x 4.5 x 10.2 / 135 x 115 x 259 mm (W x H x D)
Wireless LAN
IEEE-802.11b/g (optional module)
Power
100~240 V AC/DC adapter