Vantec NexStar HDD Duplicator Review
By
Hassle Free Drive Duplication.
We've seen our share of hard drive docks and even a few from Vantec, but this time they have something a little different. The NexStar HDD Duplicator also does as its name implies, it can duplicate drives on a sector-by-sector basis. The beautiful part is that it can do it independently, without the need of being connected to a host PC. Therefore, no software is needed and it doesn't really care what data or OS is on the drive. This makes for a very flexible tool which may appeal more to the techie crowd than the average user since not everyone has the need for drive duplication.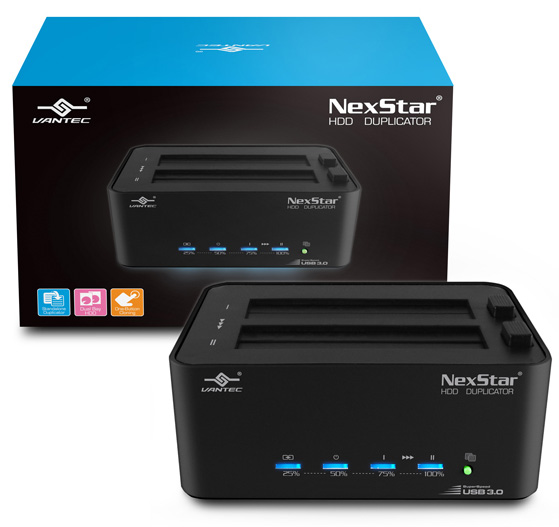 For $63.09 shipped, the dock carries a little more of a price premium than that of a normal dual drive dock but it's meager given the extra functionality and what we'd expect to pay. It supports both 3.5″ and 2.5″ drives easily as long as they are the SATA I, II or II variety. While it's OS agnostic in duplication mode, if used as a more traditional dock, it requires Windows XP or higher, or Mac OS X v10.6 or higher. The dock is covered by a one year warranty which is pretty standard for products of this type.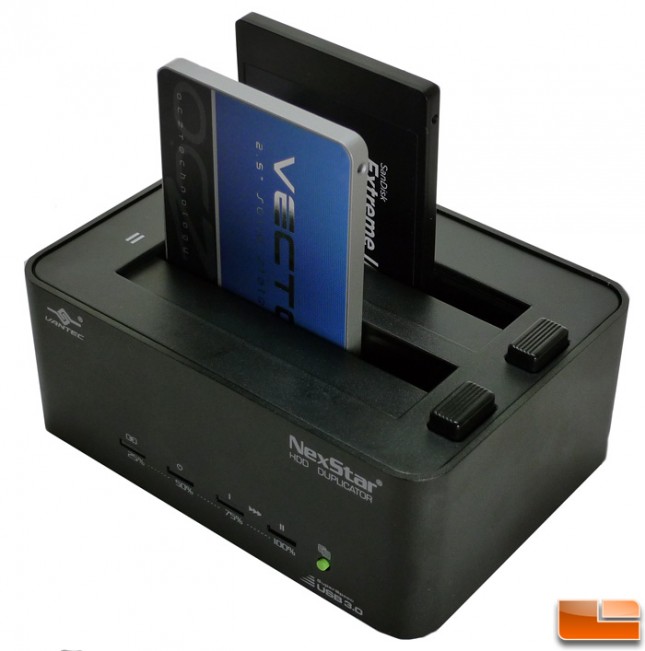 Vantec NexStar HDD Duplicator (NST-DP100S3) Features and Specifications:
Features:

Standalone Hard Drive Duplicator Dock
One Button Sector-by-Sector Cloning
LED Display Lights For Duplication Status and Progress
Hard Drive Dock Design For Quick and Easy Access
Multi-Function: Duplication or Storage Mode
Supports Two 2.5″ or 3.5″ SATA I/II/III Hard Drives
USB 3.0 Transfer Rates With Hard Drive Dock Mode

Specifications:

Model: NST-DP100S3
Device Support: SATA I/II/III Hard Drive
Device Size: 2.5 or 3.5 Hard Drive
Internal Interface: SATA
External Interface: USB 3.0 (Backawards Compatible with USB 2.0 & 1.1)
HD Capacity: Up to 8.0TB
Power Supply: AC Adapter
Material: Aluminum & Plastic
Dimension: 150 x 108 x 61.5 mm
OS Support: Microsoft Windows XP/Vista/7,8 or Mac OS X v10.6 and Up

System Requirements:

Microsoft Windows XP/Vista/7,8(32/64-bit)
Mac OS 10.6 & Greater
For USB 3.0 Speeds, the System Must Support USB 3.0 Specifications

Package Contents:

NexStar HDD Duplicator
USB 3.0 Cable
Power Adapter
User's Manual
In the box along with the dock, we have a power adapter, a USB 3.0 cable and a multilingual user manual. On their product page, that have a little more robust version of the manual. The USB cable is only necessary when used as dock and not in duplication mode.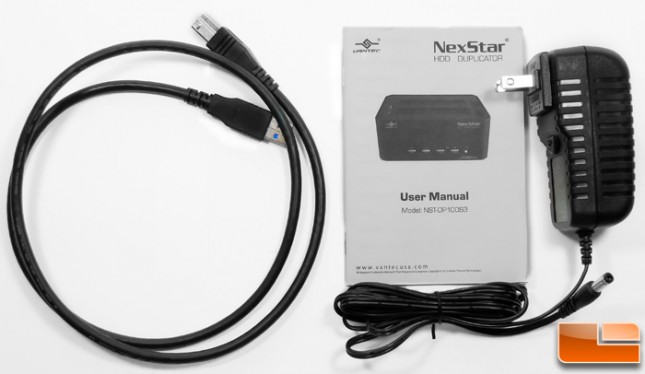 Let's have a little closer look at the dock and its use.