Vantec SATA/IDE to USB 3.0 Adapter Review
By
Vantec SATA/IDE to USB 3.0 Adapter
All storage drives fail at some point and there is likely a situation where you wanted to connect a drive to your computer to work on, but couldn't easily do so. Vantec came up with a nifty little product called the Vantec SATA/IDE to USB 2.0 Adapter (part number CB-ISATAU2) years ago that allowed you to take any SATA or IDE drive and connect it to your PC through a USB 2.0 data port. Vantec even included an external power brick to power 5.25″ optical drives and 3.5″ hard drives with this external adapter. The small adapter was ingenious as it ensured that you should always have a way to connect drives to your desktop or laptop without opening a case or fiddling about the inside of your PC to get it connected to the motherboard. Not bad and the little adapter that costs $18.99 shipped has earned a 4.4 out of 5 stars rating on Amazon with 1,277 customer reviews since being introduced in 2007. How do you make this product better? You add SuperSpeed USB 3.0 support!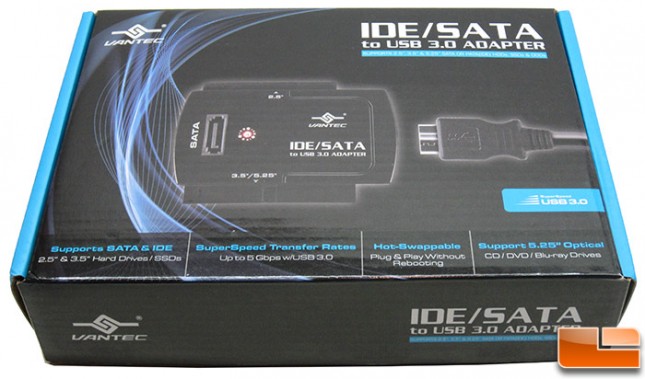 Rather than re-inventing the wheel, Vantec changed out the USB 2.0 controller with a newer USB 3.0 controller inside the adapter. This increases the transfer rates from up to 480 Mbps with USB 2.0 all the way up to 5 Gbps with USB 3.0. In laymen's terms, it went from a theoretical 60 MB/s to 640 MB/s!
Vantec IDE/SATA TO USB 3.0 Adapter Features:
Compact And Lightweight Design For Easy Storage

Supports 2.5″ & 3.5″ SA TA or PATA(IDE) Hard Drives

Supports 5.25″ Optical CD/DVD/Blu-ray Drives

Hot-Swappable: Plug & Play Without Rebooting
Specifications:
| | |
| --- | --- |
| Model: | CB-ISA200-U3 |
| Interface: | USB 3.0 |
| Supported Devices: | IDE & SATA 1.5Gb/s, SATA 3Gb/s, SATA 6Gb/s SSDs, Hard Drives, CD/DVD/Blu-ray Drives |
| Drive Size: | 2.5″ & 3.5″ & 5.25″ |
| HD Capacity: | Up to 4.0 TB |
| Power Supply: | AC Adapter |
| Material: | Plastic |
| Dimensions: | 70 x 50 x 15 mm |
| Warranty: | 1-Year |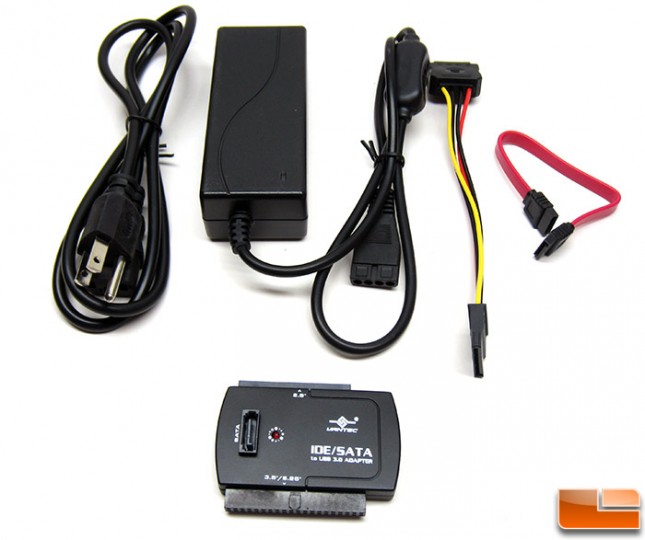 Inside the retail packaging you'll find the IDE/SATA To USB 3.0 adapter, installation guide, SATA Data Cable, 4-Pin Molex to SATA Power Converter, USB 3.0 Cable ( A to Micro B ), and the AC power adapter.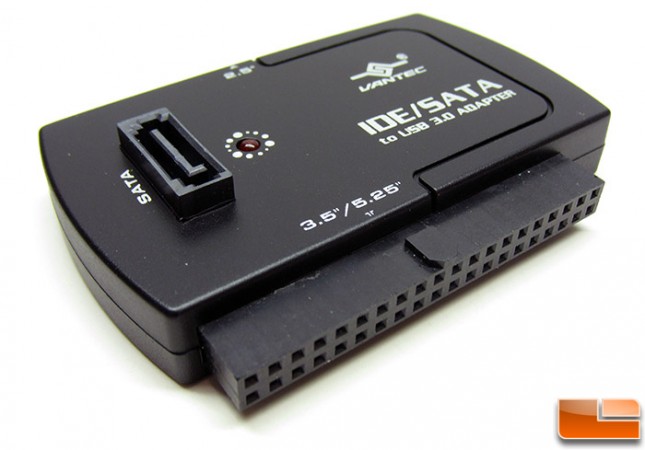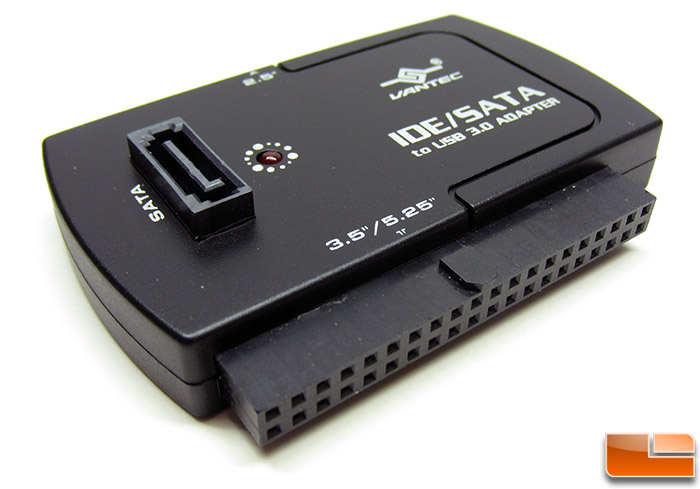 The adapter itself is very small measuring just 2.75-inches by 2.00-inches with a weight of just 1.4 ounces. On one side of the adapter you have the standard IDE/ATA/ATAPI 40-pin interface that is very popular on older desktop 3.5″ hard drives and 5.25″ optical drives. On the top there is a standard SATA port and a red light that shows when you have an active USB connection between the PC and the Vantec IDE/SATA to USB 3.0 adapter.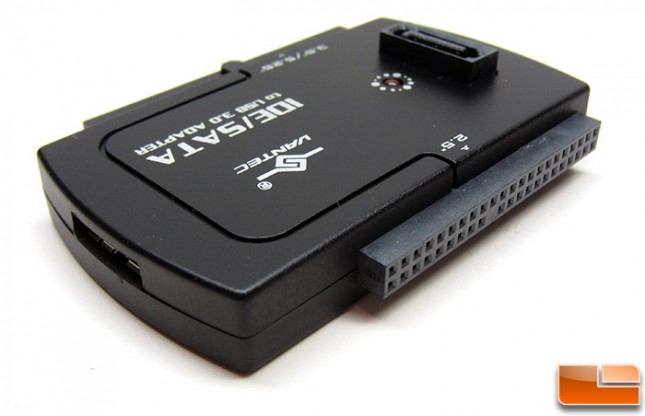 On the other side you have a standard 2.5″ IDE 44-pin interface for notebook hard drives and then at the end of the adapter there is the USB 3.0 data port that will be directly connected to the working desktop PC or laptop.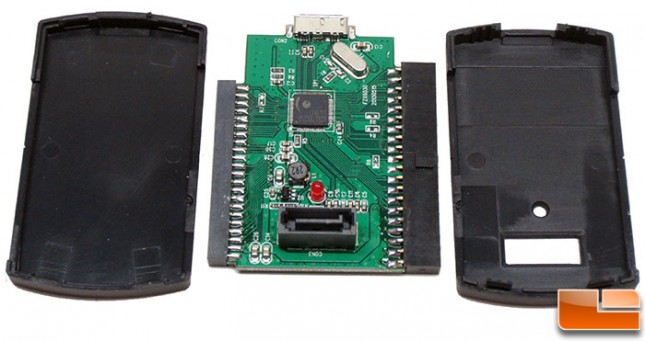 We wanted to see what was inside, so we popped open our review unit and discovered a very clean PCB layout with a lone controller. There are no screws to remove and the black plastic enclosure was easily removed.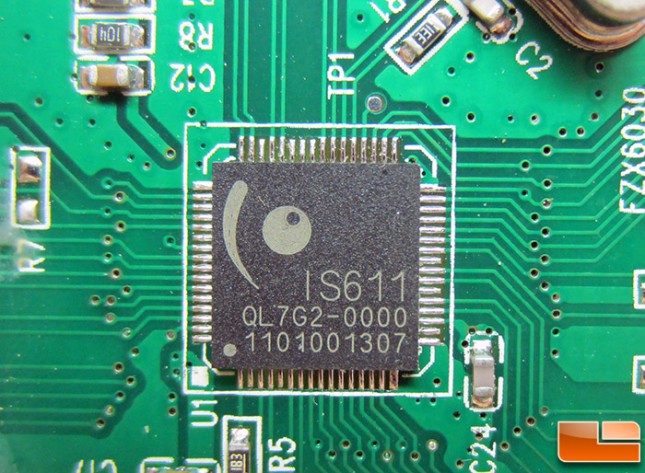 The Vantec adapter is powered by an Innostor Technology Corporation IS611 USB 3.0 single chip SATA/PATA combo bridge controller.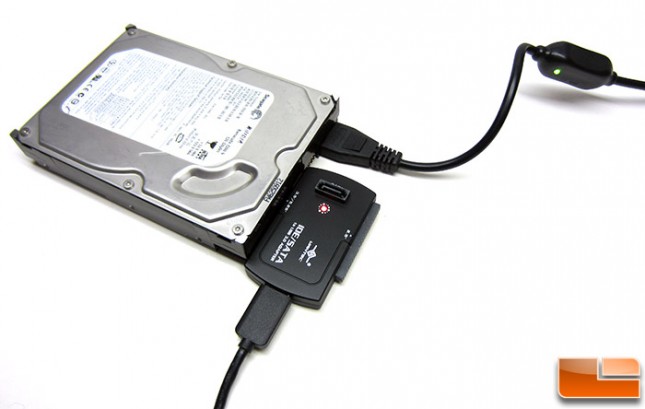 Hooking everything is easy and we tried out the Vantec IDE/SATA to USB 3.0 adapter on dozens of old hard drives and optical drives and found that it worked perfectly on all of them. In the image above we took an older Seagate 3.5″ PATA (IDE) hard drive and connected it to our Intel Ultrabook to retrieve some old files that we were looking for. The adapter itself is tiny, but you have to plug in the power source and then connect it to your PC, so there are several wires that need to be connected. No big deal, but don't expect to move about!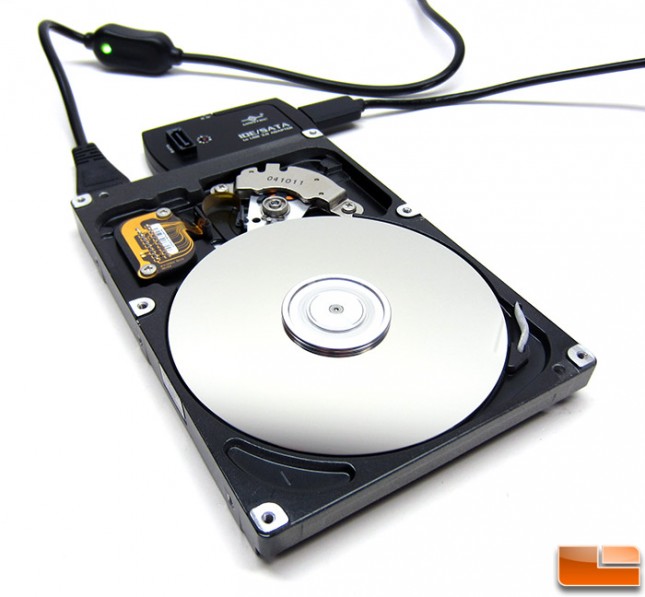 The external power supply can also be used to spin up some old hard drives!
Enough playing around, let's take a look at some performance results with the Vantec IDE/SATA to USB 3.0 adapter on a Solid-State Drive (SSD) to see how it performs on something fast. The reason to buy this is to get USB 3.0 speeds, so let's find out how fast this adapter can go!