V-Color Prism II RGB 16GB (2 x 8GB) DDR4 3600MHz Memory Review
By
V-Color entered the gaming memory market in 2013 and entered the North American sales market in 2014. In recent years they have started to make a name for themselves by offering good quality memory modules at rock bottom prices. Their newest DDR4 memory kit, PRISM II RGB, has gotten a fair bit of attention as it is often the lowest priced DDR4 RGB kit on popular retailers like Amazon.com.
For example, the V-Color PRISM II RGB 16GB (2x8GB) DDR4-3200 CL16 kit is available for $79.99 shipped. If you want something a little faster you can step up to the V-Color PRISM II RGB 16GB (2x8GB) DDR4-3600 CL18 kit for $88.99 shipped.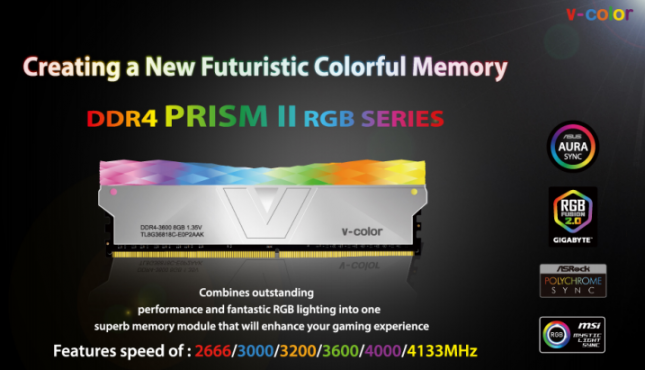 Those are rock bottom prices, but how good are these modules? V-Color says they use 10-layer PCBs, with Hynix memory IC's, metal heat spreaders and XMP 2.0 memory profiles on the PRISM II RGB series. PRISM II is compatible with both Intel and AMD platform and supports RGB lighting apps from ASUS, Gigabyte, MSI, and ASRock.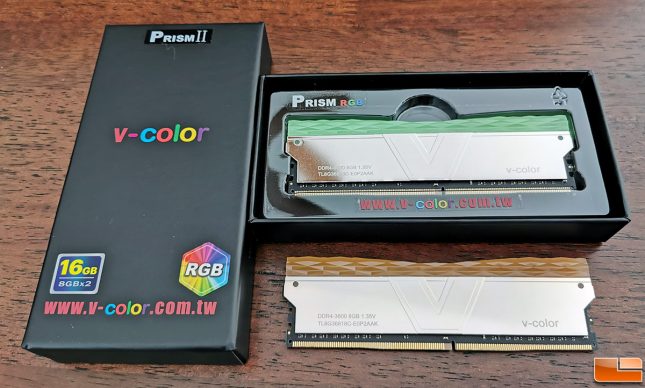 V-Color recently reached out to Legit Reviews and wanted to know if we wanted to review one of these new kits. They offered the 16GB 3600MHz kit of PRISM II ( part number: TL8G36818C-E0P2AAK ) and said that they were able to reach an overclocked frequency of 5000 MHz on an ASRock X570 platform. That most certainly got our attention, so we said to send a kit over form Taiwan to see how it would perform on our own test bench.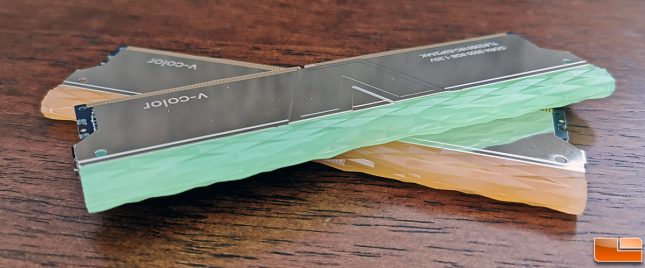 The V-Color packaging is basic, but more than enough for something that you'll likely throw away or recycle. Inside the box you'll find the two modules and we later noticed that in the lid of a box was a cleaning cloth to remove finger prints from the reflective heat spreaders. The plastic light bar on the top of the modules doesn't look super appealing when the seven RGB lights on each module are off, but they look okay when the lights are on. It looks like V-Color is using 5 LEDs per module on this kit as you can see from the image below.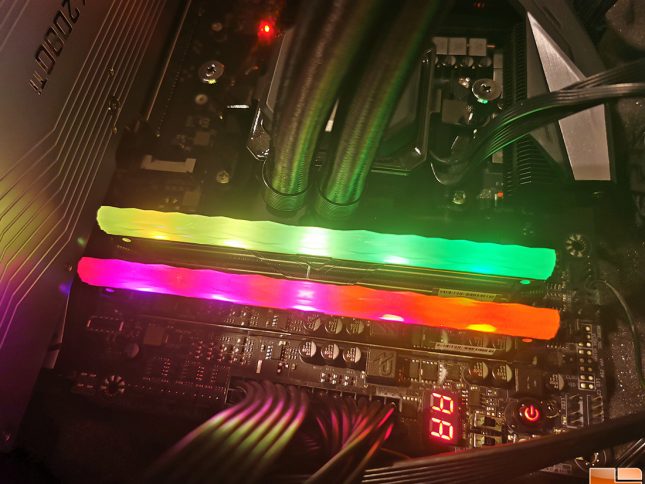 For testing we will be using our AMD X570 desktop platform that is running the Ryzen 9 3900X processor (pricing). The Gigabyte X570 AORUS Master motherboard (pricing) for AMD Ryzen processors was running BIOS/UEFI version F7b (AGESA 1.0.0.3 ABBA). A clean install of Windows 10 Pro 64-bit v1903 was done and all updates as of 10/01/2019 were applied to the operating system. AMD chipset driver version 19.10.16 was used. The CPU was kept cool by a Corsair Hydro Series H115i PRO liquid CPU cooler and a 1TB NVMe SSD was used as the systems primary drive and resided on the motherboards 1st built-in M.2 slot. PBO was disabled and Ryzen Master was not installed on the test system.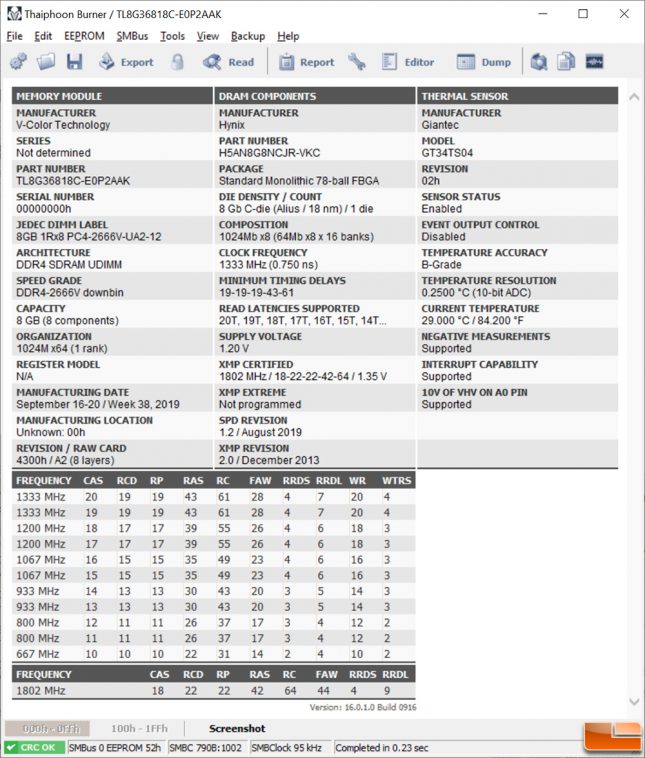 Instead of taking off the heatspreader to look at what components are being used on this V-Color module we turned to Thaiphoon Burner software. This app shows that this kit is using Hynix 8 Gb C-die memory ICs with part number H5AN8G8NCJR-VKC. These are also single-rank (1 rank) 8GB modules. This kit also has a Giantec GT34TS04 thermal sensor. This sensor meets JEDEC spec and has an accuracy of +/- 0.5C. Only one of the two memory profiles is being used and the XMP Certified (Profile 1) was set to 1802 MHz (3604MHz) with 18-22-22-42-64 timings at 1.35V. If you just put it into a board without doing anything it should default to 1333 MHz (2666MHz) with relaxed CL20 timings at 1.20V. This is to ensure you won't encounter any blue screens of death (BSOD) when you go to use the kit the very first time.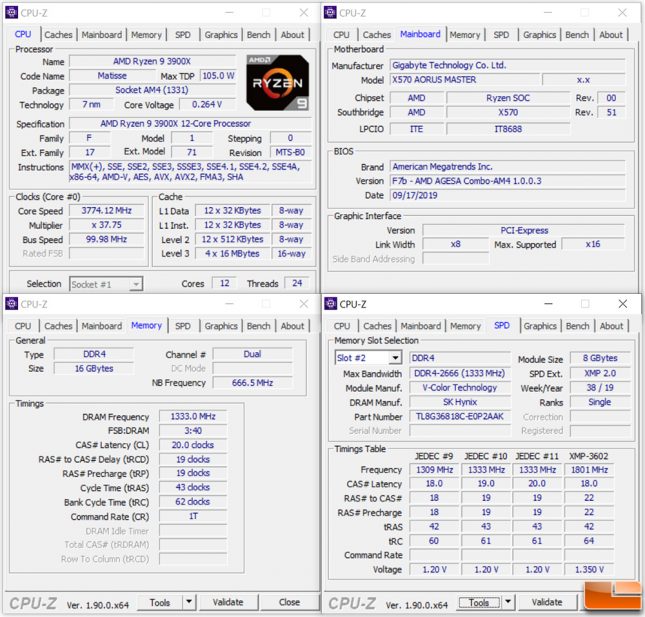 After installing the V-Color PRISM II 3600MHz memory kit into our AMD X570 test platform we let it run without changing any settings. It booted up straight away and was running 2666 MHz with CL20 timings at a voltage of 1.20V.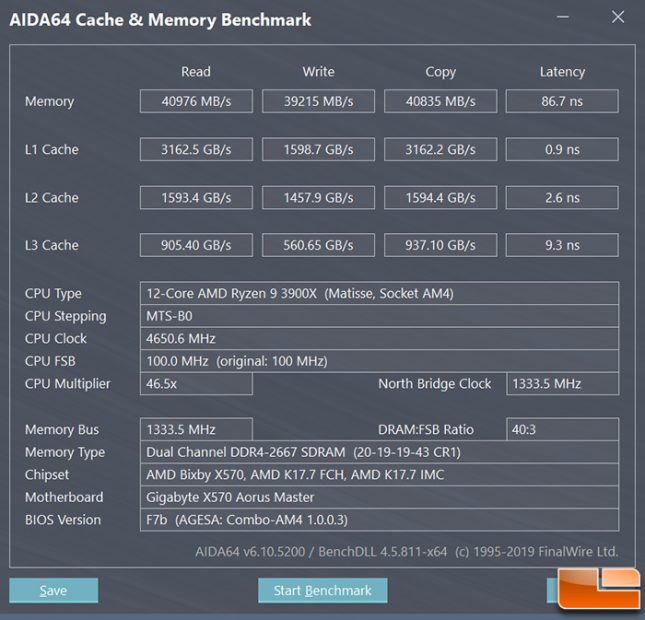 We ran AIDA64 Cache & Memory Benchmark v6.10.5200 at base JEDEC settings and we got around 41,000 MB/s read, 39,200 MB/s write and 40,800 MB/s on the copy test. The latency on this dual channel kit at DDR4-3600 was 86.7 ns.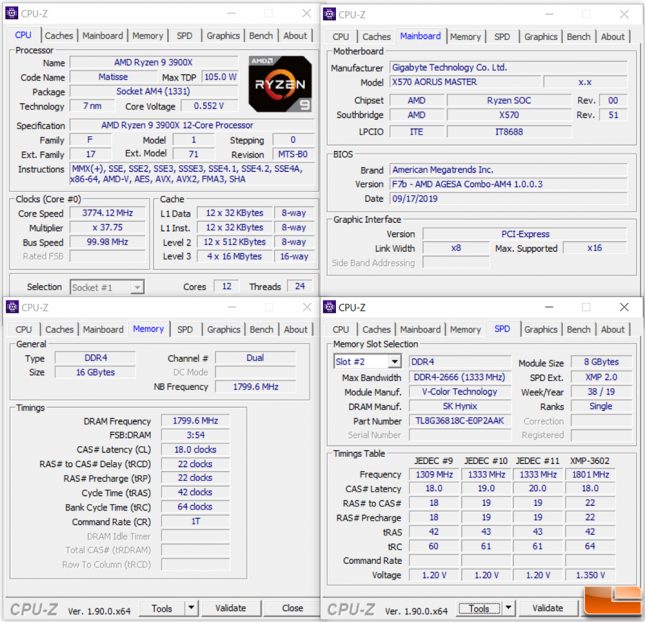 We restarted the system and went into the UEFI and enabled XMP Profile 1 and then saved while exiting. After the system booted back up to the Windows 10 desktop we were now running at the kits advertised clock frequency and memory timings. Advanced users can manually set all the timings and clocks if they so desire.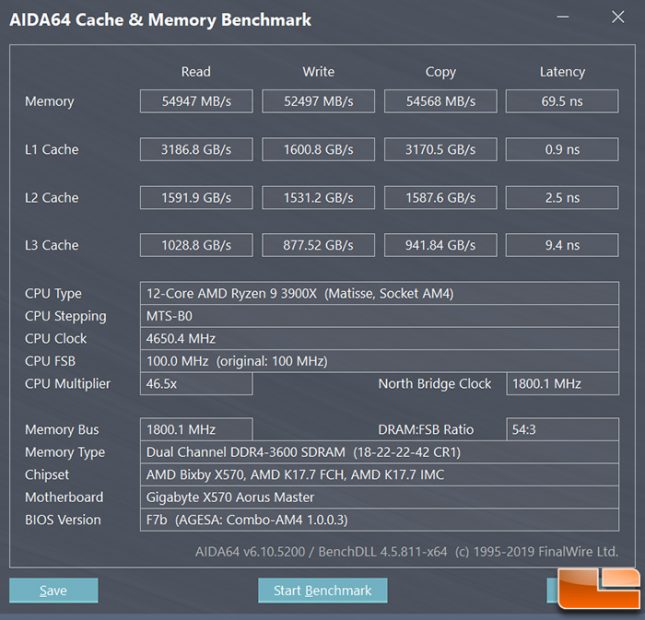 When running AIDA64 at XMP Profile 1 settings the performance jumped up to 55,000 MB/s read, 52,500 MB/s write and 54,600 MB/s on the copy test. The latency dropped down to just 69.5 ns, which is what we wanted to see. We tried dropping down to CL16 timings (16-18-16) at 3600MHz with 1.35V and the system would not post.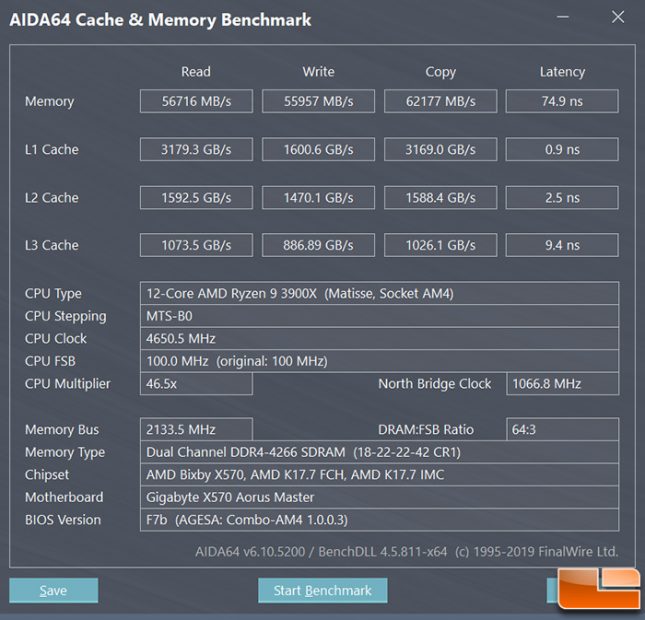 Overclocking the V-Color PRISM II DDR4-3600 16GB kit was fun and simple to do. The easiest way to overclock your memory kit is to simply go into the UEFI and raise the memory strap to a higher clock speed. We ended up getting to DDR4-4200 speed at the suggested 1.35V setting on the memory and after bumping it up to 1.40V we managed to hit DDR4-4266. This is a 666 MHz overclock on this memory kit and the AIDA64 benchmark results looked positive. This sub $90 memory kit was able to get 56,700 MB/s read, 56,000 MB/s write and 62,200 MB/s on the copy test with the overclock.
We are happy with this overclock, but it is far from the 5000MHz overclock that V-Color first peaked our interest with. So, we reached back out to V-Color and asked them for specifics about what they did to reach 5000MHz on this memory kit.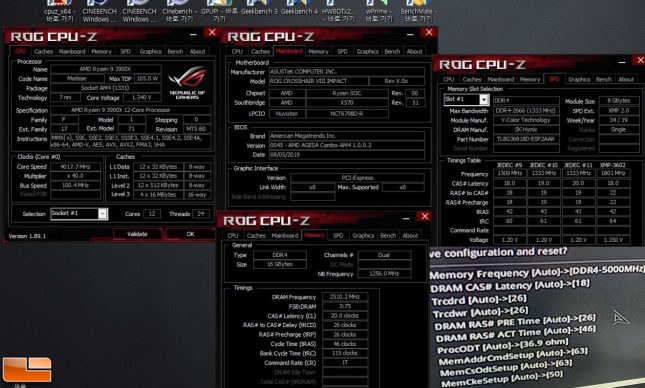 They got back to me letting me know that an overclocker they hired in Korea got the kit up to 5,020 MHz on an ASUS ROG Crosshair VIII Impact mini-ITX motherboard with UEFI 0045. They used 1.52 Volts on the memory kit with 20-26-26-46 timings, but also manually changed many advanced memory timings. We tried to duplicate these settings on our Gigabyte X570 board, but it failed to even post. We aren't going to chase this overclock, but V-Color says it is possible.
Final Thoughts and Conclusions
We are surprised by what V-Color is offering here with the PRISM II RGB 16GB (2x8GB) DDR4-3600 CL18 memory kit for $88.99 shipped. For under $90 you get a memory kit that worked really well on our AMD X570 platform with the Ryzen 9 3900X processor. Overclocking performance was also impressive as we were able to take this 3600 MHz kit and bump it up to 4200 MHz with no voltage changes required. Adding a little more voltage got us up to 4266 MHz at the stock CL18 timings and that is impressive for what appears to be the lowest priced DDR4-3600 kit on Amazon with RGB lighting. The RGB lighting design isn't the most visually appealing that we've seen on a DDR4 memory kit, but it works and gives you controllable RGB lighting on your DRAM.
The V-Color PRISM II RGB Series is covered by a limited lifetime warranty should anything ever go wrong with the kit. Since V-Color is based in Taiwan we asked how that RMA process would work and they gave us a few more details. Basically, if anything happens within 30 days of purchase from Amazon, you can just return it to Amazon and they will handle it. If you are beyond 30 days you'll need to apply for an RMA from V-Color on this websites contact form. Once the request for RMA is received, V-Color will issue you an RMA number and a USA address to send the kit back to. You'll need to pay to ship it to San Jose, California and from there it will be processed by V-Color and return shipping costs will be covered by them.
This is our first time reviewing a V-Color product and we are left impressed by what you for the price tag!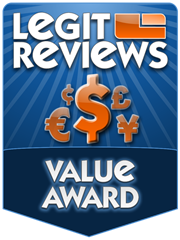 Legit Bottom Line: The V-Color PRISM II RGB 16GB (2x8GB) DDR4-3600 CL18 memory kit is available at rock bottom pricing and is overclocking friendly.