US Navy eReader Called NeRD Has No Ports
By
Findaway World Partners With the Navy General Library Program to Bring eBooks to Sailors
Navy Selects Longtime Leader in Digital Audiobook Delivery to Distribute Secure, Pre-loaded eReaders to the Fleet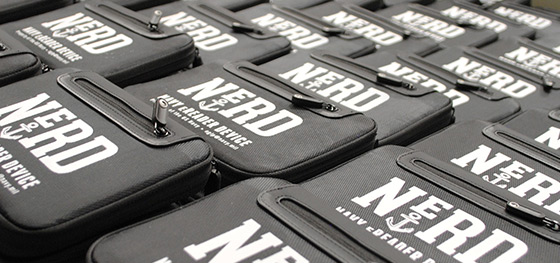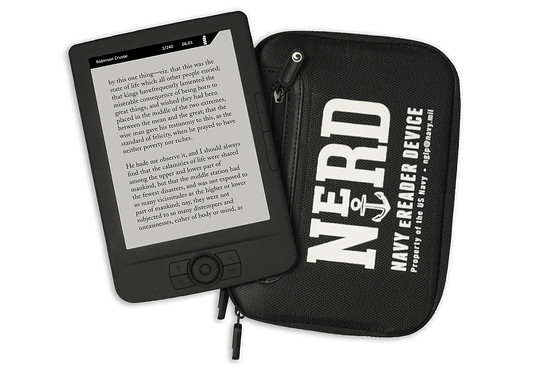 SOLON, OH (May 7, 2014) Findaway World, a leading provider of technology for digital delivery of audiobook and eBook content, today announced a partnership with the Navy General Library Program (NGLP) to provide a digital catalog of popular eBook titles to Sailors through custom designed, loaded and secure eReaders. Findaways first-ever eReader solution delivers a diverse library spanning best-sellers, classics, professional development, and entertainment selected by the Navy.

The Navy eReader Device, or NeRD, was developed in conjunction with the NGLP, an essential component of the U.S. Navys Morale, Welfare and Recreation (MWR) program. With its array of pre- loaded titlesall accessible through a single, portable devicethe NeRD delivers eBook content to encourage leisure and entertainment and promote professional growth. The NeRD augments the NGLPs range of library services, which includes web-based digital library access to service members and their families at no charge.

By integrating the NeRD into the NGLP, the Commander, Navy Installations Command addresses a challenge common to outfitting maritime vessels with library collectionsstorage restrictions. Officers and enlisted Sailors have limited access to the Navys Library Multimedia Resource Center (LMRC) as a result of physical storage restrictions. NeRD addresses this requirement by consolidating a library that accommodates vessel restrictions in a user-friendly, mobile format.

Navy Installations Command is constantly seeking to provide our proud Sailors around the world with new tools and resources that can enrich their lives, said Nellie Moffitt, Navy General Library program manager. NeRD addresses this goal head-on, with a library of digital titles in a convenient and secure package that circumvents longstanding NGLP challenges in content storage. By partnering with Findaway World, we now have the ideal reading solution for the digital age.

Findaway World has served both the US Government (USG) and military since 2007, delivering over one million digital media devices with pre-loaded content to over 70 countries throughout the world. Leveraging innovative technology, responsive world-class service, and progressive content acquisition, Findaway services all military service branches (Army, Navy, Air Force, Marine Corps) and the Coast Guard with licensed publisher titles and custom content.

Since 2007, Findaway World has provided audiobook content to the men and women who serve our country, said Mitch Kroll, Co-Founder and CEO of Findaway World. Were proud to partner again with Navy Installations Command and the U.S. Navy on this initiative and believe that NeRD will provide a unique and enriching eBook experience to the lives of officers and enlisted Sailors.

more information on Findaway World please visit, here: http://www.findawayworld.com/.

About Findaway World

Findaway World is a leading provider of technology for the delivery of digital audiobook and eBook content, with one of the worlds largest collection of digital audiobooks at over 50,000 titles.

Playaway, Findaway Worlds flagship pre-loaded audiobook device, makes it simple to deliver content to library patrons, students and military personnel. Findaway World's Digital Products, including AudioEngine, an innovative new audiobook distribution platform, enable partners to deliver digital audiobook content across web and mobile products and services.

Founded and based in Solon, Ohio, Findaway World was named one of top-50 fastest growing consumer product companies in the country by Inc. Magazine from 2009 2012. To learn more about Findaway World's products and the Findawayers who make it all happen, visit www.findawayworld.com.