Ubisoft Releases Premier Video for Watch Dogs 2
By
With E3 right around the corner the new Watch Dogs 2 (Developed by Ubisoft Montreal and published by Ubisoft) has just released their world premier video. The video features a hacker named Marcus Holloway going around San Francisco and features the song Spaz by Pharrells band N.E.R.D.
Watch Dogs 2 is an open-world action-adventure third-person-shooter which will be released on November 15, 2016 for Windows, PlayStation 4, and Xbox One for the price of $59.99 USD.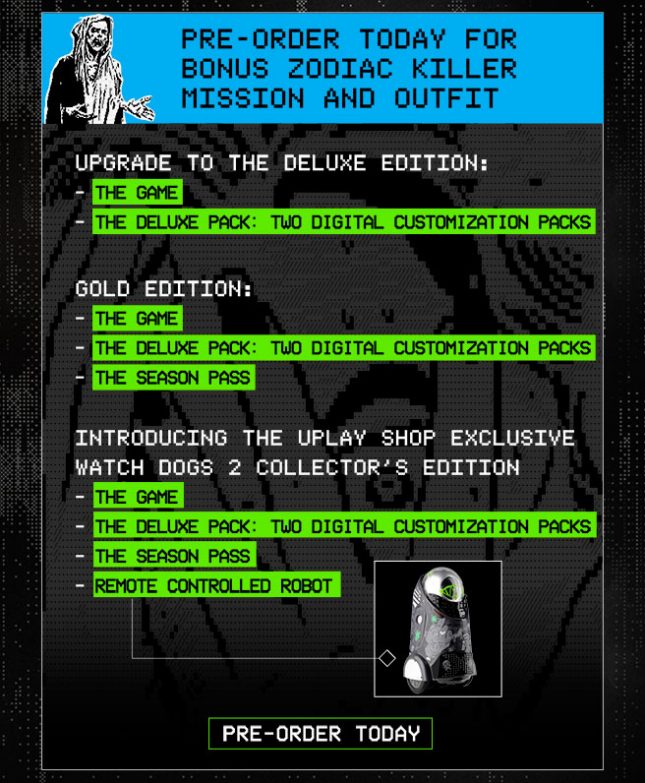 Players can also preorder the game with upgrades to the Deluxe Edition ($69.99 USD), Gold Edition ($99.99 USD), Collectors Standard edition ($109.99 USD), Collectors Deluxe Edition ($119.99 USD), as well as Collectors Gold Edition ($149.99 USD). The bonuses include a deluxe pack of two digital customization packs for the Deluxe Edition. The Gold Edition includes the deluxe pack as well as a season pass. The above are included in the Collectors Edition with an addition of a remote controlled robot with can be controlled by a phone app.
Players interested in creating an account and logging in with Ubisoft will be able to earn in-game rewards as well as real-world prizes.