Two PCIe NVMe SSDs Tested On Six Motherboards By Intel and AMD
By
Will One SSD Perform The Same on Six Different Motherboards?
When Corsair sent us their new Neutron NX500 400GB NVMe PCIe AIC SSD to review we weren't impressed by what we were seeing from Corsair's new flagship storage drive. Corsair claims that the Neutron NX500 400GB and Neutron NX400 800GB drives can reach sequential speeds of up to 3,000 MB/s Read and 2,400 MB/s Write. They also note that the should be getting up to 300,000 IOPS of 4K Random Read performance and up to 270,000 IOPS of Random Write performance. These speeds are possible thanks to the use of a Phison PS5007-E7 controller together with 15nm Toggle 2.0 MLC NAND Flash.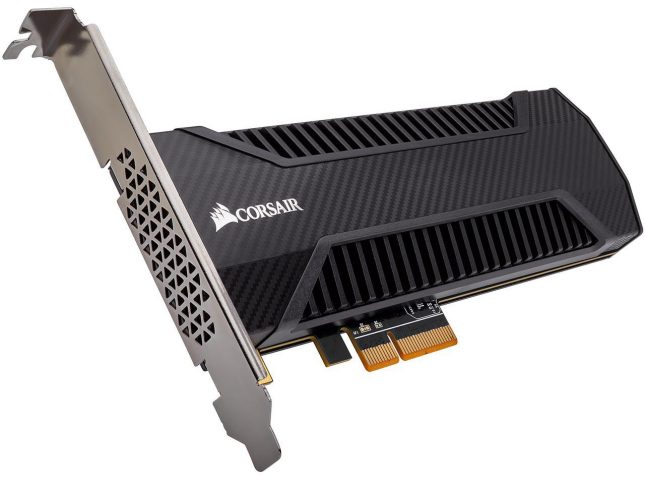 The only problem is that when we started testing the Corsair Neutron NX500 we noticed that this flaghip drive wasn't winning many benchmarks and in fact it came in dead last on a good number of them. Check out how the Corsair Neutron NX500 400GB drive performed in the 4K Random Write QD1 performance test in Anvil's Storage Benchmark.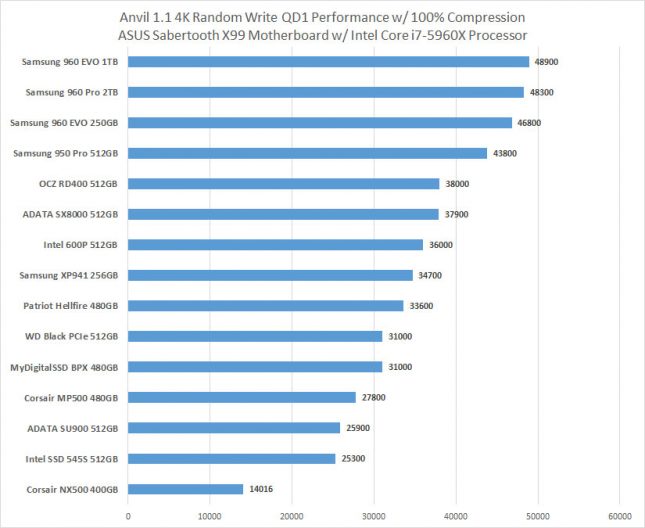 The Corsair Neutron NX500 400GB storage drive came in dead last and QD1 performance is one of the most important performance metrics of a storage drive. We tried the AIC in all available PCIe slots and saw no change. We 1024K aligned the drive per instructions from Corsair and saw no change. We tried different secure erase methods and again there was no change. The Corsair Neutron NX500 400GB drive performed below expectations on our platform. The Corsair Neutron NX500 400GB drive is priced at $362.00 shipped, so at nearly $0.91 per GB this performance is terrible. The Intel SSD 545s SATA III SSD with 64-layer TLC 3D NAND ($190 shipped) had better low queue depth performance than Corsair's flagship PCIe NVMe SSD!
Corsair showed us their testing results and they were getting around 31,500 IOPS in the 4K RW QD1 test and offered us to send us an entire platform from Taiwan to prove it. The Z270 platform they were using showed up and sure enough we we could match the 31,500 IOPS. We put the NX500 400GB drive we just got from Taiwan in our SSD test system and the scores were barely breaking 14,000 IOPS. This was a shock as the difference between the two platforms was night and day. We were using an Intel X99 platform with an Intel Core i7 processor and they were using an Intel Z270 platform with an Intel Core i5 processor. We've never seen performance double or triple on a storage drive by changing platforms before, so this was very interesting to us. It also concerned us as what is the point of reviewing SSDs on one board if it runs 2-3x slower or faster on others?
So, we took the Corsair NX500 400GB drive and tested it on six different motherboards that were using five different chipsets! Different processors were used on each platform, but all were running Windows 10 Pro 64-bit v1703 with the latest drivers and Windows updates installed.
Intel X99 – ASUS Sabertooth X99 (Our SSD Test Platform Since 2015)
Intel X99 – ASUS X99-E 10G WS (Our GPU Test Plafrom Since 2016)
Intel X299 – ASUS X299 Deluxe
Intel Z270 – ASUS Maximus IX Hero Z270 (This platform came from Corsair Taiwan and we didn't change anything)
AMD X370 – MSI X370 XPower Gaming Titanium
AMD X399 – ASUS X399 ROG Zenith Extreme (Tested in both Gaming and Creator Modes)
We tested the drive with Windows write-cache buffer flushing on the device disabled and secure erased the drive between platforms.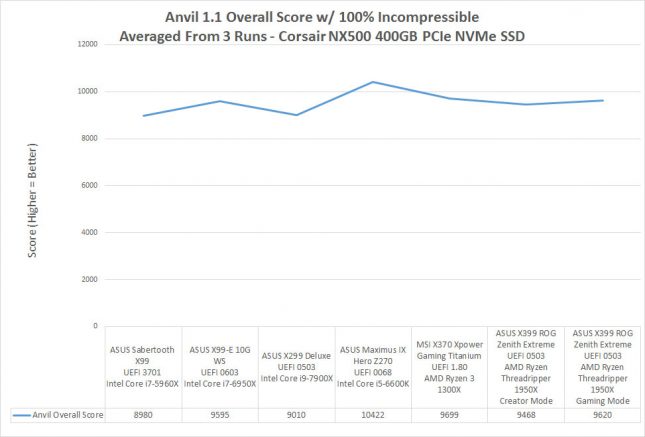 Taking a quick look at the overall score on Anvil 1.1 we found that our scores ranges from 8,890 points to 10,422 points! This represents over a 17% difference in the overall score of the Corsair NX500 400GB SSD by changing platforms. The ASUS Sabertooth X99 board that we've been using for our SSD test system actually had the worst performance and the ASUS Maximus IX Hero Z270 motherboard that Corsair is using in the labs had the best performance. The AMD Ryzen Threadripper processors seem to do better in this storage benchmark in Gaming mode rather than Creator mode.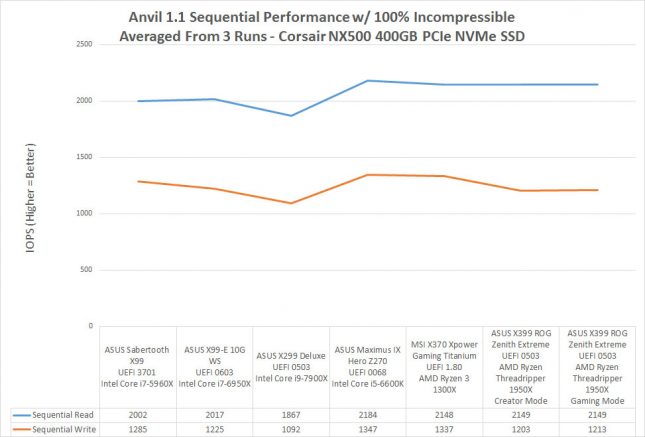 When it came to sequential performance we found some really interesting results. For starters the NX500 400GB drive performs about 200 MB/s slower on the new Intel X299 board we used versus the both of the 'old' X99 boards we tested. The AMD X370 board we tested had solid performance that was comparable to the Intel X270 board we tested. The AMD X399 board that we tested had solid sequential read performance, but the sequential write performance was 10% lower than the X370 board we tested. This just goes to show that performance can greatly vary between boards with the same SSD.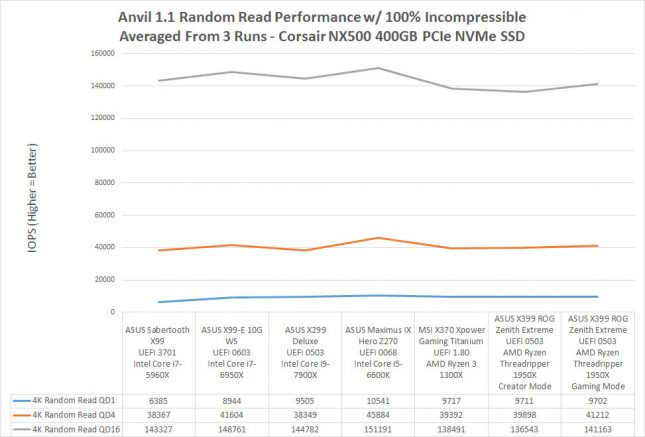 When it comes to 4K Random Read peformance the QD1 performance range was huge. We got 6,395 IOPS on the ASUS Sabertooth X99 board and then 10,541 IOPS on the ASUS Maximus IX Hero Z270 motherboard. Seeing a 65% performance difference between two boards is something we weren't expecting.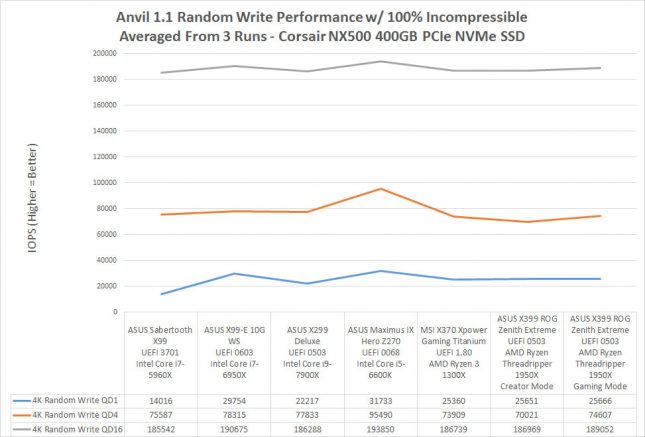 When it comes to 4K Random Write performance the ASUS Maximus IX Hero Z270 motherboard blows the others out of the water with 31,733 IOPS at QD1 and 193,850 IOPS at QD16. That is over a 2.2x improvement. What is really strange is that the performance difference between the two ASUS X99 boards.
What happens if we try this out on a different PCIe SSD? Will the results remain the same?
We did the testing over again on the Samsung SSD 960 Pro 2TB M.2 PCIe NVMe drive to find out!