Turtle Beach Ear Force Z SEVEN Gaming Headset Review
By
Turtle Beach Ear Force SEVEN Series Headsets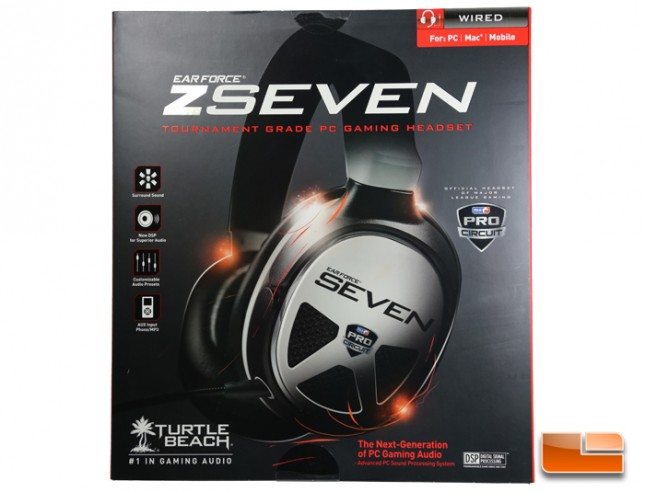 Turtle Beach is perhaps a name better known amongst console gamers since you can easily find their Ear Force lineup of headsets somewhere close to where the boxed console games are in certain stores. Most Turtle Beach Ear Force headsets are compatible with computers or any electronic device with a 3.5 mm jack nonetheless because most gamers or even most people make due with one set of headphones for all their devices. The Turtle Beach Z SEVEN we have for review is actually part of a much larger family of SEVEN headsets. The Z SEVEN is posited as the version for PCs and Macs, the XP SEVEN drops the computer compatibility and goes for Xbox 360 and PS3 compatibility, The M SEVEN is the mobile variant, and the XO SEVEN is the first third-party headset compatible with Xbox One. Then there's also a bunch of limited edition SEVEN headsets with alternate earcup decorative plates themed after games and movies such as Captain America, Thor, Call of Duty: Ghosts, and Titanfall.

Despite the compatibility and incompatibilities that happen out of the box, the headset itself across all named versions is the same. The M SEVEN and XO SEVEN are perhaps the most basic versions and are packaged with the minimum number of accessory cables for their operation. The Z SEVEN and XP SEVEN are the versions that comes with the Audio Control Unit, an external sound card while the latter, the XP SEVEN, includes an additional console interface adapter.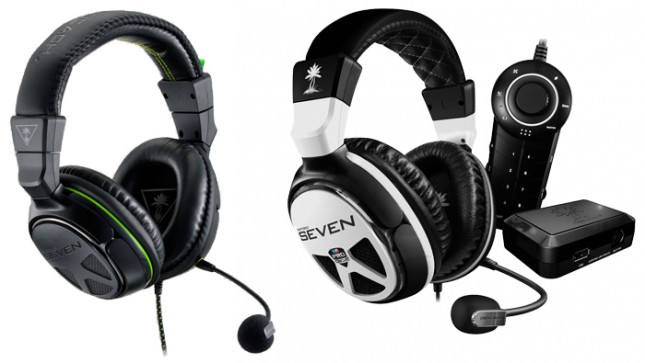 This doesn't mean we're actually reviewing all the Ear Force SEVEN headsets, but because the headset is more or less the same, some overarching generalizations can be and will be made. All Turtle Beach headsets come with a 1-year warranty and the Z SEVEN can be purchased at Amazon for $212.06 shipped.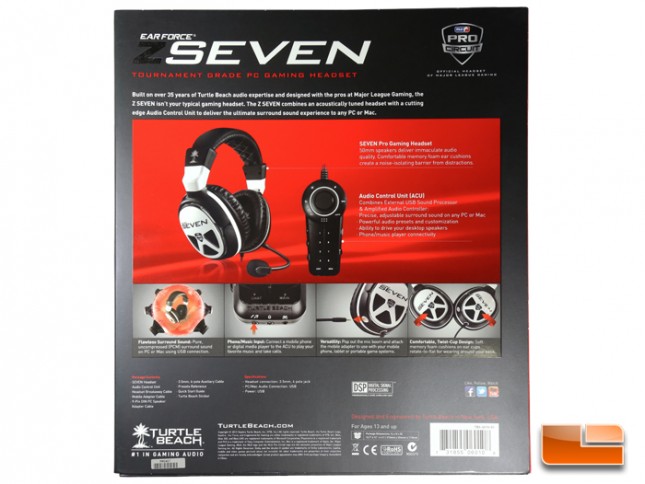 Turtle Beach Ear Force Z SEVEN Tournament Grade PC Gaming Headset Features
SEVEN Pro Gaming Headset: 50mm speakers deliver immaculate audio quality. Comfortable memory foam ear cushions create a noise-isolation barrier from distractions
Audio Control Unit (ACU): Combines External USB Sound Processor & Amplified Audio Controller

Precise, adjustable surround sound on any PC or Mac
Powerful audio presets and customization
Ability to drive your desktop speakers
Phone/music player connectivity

Flawless Surround Sound: Pure, uncompressed (PCM) surround sound on PC or Mac using USB connection
Phone/Music Input: Connect a mobile phone or digital music player to the ACU to play your favorite music and take calls
Versatility: Pop out the mic boom and attach the mobile adapter to use with your mobile phone, tablet or portable gaming systems
Comfortable, Twist-Cup Design: Soft memory foam cushions on ear cups rotate-to-flat for wearing around your neck
Adjustable Surround Sound Angles: Customize your audio experience by altering the positioning of the surround sound
Voice Morphing: Disguise your voice by changing the sound from deep lows to screeching highs
Dynamics Chat Boost: Chat volume automatically increases as the game volume gets louder
Sonic Lens + Sound Field Expander: Focus on sound cues that are difficult to hear like enemy footsteps by altering the sound field
Speaker Mode: Connect your desktop speakers to enjoy many of the ACU benefits when not wearing your headset
Customizable Plates: Check out new speaker plate designs at www.TurtleBeach/seven
Turtle Beach Ear Force Z SEVEN Tournament Grade PC Gaming Headset Specifications
Headset

Speakers: 50mm diameter speakers with neodymium magnets
Condenser Microphone Frequency Response: 50Hz – 15kHz
Weight: 12.2oz/346g
Speaker Frequency Response: 20Hz – 20kHz
Speaker Impedance: 32 ohms
Microphone Design: Removable Uni-Directional
Earcup Design: Around-Ear (Closed)

Control Unit

Headset output jack: 3.5mm
XBOX 360 chat jack: 2.5mm
Auxiliary input jack: 3.5mm
Speaker line outjack: 3.5mm
Power: USB (5V @ 400mA max)

System Requirements

Headset output jack: 3.5mm
XBOX 360 chat jack: 2.5mm
Auxiliary input jack: 3.5mm
Speaker line outjack: 3.5mm
Power: USB (5V @ 400mA max)