Tt eSports Level 10 M Gaming Headset Review
By
Thermaltake Gives Level 10 Treatment A Gaming Headset
Its been over three years since Thermaltake surprised computer enthusiast circles with the Level 10 full-tower ATX case. It was both elaborate and absurd in its features and design, costing a not so modest $700 then. That case has since been succeeded by a series of more reasonably priced Level 10 cases that maintained the originals distinctive appearance as much as possible. More recently, Thermaltake has introduced computer gaming peripherals under the Level 10 premium name, first with the Level 10 M mouse last year and now with the Level 10 M gaming headset.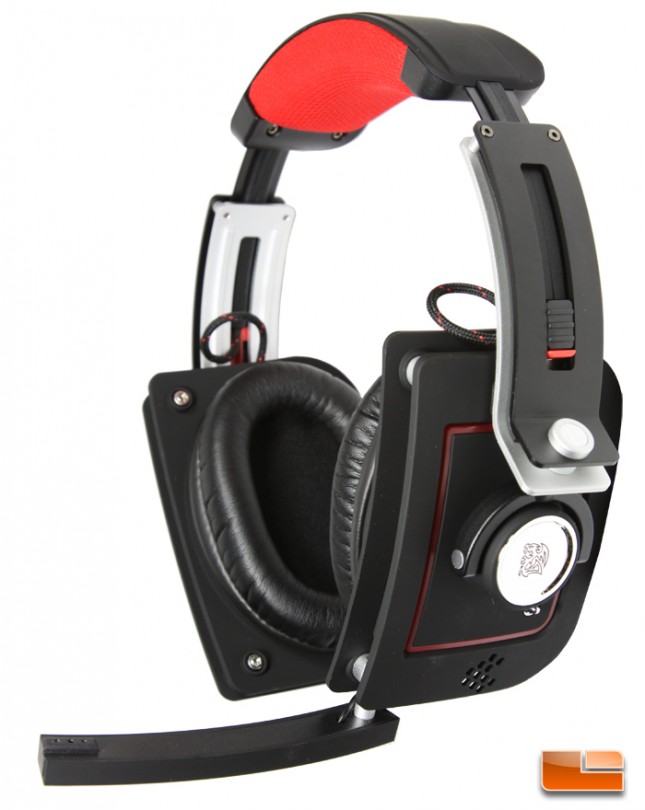 Like the rest of Thermaltakes Level 10 products, the Level 10 M gaming headset was the result of collaboration with Designworks USA, a BMW owned design consultancy. Spoiling a bit of the review findings, unlike the Level 10 M mouse we reviewed earlier this year, the headsets stylization doesnt severely compromise usability or comfort. Were not only much more forgiving of the Level 10 M gaming headsets industrial look this time around it actually looks better in person than it does in pictures.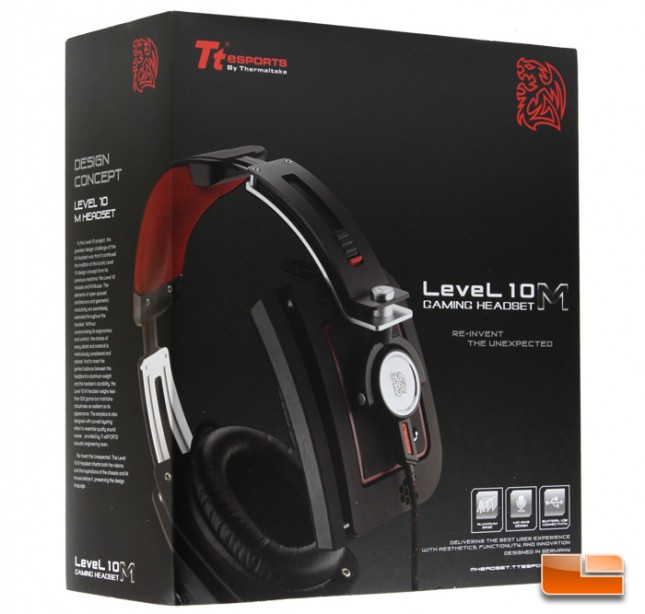 The Level 10 M headset is quite cut and dry with its listed features and there are seemingly few gimmicks at work here. A 2-year warranty and a $99 price further drive up quality expectations. The headset is compatible with computers and mobile devices and either of the two detachable cables can be plugged onto either earcup. The omnidirectional microphone can swivel on two axes and can be muted by a switch on the inline controller. Two colors presently are available, Iron White and Diamond Black, the latter of which we are reviewing.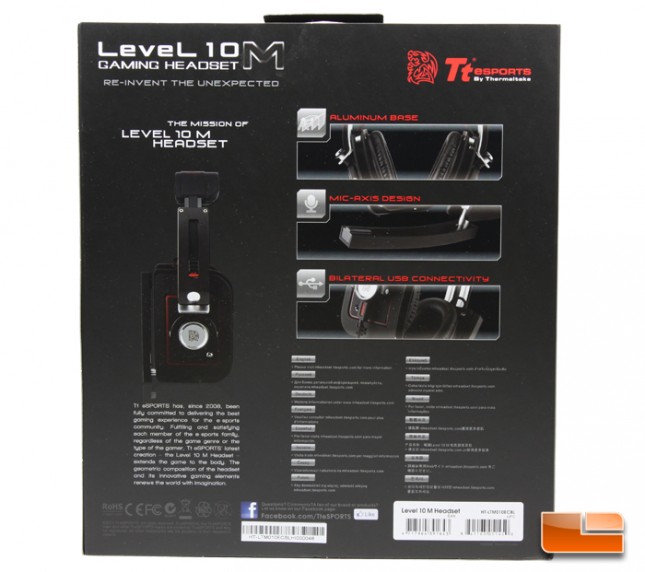 Tt eSports Level 10 M Gaming Headset Features:
Aluminum base
Mic-axis design
Bilateral USB connectivity
Adjustable, locking headband
External in-line controller
Tt eSports Level 10 M Gaming Headset Specifications:
Color: Diamond Black or Iron White
Connector: 3.5 mm plug
Driver: 40 mm neodymium magnet
Channel: Stereo
Frequency response: 10-22,000 Hz
Impedance: 32 Ohms
Sensitivity: 100 dB at 1K Hz
Cable Length 3.0 meters (9 ft. 10 in.)
Microphone
Mic Directivity: Omni-directional
Sensitivity: -35 3dB
Frequency: 30-10,000 Hz
Impedance: 2.2 KOhm
Accessories: Carry bag and 1 meter (3 ft. 3 in.) mobile device cable
2-year warranty
The Tt eSports Level 10 M gaming headset is elaborately packaged in a box hidden behind a cardstock sleeve.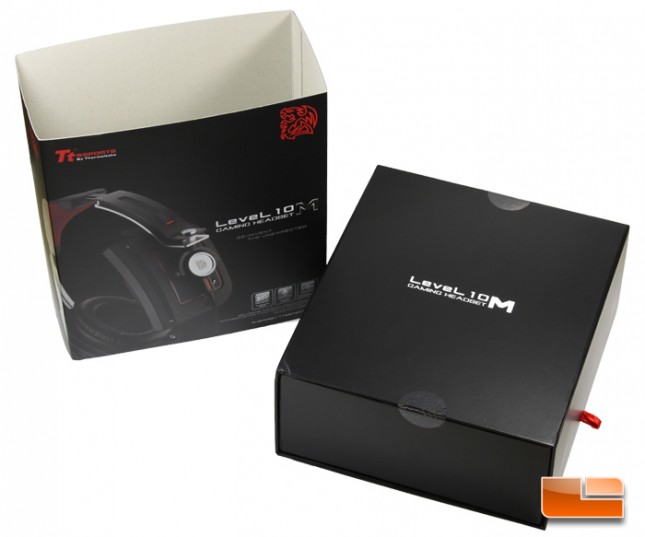 A flap is held to the box by a magnet. Upon opening, a small accessory box sits on top of the plastic mold that cradles the headset.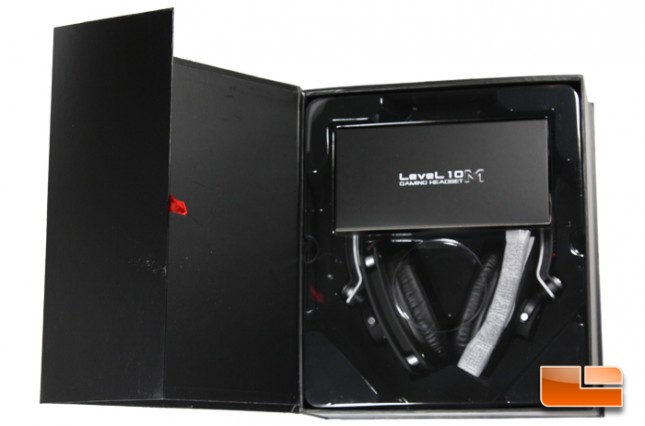 Inside the small box are a multi-language warranty booklet and two cables. The cable compatible with mobile devices is 3 feet 3 inches (1 meter) long and terminates at a single three-pole 3.5 mm plug. The other cable has an inline controller and terminates into two 3.5 mm plugs for the microphone and headphones. The inline controller runs a little over 1 foot of cable from the headphone and the total cable length is 9 feet 10 inches (3 meters.)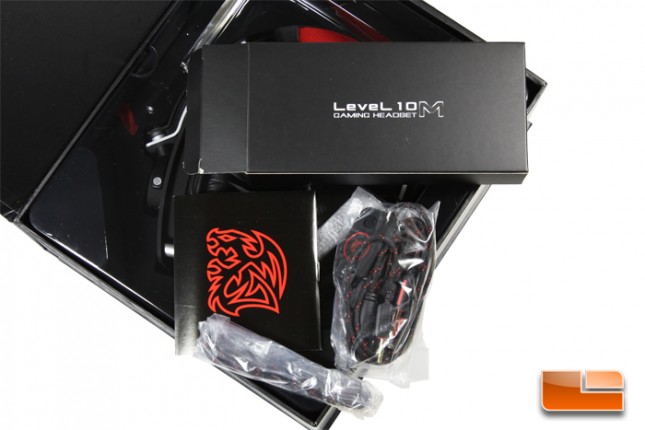 The headset is secured by two twist-ties that thread into the packaging. The microphone boom is wrapped in a sheet of thin Styrofoam.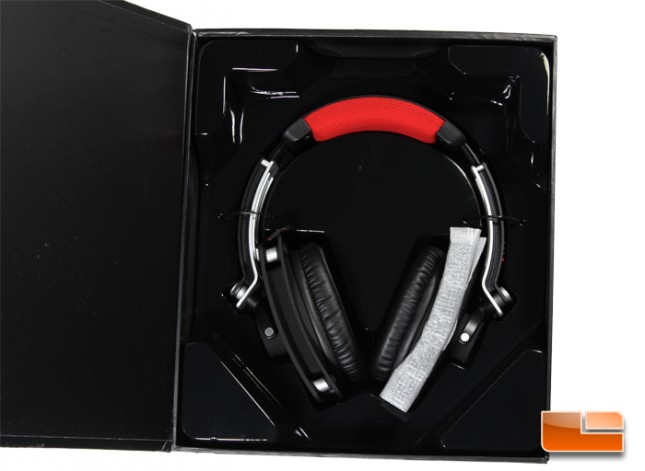 Theres even more! At the very bottom of the box is the neoprene carry bag.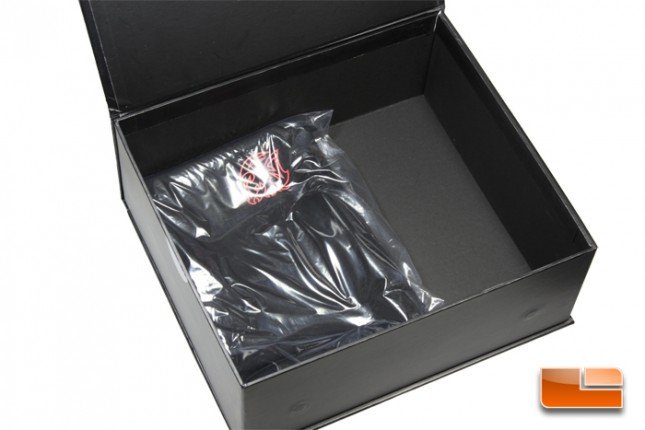 The packing is quite elaborate for a gaming product. Lets see how well the headset holds up!