ToughTested Rugged Battery Pack Review – 8000mAh
By
Using the ToughTested Rugged Battery Charger and Final Thoughts
The battery pack itself is a pretty simple looking product. It measures 4 3/4″ tall (including the clip), 2 3/4″ wide, and is 1″ thick. Overall, it's a pretty small battery pack, other than thickness, it is smaller than many of the current cell phones. The edge of the battery pack is a thick layer of rubber which helps to protect it from drops, while the middle portion is a metal orange cover.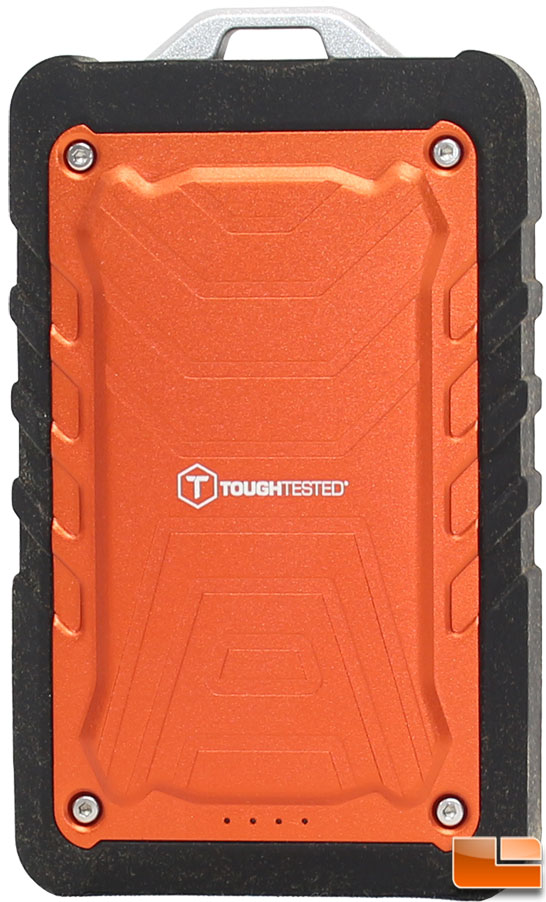 On the front of the cover are four status LED's which indicate the charge (25%, 50%, 75% and 100%). On the left side of the battery pack is a little multi-function button that will turn the battery pack on/off, and turn on/off the integrated flashlight.
Previously, I mentioned the packaging of the Rugged Battery Pack and mentioned that it was packed in a plastic tray that was flocked. In this next picture, you can get a good idea of what flocking the packaging that rubs against rubber does. It tends to flake off and makes a mess of the rubber edge. This doesn't take away from the battery's performance, just gives a poor first impression. It does clean off very easily, this came off within the first two days of use, or since it is water proof, you can always run it under water.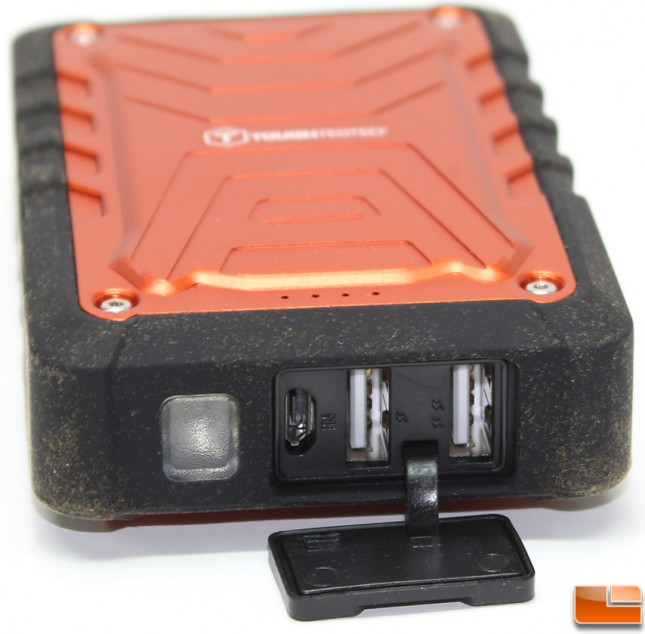 On one end there is a rubber flap that covers the micro-USB port and two full sized USB ports. The maximum output of the two full-sized USB ports is 3.1A. The first USB port provides an output of 1A, while the second port (on the right) provides 2.1A. They are controlled by ToughTested's InstaSense technology, which automatically detects the power requirements of the device being charged, and will provide the fastest possible charge. To the left of the USB ports is the integrated LED flashlight, this is a bright white light, and while it isn't extremely bright, it is bright enough to see over 30 feet in front of you. As an emergency flashlight, it certainly does the job.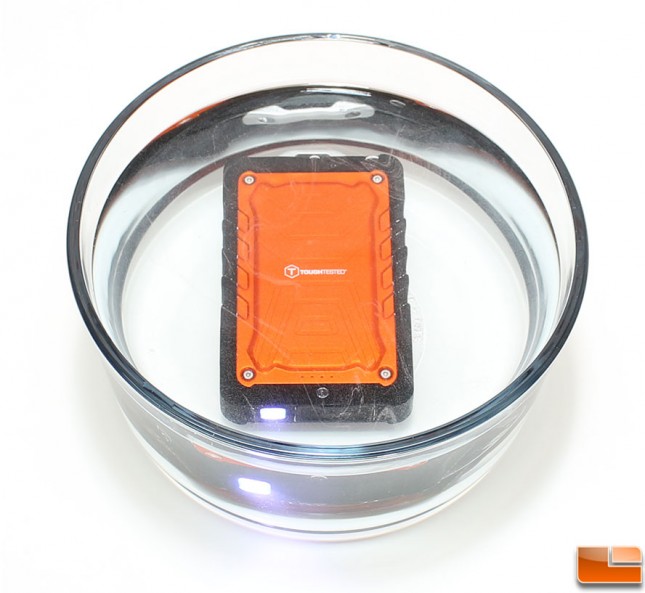 We have talked about what the ToughTested Rugged Battery Pack is capable of, but not what makes it rugged. That comes from the IP65 rating that it carries. That rating breaks down into the battery pack being totally protected against dust, and being slightly waterproof. IP65 indicates that it can withstand a small amount of water being directly poured onto the battery pack, think of it as more like splashproof. It doesn't necessarily mean that it can be submerged for any length of time. However, we went ahead and submerged the battery pack in a bowl of water to simulate dropping it into a puddle of water. We left it here for 45 minutes, at which time we took it out, dried it off and used it to charge a Samsung Note 4 without any issues.
While we can't show it being dropped, it was taken on several adventures, dropped at various heights and onto different surfaces. With over 50 different drops, most being under 5 feet, it is now a little beat up and scratched. The important thing is that it keeps on charging our devices.
Final Thoughts and Conclusions
If you do thing outdoors such as construction, hiking, mounting climbing, etc, you want to be sure you can reach out to somebody in an emergency. The ToughTested Rugged Battery Pack is definitely one portable battery pack to take along to keep your devices charged and ready to use. Carrying an 8,000mAh charge, you should be able to provide any modern cell phone with at least two full charges, if not more. My Samsung Galaxy Note 4 has a 3,220mAh battery in it, and I was able to get around 2.75 full charges with the ToughTested Rugged Battery Pack.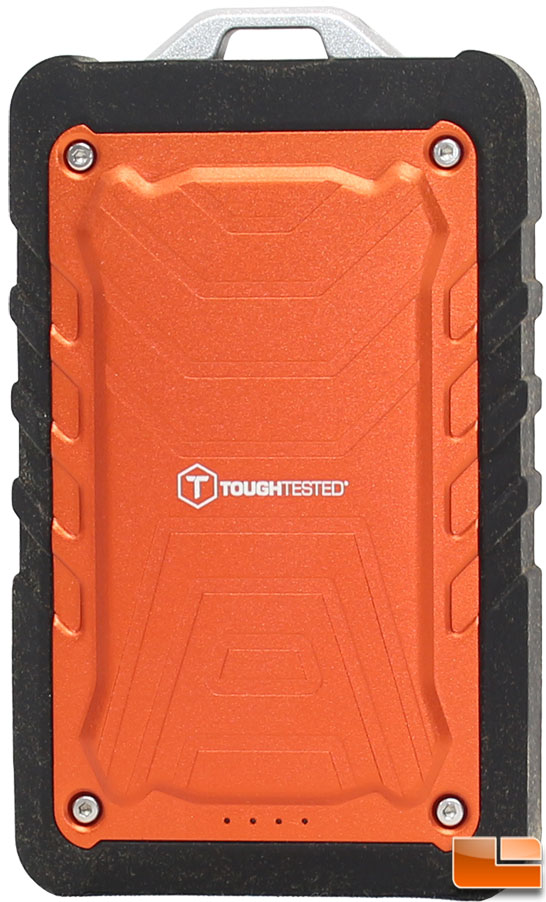 At a suggested retail price of $79.99 it is one of the more expensive rugged battery packs on the market. With some quick searching though you can find it much cheaper such as at Newegg, who has the ToughTested Rugged Battery Pack for $44.99 plus shipping, giving it a much more reasonable price. ToughTested is known for making quality products that are backed with a 5-year warranty, while the cheaper alternative rugged battery packs typically only offer a 1-year warranty. That shows that ToughTested has confidence that their product will last through the entire 5 years.
The only thing about the Rugged Battery Pack is that it includes a short 1ft standard micro-USB cable. If you are using this the way it is designed, you might want to consider picking up a slightly longer and stronger cable, such as the ToughTested Rugged Micro-USB or Lightning Cable. Which we will take a look at next.
Legit Bottom Line: We tested the ToughTested Rugged Battery Pack under many different conditions, and it never failed to charge devices. Even submerging it in water for 45 minutes didn't stop this battery pack.